Sgt. Kup
Arguably the Best Autobot Character

Transformers Generations Deluxe Figures Wave 6
Item No.: Asst. 98452 No. 28593
Manufacturer: Hasbro
Includes: Laser musket
Action Feature: Turns into a truck
Retail: $11.99
Availability: January 2011
Other: Follows the original Kup and reissues

PREVIOUS
RSS
NEXT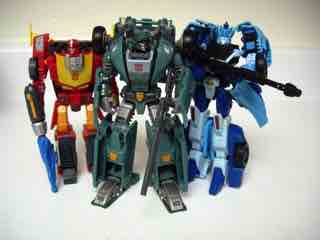 For years, a classic version of Sgt. Kup (previously just "Kup" on the packaging) has been near the top of fans' request lists. Hasbro has basically completely ignored the character since just after the original toy, which had a rerelease with a different accessory and then no new molds for Kup were ever made up until this one. (An attempt to reference his color scheme may be found in the Transformers Cybertron toy GTS.) Transformers Animated Ratchet owes a little bit of his origin to the original Kup, but Kup proper doesn't get a lot of love out there.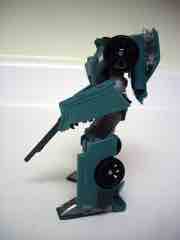 Named after his alt mode-- a pickup truck (get it?)-- the old-timer Autobot is generally represented as either the old guy who has seen it all, or some variation on Hannibal from The A-Team. This toy retains the basic look and feel of the original robot in places, specifically his robot chest, while upgrading the vehicle from a "futuristic pickup truck from the year 2005" to an "actual pickup truck from the year 2010." The robot fits in well with the modern line, complete with c-clamps on the vehicle, open fists which can hold the weapon just fine, and a ton of articulation. It's not some amazing super-articulated toy which will knock your socks off, but the quality of the robot is above the average for the line and is mostly a treat to convert from one mode to the other. (Except getting the parts with the headlights into place, that's a nuisance to do either way.)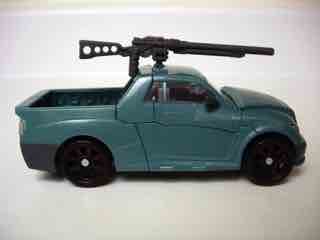 As a vehicle, well, there you go-- it's a truck. You may mount the laser musket on top of the roof of the car, or under the vehicle where it looks like an exhaust pipe. It's well-integrated and I like how it can be used in multiple places for more than one purpose, rather than being a big annoying thing you end up losing because it doesn't feel like a natural piece of the toy. It holds together quite well in vehicle mode, so there's no worries of a leg popping off if you're rolling it around on the carpeting.
Kup is currently available, although he may be tough to find-- he shipped in January originally, plus alongside the seemingly scarce waves which followed and featured Wheeljack, Thundercracker, and Warpath. It's totally worth the ten or so bucks, and if you're reading this in the future and the current secondary market price is $20-$25, I'd say it's a good enough character with a strong enough toy to warrant a higher price. But get it cheap if you can since we're toy collectors, not chumps.
Variations and Add-ons: So there's more than one version of Kup. In Japan, there are two different repaints-- one is a metallic colored toy as part of Transformers United, while the other is a more heavy redeco with battle damage, blue plastic, and other changes in an E-Hobby Exclusive 3-pack of Rodimus, Kup (Char), and Scrap Heap. If you aren't happy with the head, manufacturer iGear has two different ones available in the color of your Kup of choice. They're based off the IDW comics redesign of the character which sports a cigar-- I'm sorry, Cy-Gar-- as well as a second head minus the clearly non-tobacco product.
--Adam Pawlus
Additional Images

Click here to see more Hasbro figures in Figure of the Day.
Click here to see more Transformers figures in Figure of the Day.

Want to buy this figure? Check Transformers availability at our sponsors:
Entertainment Earth