Electron+
The Man from Pluto, decked out for the space holidays

Outer Space Men Galactic Holiday Clear Colorless Variant
Item No.: n/a
Manufacturer: Four Horsemen
Includes: Two-piece helmet, alternate arms, staff, pistol
Action Feature: n/a
Retail: $50.00 (sold as a set with Alpha 7, Mystron, and Commander Comet)
Availability: December 2011
Other: Available with either turquoise/blue or purple accessories

PREVIOUS
RSS
NEXT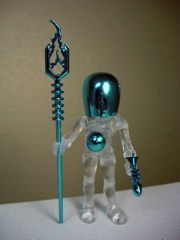 Continuing a holiday tradition (for two years now), Electron+ comes to you in a clear colorless plastic-- this is only the second completely "clear" figure in the line, the first being last year's Galactic Holiday Xodiac. This time around, the figure features painted eyes, bright blue accessories... and not much else. Arguably, he's the best of the bunch.
Blue and white go well together, and clear is pretty close to white when it comes time for things involving ice and whatnot-- considering the ex-planet Pluto is thought to have a lot of ice, clear colorless plastic makes a lot of sense for the character. He features the same slightly shorter stature as previous releases, plus he has no problems holding his accessories or wearing his helmet. The opaque vac-metal gear does wonders to bring out detail, whereas previous release were clear the reflective surfaces add a lot of dimension and visual heft to a lightweight, tiny laser gun. It's a strong contrast to the colorless figure, and it shows that maybe, just maybe, the Four Horsemen might want to try doing more opaque figures rather than the translucent ones we get for about 75% of the releases.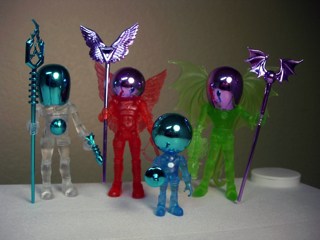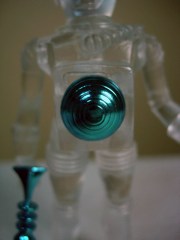 The removable (but I didn't remove it) circle on the figure's torso really stands out with this color, largely because it's surrounded by a frame of clear plastic. I really dig the blue here, and I wish they also tried to do it in silver, just to see what we would get. If you've liked the previous Electron+ figures, well, here's another one and it's still available at press time. You can pick colors by sets, or request a mix like I did.
One concern-- there's a little distortion in the color of some helmets from this series of figures. Vac-metal deco on numerous figures from the 1990s (that is, non-silver and non-gold ones) have had a habit of cracking, flaking, or otherwise aging poorly over time. I do not yet know if this kind of plastic will age poorly but I'll be taking very good care of these and will not be playing with them much out of fear of long-term damage on this kind of impossible-to-repair paint. I suggest that you also take care of these figures, particularly with the helmets due to their needing to flex just a bit in order to get them off most figures' heads.
--Adam Pawlus
Additional Images

Click here to see more Four Horsemen figures in Figure of the Day.

Click here to see more Outer Space Men figures in Figure of the Day.

Click here to see more Glyos Compatible figures in Figure of the Day.