Wreckloose
Komodo Dragon with Moose Hat

Transformers Cybertron Basic Figures
Item No.: Asst. 80285 No. 80339
Manufacturer: Hasbro
Includes: Green cyber planet key, moose hat weapon
Action Feature: Cyber key activates flip-out horns for some reason
Retail: $6.99
Availability: May 2006
Other: Possibly getting rereleased with a blue key this year

PREVIOUS
RSS
NEXT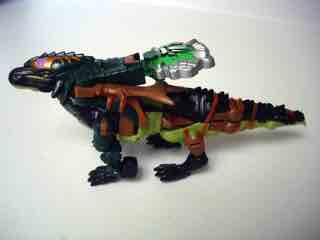 While we looked at Beast Wars Fuzors last week, it only seemed fair to focus on one of the line's descendants with Wreckloose. This character wasn't developed for the Japanese market either, but it's hard to ignore that someone had a lot of fun with the design. Can you imagine the meeting? "I've got this idea for a really ugly robot with this weird unicorn head. And I had a dream involving a komodo dragon joining an elk lodge." "Stop talking, Maury, you just hit toy gold!"
Both modes are bizarre and ugly-- which is really what makes this an endearing toy. A small number of critters made the cut in Cybertron thanks to the jungle planet theme, so we got a dragon, a rhinoceros, new versions of Optimus Primal and Megatron, a wolf, and this guy. This guy was clearly the afterthought. Hasbro and Takara went out of their way to make the Energon Decepticons uglier, but this guy? He's plenty hideous. The underbite, the horn, the strange color pallette in robot mode... he's clearly some sort of thugasaurus*. The uneven colors, scales, and sharp protrusions off his person give him a deadly sort of a "look-but-don't-touch" vibe, and the big green dot in his chest? I have to assume someone forgot to hide his weak point, I don't know what that is. There's a ton of articulation in this mode, but depending on if you want him to hold his weapon you may be more than a little limited in how much he can move. Also, the 4-inch robot has the widest shoulders this side of a 1980s local news anchorwoman.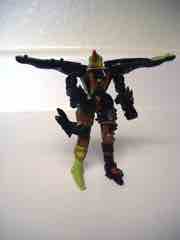 His weapon can be used in either mode. As a lizard, it's a hat. As a robot, it can be carried in his hand or stored in his back. No matter what you do with it, it's something of an eyesore and doesn't integrate well into either mode. Had Hasbro left it out, you wouldn't miss it. It's not like Terragator and a chunk of the toy would be missing-- it'd just be a lizard. While ridiculous, the moose hat has been cited as the reason to buy this toy from numerous fans over the years, and who am I to argue? Sometimes silly works, and this is a ridiculous idea.
While in lizard mode, the figure has limited articulation and an opening jaw. The deco in lizard mode is above par for its day, with lots of silver scrapes and dents painted on to give this bizarre figure a sense of having seen a few battles. It's much better than what usually constitutes "battle damage" in a Transformers toy-- and that's a black splotch. He doesn't make the most convincing lizard in the world, as his tail is obviously just robot legs twisted funny, but maybe that's what the hat is for-- it really ties the toy together, and as long as you can't get past the hat you'll never notice his other design flaws.
If this toy gets reissued this year, as a packaged sample has been floating around, it's probably worth your while to get it. It's fun, it holds together well, and it's just so ridiculous that you could just buy him for Wreck-Gar to kick in the head. Yes, it's just that much fun.
--Adam Pawlus
* - If George Clinton already used that as a song title, my apologies.
Additional Images

Click here to see more Hasbro figures in Figure of the Day.
Click here to see more Transformers figures in Figure of the Day.

Want to buy this figure? Check Transformers availability at our sponsors:
Entertainment Earth