Dean Venture
Dresses Like Buddy Holly

Venture Bros. Retro Action Figure
Item No.: No. 01125
Manufacturer: Bif Bang Pow!
Includes: Wrist communicator
Action Feature: n/a
Retail: $17.99
Availability: July 2010
Other: Authentic dorky expression

PREVIOUS
RSS
NEXT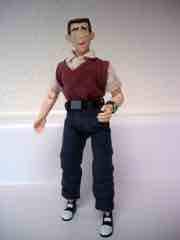 Warning/guarantee: I worked/consulted on parts of this line, so yeah, bias bias bias bias.

I've been really lucky to consult on some figure lines over the years, some of which turn out exactly as I imagined and others go in a different direction. Being a shameless fan of the toys of the 1980s, the squishy-headed Mego-style figures which delighted ToyFare staffers and children who, as of today, are 35 or older are basically out of my field of expertise. Since dress-up is not a part of the play pattern I can't call them dolls but... well, they're doll-like to those of us who grew up with nothing but hard plastic or plastic-and-metal toys. Dean Venture uses the EMCE Toys body, which is really close to classic Mego. Instead of feet with shoes, the feet of the figure are actually the shoes-- so you can't take them off and put them on Batman or Hal Jordan. He has a wrist communicator, just like the show, as well as some velcro in his garments. The sweater is actually part of the shirt, so you can't have him with just the undershirt-- it's a single article of clothing.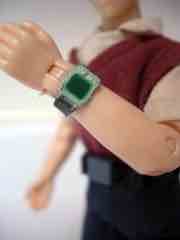 Standing 8-inches tall, the figure has a delightfully goofy expression cast in thin, squishy roto plastic. This is similar to the original Mego toys, but a little squishier from my experience. His character is still completely present, and I suppose the hollow head has an added bonus of being true to the character's behavior in the show. The plastic color is a little pale, even for Dean, and the paint applications are largely clean-- there does seem to be some added schmutz though, so you may want to look at the face on your figure prior to making the purchase.
Since the only new sculpted elements are the shoes, head, and wrist communicator, the figure tends to look pretty good. It really does feel like a toy from an alternate 1970s, down to the style of packaging and the one-size-does-not-necessarily-fit-all body type. (Dean wishes he had arms like this.) To my delight and surprise, the figure seems to have no trouble standing unassisted, the not-quite-Converse shoes do a great job of keeping him upright. Even Star Wars figures, with their own display stands, can't seem to stay vertical unassisted as of late so I'm pretty jazzed that Dean here has strong enough joints to allow him to just stand on my desk without faceplanting.
Dean pretty much hit the nail on the head for what Bif Bang Pow! set out to do-- a retro figure that's kitschy, winking at toy fans of a certain era. The figure feels like an artifact that fell right out of the TV show, and since Dean isn't known for any combat gear in particular the lack of accessories isn't particularly notable. The figure's packaging has a clip-and-build HELPeR robot but... well, I've seen one put together. The packaging boasts "Fun and Unreasonably Challenging," and I'd agree-- I don't think I have what it takes to get one together. Still, Dean's a nice figure and Hank is coming in an upcoming series, so stay tuned for that.
--Adam Pawlus
Additional Images

See more Bif Bang Pow! action figures in Figure of the Day:
Day 3: Venture Bros. The Monarch Action Figure
Day 192: Venture Bros. Dean Venture Action Figure
Day 289: Venture Bros. Jonas Venture Action Figure
Day 297: Venture Bros. Rusty Venture Action Figure
Day 303: Bif Bang Pow! Venture Bros. Dr. Girlfriend Action Figure
Day 308: Bif Bang Pow! Doctor Who Fourth Doctor Action Figure
Day 313: Bif Bang Pow! Venture Bros. Dr. Orpheus Action Figure
Day 362: Bif Bang Pow! Venture Bros. Hank Venture Action Figure
Day 439: Bif Bang Pow! Venture Bros. Phantom Limb Action Figure
Day 490: Bif Bang Pow! Venture Bros. Bloody Brock Samson Action Figure
Day 499: Bif Bang Pow! Venture Bros. Brock Samson Action Figure
Day 666: Bif Bang Pow! Venture Bros. Dean Venture Action Figure
Day 666: Bif Bang Pow! Venture Bros. Hank Venture Action Figure
Day 699: Bif Bang Pow! Venture Bros. Molotov Action Figure
Day 732: Bif Bang Pow! Venture Bros. Dr. Mrs. The Monarch Action Figure
Day 771: Bif Bang Pow! Venture Bros. Brock Samson Action Figure
Day 867: Bif Bang Pow! Venture Bros. Unpainted Test Shot Monarch Action Figure
Day 970: Bif Bang Pow! The Twilight Zone Henry Bemis Action Figure
Day 1,003: Bif Bang Pow! Venture Bros. Monarch Action Figure
Day 1,027: Bif Bang Pow! The Twilight Zone Kanamit (Work Uniform) Action Figure
Day 1,054: Bif Bang Pow! Star Trek: The Next Generation Lieutenant Worf
Day 1,063: Bif Bang Pow! The Twilight Zone Talky Tina Action Figure
Day 1,388: Bif Bang Pow! Peg Pals Batman Armored
Day 1,928: Bif Bang Pow! DC Comics Pin Mate Wonder Woman
Day 2,134: Bif Bang Pow! The Twilight Zone Gremlin

See more Venture Bros. figures in Figure of the Day:
Day 3: Venture Bros. The Monarch Action Figure
Day 192: Venture Bros. Dean Venture Action Figure
Day 289: Venture Bros. Jonas Venture Action Figure
Day 297: Venture Bros. Rusty Venture Action Figure
Day 303: Bif Bang Pow! Venture Bros. Dr. Girlfriend Action Figure
Day 313: Bif Bang Pow! Venture Bros. Dr. Orpheus Action Figure
Day 362: Bif Bang Pow! Venture Bros. Hank Venture Action Figure
Day 439: Bif Bang Pow! Venture Bros. Phantom Limb Action Figure
Day 490: Bif Bang Pow! Venture Bros. Bloody Brock Samson Action Figure
Day 499: Bif Bang Pow! Venture Bros. Brock Samson Action Figure
Day 666: Bif Bang Pow! Venture Bros. Hank Venture Action Figure
Day 699: Bif Bang Pow! Venture Bros. Molotov Action Figure
Day 732: Bif Bang Pow! Venture Bros. Dr. Mrs. The Monarch Action Figure
Day 771: Bif Bang Pow! Venture Bros. Brock Samson Action Figure
Day 867: Bif Bang Pow! Venture Bros. Unpainted Test Shot Monarch Action Figure
Day 1,003: Bif Bang Pow! Venture Bros. Monarch Action Figure

Want to buy this figure? Check Venture Bros. availability at our sponsors:
Entertainment Earth