Dean Venture
3 3/4-inch-Scale Figure

Venture Bros. 3 3/4-inch Scale Action Figure
Item No.: No. 09104
Manufacturer: Bif Bang Pow!
Includes: A rifle
Action Feature: n/a
Retail: $11.99
Availability: March? 2013
Other: Also available in Mego-size

PREVIOUS
RSS
NEXT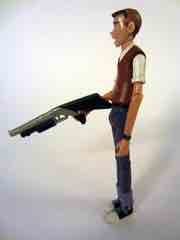 Bif Bang Pow! has been working on a 3 3/4-inch Dean Venture along with Hank, Brock, and Dr. Mrs. the Monarch for a few years. They were showed in secret to people. They were shown at conventions. And they were shown to me, because I was the one who picked out the accessories and worked on some other details. While many styles were discussed, the figures ended up being not based on any specific current action figure line and instead manage to cram in about 10 points of articulation on the skinniest action figure in this scale (certainly at this height) that I believe I have ever seen in my entire life.
As always I'm required (and proud) to say I consulted on this line, so assume that you're hearing from a shill. Also assume that if the figure sucked I wouldn't even review it.
In short: it's great! Brock was a little rough around the edges, but Dean is just fantastic. The figure is molded in flesh color, which gives it a more "toyetic" look which really helps to make the cartoon eyes and squared-off hair work. The sneakers have painted laces, the sweatervest has dark lining around the sides. The painted white shirt underneath reflects the light just perfectly, and the wrist communicator has a green screen, dark brown wristband, and a tiny body on it. I'm so proud. The articulation is clearly visible, but it works and Dean meets some of my chief concerns as a toy. He can stand! He can sit! And if for any reason he can't stand, the foot pegs are designed to be compatible with current Hasbro Star Wars peg stands. I'm just super-pumped that he can sit with his body meeting his legs at a 90-degree angle, allowing him to sit in properly scaled vehicles without the kind of a fuss you might get from other figures which I shouldn't name in this context because I'm a nice guy. If I had to nitpick, the only thing that irked me was a little bump on the back of his elbows when they're bent - it's a minor cosmetic thing that could be sanded down if you're so inclined, and I am not, as I don't like to muck up a good thing.
I'm also really happy that when I popped him out of the packaging and stood him on my desk, he just plain stood up. I didn't have to pose him to find a "sweet spot," he just stood there. I'm typing right now and he's not wobbling or anything. I know that may not sound like much to many of you, but I've got thousands of action figures and hundreds of them have difficulty standing unassisted, so this sort of thing, again, just makes me crazy proud to have been involved.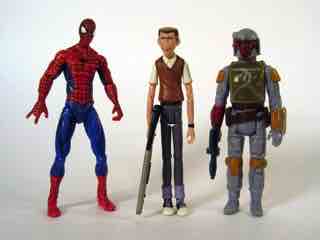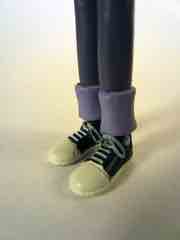 But what about the accessories? I'm glad you asked. Early on I was tasked to pick out gear for the figures (some of which made the final cut, some didn't) and this was one I picked out for two reasons. The first, I thought it'd be funny to give Dean a big, giant weapon when he's usually not only unarmed, but whiny and retreating. Second, this is based on a gun he used in the episode "Escape to the House of Mummies Part II" during a sequence where Dean's disembodied head was traveling on the body of a fully-wrapped mummy. "Oh," I thought, "he could have that." Silly? Sure. But I thought it was funnier than science gear, and I'm thrilled to report the tiny hands are sculpted perfectly to grip the weapon in one hand.
While not 100% perfect, I take pride in this one and give it a solid "A" in the execution of the plan (as I saw it, anyway) and as such I'd love for you to buy one and support me working. And of course to give me an excuse to do another few series of these - I want to, but you gotta buy these ones first!
--Adam Pawlus
Additional Images

See more Bif Bang Pow! action figures in Figure of the Day:
Day 3: Venture Bros. The Monarch Action Figure
Day 192: Venture Bros. Dean Venture Action Figure
Day 289: Venture Bros. Jonas Venture Action Figure
Day 297: Venture Bros. Rusty Venture Action Figure
Day 303: Bif Bang Pow! Venture Bros. Dr. Girlfriend Action Figure
Day 308: Bif Bang Pow! Doctor Who Fourth Doctor Action Figure
Day 313: Bif Bang Pow! Venture Bros. Dr. Orpheus Action Figure
Day 362: Bif Bang Pow! Venture Bros. Hank Venture Action Figure
Day 439: Bif Bang Pow! Venture Bros. Phantom Limb Action Figure
Day 490: Bif Bang Pow! Venture Bros. Bloody Brock Samson Action Figure
Day 499: Bif Bang Pow! Venture Bros. Brock Samson Action Figure
Day 666: Bif Bang Pow! Venture Bros. Dean Venture Action Figure
Day 666: Bif Bang Pow! Venture Bros. Hank Venture Action Figure
Day 699: Bif Bang Pow! Venture Bros. Molotov Action Figure
Day 732: Bif Bang Pow! Venture Bros. Dr. Mrs. The Monarch Action Figure
Day 771: Bif Bang Pow! Venture Bros. Brock Samson Action Figure
Day 867: Bif Bang Pow! Venture Bros. Unpainted Test Shot Monarch Action Figure
Day 970: Bif Bang Pow! The Twilight Zone Henry Bemis Action Figure
Day 1,003: Bif Bang Pow! Venture Bros. Monarch Action Figure
Day 1,027: Bif Bang Pow! The Twilight Zone Kanamit (Work Uniform) Action Figure
Day 1,054: Bif Bang Pow! Star Trek: The Next Generation Lieutenant Worf
Day 1,063: Bif Bang Pow! The Twilight Zone Talky Tina Action Figure
Day 1,388: Bif Bang Pow! Peg Pals Batman Armored
Day 1,928: Bif Bang Pow! DC Comics Pin Mate Wonder Woman
Day 2,134: Bif Bang Pow! The Twilight Zone Gremlin

See more Venture Bros. figures in Figure of the Day:
Day 3: Venture Bros. The Monarch Action Figure
Day 192: Venture Bros. Dean Venture Action Figure
Day 289: Venture Bros. Jonas Venture Action Figure
Day 297: Venture Bros. Rusty Venture Action Figure
Day 303: Bif Bang Pow! Venture Bros. Dr. Girlfriend Action Figure
Day 313: Bif Bang Pow! Venture Bros. Dr. Orpheus Action Figure
Day 362: Bif Bang Pow! Venture Bros. Hank Venture Action Figure
Day 439: Bif Bang Pow! Venture Bros. Phantom Limb Action Figure
Day 490: Bif Bang Pow! Venture Bros. Bloody Brock Samson Action Figure
Day 499: Bif Bang Pow! Venture Bros. Brock Samson Action Figure
Day 666: Bif Bang Pow! Venture Bros. Hank Venture Action Figure
Day 699: Bif Bang Pow! Venture Bros. Molotov Action Figure
Day 732: Bif Bang Pow! Venture Bros. Dr. Mrs. The Monarch Action Figure
Day 771: Bif Bang Pow! Venture Bros. Brock Samson Action Figure
Day 867: Bif Bang Pow! Venture Bros. Unpainted Test Shot Monarch Action Figure
Day 1,003: Bif Bang Pow! Venture Bros. Monarch Action Figure

Want to buy this figure? Check Venture Bros. availability at our sponsors:
Entertainment Earth