Syclodoc Neutralizer
Debut of New Armodoc Head, also Red

Glyos Action Figures
Item No.: n/a
Manufacturer: Onell Design
Includes: Alternate Armodoc head
Action Feature: n/a
Retail: $25.00
Availability: December 12, 2012
Other: Syclodoc Head Debut

PREVIOUS
RSS
NEXT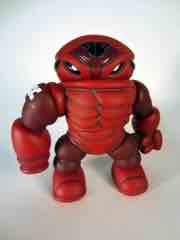 With a limit of 2 per customer, the Syclodoc Neutralizer sold out in about 4 minutes. This doesn't seem to be too abnormal, as any new pieces from Onell Design tend to fly off the digital shelves pretty dang fast. This one builds on the classic vinyl Armodoc and adds a new color with a new head sculpt, inspired at least a little bit by Gundam's Zaku. The Armodoc now comes with a default Syclodoc noggin, which has a big black eye with a white dot in the center.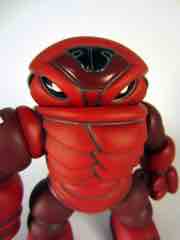 The head is fully swappable with classic Armodoc heads, one of which just happened to be included in the baggie.
The figure features the Glyaxia Command symbol, which started showing up on figures in 2011. This is the first time an Armodoc has one, and according to the comics this makes him sort of an antagonistic force. He blasts numerous Travelers, and tries to absorb Phanost (.shtmloth Sarvos) as well. Heck, you can cram a figure inside the Syclodoc if you like, he's hollow and pops apart at each of his 10 joints.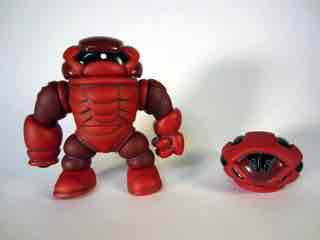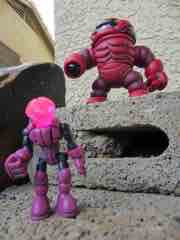 As always, you can swap parts with this figure and other Armodocs, Rigs, and even the Block. I don't much want to, as the default figure is pretty nice, unless someone made like a pilot's chair head or something. The sculpting is still clean after multiple releases, and the painted-in lines seem to get cleaner and sharper with each subsequent release. You really can't go wrong with these guys... at retail price anyway. More than that, they can get pretty expensive.
Priced consistently with the other Armodocs this last year, it's a pretty nice figure for the price. Two head, $25, just about 5-inches. For a low-run figure it's about right, although it doesn't necessarily do as much as other figures at the size and price point. It is super-limited though, so you'll be the only kid on your block with one if you got one. It's simple and fun, and if you're into customizing you could probably have a field day. I'm not. But I like it as is.
--Adam Pawlus
Additional Images


Click here to see more Onell Design figures in Figure of the Day.
Click here to see more Glyos Compatible figures in Figure of the Day.