Custom Corps Series 1 #11
Part of Banimon Custom Corps One

Banimon Action Figures
Item No.: n/a
Manufacturer: Banimon
Includes: Figure, cape
Action Feature: Don't touch it, you'll break it
Retail: $30.00
Availability: August 2013
Other: 1 of a kind

PREVIOUS
RSS
NEXT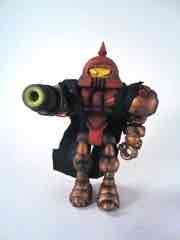 I was lucky enough to get a Banimon Custom Corps Series 1 #11 figure - don't ask how, it isn't important who died. Click here to see the entire run of 32 figures, many of which incorporated parts from other Glyos figures or newly sculpted or one-off molded pieces. As always these things aren't meant to be played with due to the specialized paint and pointy nature of some of the parts and pieces.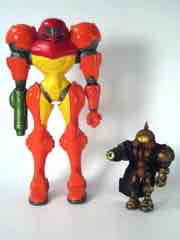 Figures in this line were dolled up by PJ Bartlett of Spaced Out Design, Seth Longmire of Orbitdyne, and of course Boris Savic of Rocket North. My figure has different eyes and a pointed tip on the helmet, making it slightly different from previous Banigoth Horde releases. The head was plopped on an Onell Design Buildman body and augmented with Hub Sets (the right shoulder glows in the dark under the paint) as well as a phase arm for the blaster. All in all, it looks sort of like Samus Aran of Metroid fame with a couple of black cloth pieces which are not unlike those of Darth Vader. So you know I love this.
The taller build looks great, and with the cape pieces the arms don't stay on if you move them too much - it's a tight fit. The deco is really quite nice, with metallic gold, a rusty reddish brown, bright yellow, and some green to bring out the cannon. It's an imposing little figure.
Aside from rarity, the sad thing about Custom Corps figures is that they're one-offs. My owning one means you can't have it, which is an.shtmlect of the hobby that I've often found troubling. I just want everyone to get whatever they want, but in this case it worked out fine for me because of course I'd want a Metroid-themed custom figure and now I have one. The unique helmet and paint job are really something, and I hope that you get a shot at one if you're interested some day. But not this one. This one is mine.
--Adam Pawlus
Additional Images

See more Banimon figures in Figure of the Day:
Day 521: Banimon Red Army 51st Corps Action Figure
Day 612: Banimon Fire Eaters (Red Army Men) Action Figure
Day 800: Banimon Custom Corps Series 1 #11 Action Figure
Day 814: Banimon Red Army Muscle Men Action Figure
Day 1,134: Banimon Red Army T-011 Bunkerbuster Tank Vehicle

See more Orbitdyne in Figure of the Day:
Day 800: Banimon Custom Corps Series 1 #11 Action Figure
Day 2,344: Orbitdyne Gee Two HEAP Vinyl Figure

Click here to see more Glyos Compatible figures in Figure of the Day.