Ullexono Pheyden
Maroon and Pink

Glyos Action Figures
Item No.: n/a
Manufacturer: Onell Design
Includes: Bonus dark purple Pheyden head and scarf
Action Feature: n/a
Retail: $8.00
Availability: December 12, 2012
Other: Super Purple

PREVIOUS
RSS
NEXT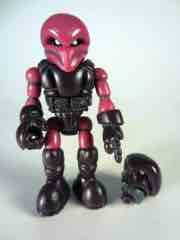 As a part of The Council of Travelers, Ullexono Pheyden rarely comes up for sale. Is he popular? Is the design just good? I'm not sure, but the candylike appearance of the figure combined with some nifty alternate parts makes it worth tracking down if you're already considering it. It offers little that a normal Pheyden won't provide, other than some particularly tasty color choices.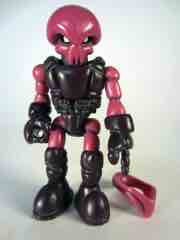 My initial reaction to the darker head was that it was some sort of amazing new variety of Skittles. The dark purple with the grey highlights really looks quite lively with light purple eyes peering out from his unique skull. The default head is a much lighter color with piercing blue eyes, which really do look fantastic from behind the included scarf.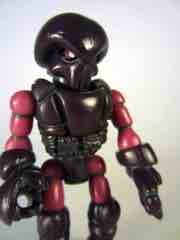 While I can't say this is a color combo I knew I'd love, it really does sizzle when you see it up close. Articulation is exactly the same as always, with 12 joints and a grand total of 15 chunks of plastic you can separate, reconfigure, or swap around using the increasingly ubiquitous Glyos system. Since its introduction, the scarf extends the face from a sort of a skull-like mouth to something which reminds me of a beak, but the designs always seem to be done in such a way where the beholder has some degree of interpretation as to what you're seeing. (Except, you know, things like feet.)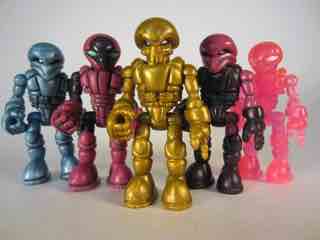 As is the norm for these guys, the figure sold out in minutes. The quintet of Travelers is one of the better groupings in the line's recent past, without a dull figure in the bunch. This is a good one, so if you someday happen to stumble on someone dumping their collection and this is in it, be sure to be ready to shell out. It's probably worth the price of admission.
--Adam Pawlus
Additional Images


Click here to see more Onell Design figures in Figure of the Day.
Click here to see more Glyos Compatible figures in Figure of the Day.