Banigoth Horde Ghost Troopers (Assassination Squad)
Glows in the Dark, Brah

Banimon Action Figures
Item No.: n/a
Manufacturer: Banimon
Includes: Alternate head, 2 guns, sword, backpack/head thing
Action Feature: 15 swappable parts
Retail: $7.00
Availability: May 2013
Other: Allow 2 weeks for delivery

PREVIOUS
RSS
NEXT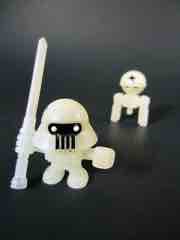 I'm a pretty big sucker for glow-in-the-dark toys, even if it's a mold I have a few times over. The Banigoth Horde Ghost Troopers (Assassination Squad) deliver the goods with a gimmick I've been told most major toy manufacturers view as a cheap feature or a cop-out, yet one I find endlessly delightful. If Hasbro gave me glow-in-the-dark Clone Troopers or Cobra Troopers, I'd buy. If Mattel did a glow-in-the-dark Skeletor, I'd buy that too. The more flippant the excuse, the better - I love seeing my figures when I switch the lights off!
This batch of figures features a small redesign, as the head molds have been tweaked slightly. The base of the head now features a switch pin, so you can pop that out if you'd like. Before it was set in with glue and a few (very few) reported the piece came loose, so the redesign is a functional one and not one most people would ever notice. It's basically the same figure as before, with more glow power.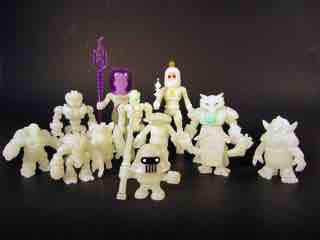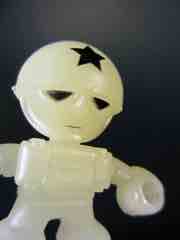 Deco is similar to previously released figures, with a black face, a skull tampo on the Banigoth helmet, and not much else. A new twist for this release was painted glow-in-the-dark eyes, a first on a production Glyos figure so far as I can tell, and it's a nice bonus - they pop really nicely. The Red Army Men head has a black star on it as well as painted eyes and a painted mouth. Glow in the dark plastic tends to absorb a lot of the sculpted detail, so any painted lines make a big difference when looking at these figures. The plastic itself is pretty much the same as all glow-in-the-dark figures coming out of the Glyos factory in China, except it appears to me that this figure is a tiny smidgen clearer - it could just be an illusion created by the design being thin in spots, though.
Each head is menacingly adorable as with before, the Darth Vader-ish helmet of the Banigoth looks fantastic with its grille and beady little eyes, with the army man's head appearing slightly more spooky due to the unique coloring and barely-faded detailing of the plastic. The plastic really gobbles up all light and shadow, so it may not be obvious but there's a fully-sculpted chin strap under the helmet. The kind of plastic selected can really change the figure's look and feel beyond it just being a different color.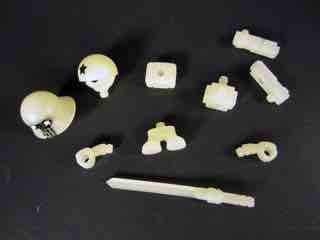 I'm 5 for 7 of these guys so far and I kind of wish I didn't skip out on the pair that I missed. The Banimon figures are fun and small, and for $7 are a pretty decent deal. The spooky translucent effect created by the glow in the dark plastic is a nice bonus, and as I said - I'm a glow-in-the-dark sucker. If you collect Glyos (or even if you don't) I hope you got one of these, and if the creators do another run you should grab one then. This guy sold out in about a day or so, as such it's already too late for you on this particular release.
--Adam Pawlus
Additional Images

See more Banimon figures in Figure of the Day:
Day 521: Banimon Red Army 51st Corps Action Figure
Day 612: Banimon Fire Eaters (Red Army Men) Action Figure
Day 800: Banimon Custom Corps Series 1 #11 Action Figure
Day 814: Banimon Red Army Muscle Men Action Figure
Day 1,134: Banimon Red Army T-011 Bunkerbuster Tank Vehicle

Click here to see more Glyos Compatible figures in Figure of the Day.