Cage Set with
Lyscephalosaurus is 65% Lycaenops, 35% Pachycephalosaurus

Predasaurs DNA Fusion Playset
Item No.: Asst. #65003
Manufacturer: Irwin Toy
Includes: Hammer, cage, dinosaur, trading card, product checklist
Action Feature: Teeth glow-in-the-dark (poorly), cage has opening door, cage splits at hinge, cage lights up
Retail: $6-$13
Availability: Summer 2013
Other: Vaguely Interesting, Almost Fun

PREVIOUS
RSS
NEXT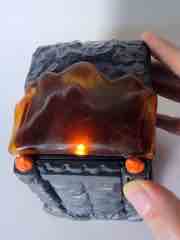 Over a year ago Matt Doughty tipped me off to Predasaurs, a trading figure line that has weird dinosaur hybrids, glow-in-the-dark elements, and surprisingly excellent paint jobs. The line tanked in the USA, getting weak distribution and it seems most stores that got it didn't get enough for it to go to clearance. I found this Cage Set at a Tuesday Morning store, and later found out it had limited distribution at Toys R Us to the tune of about $13. At $6, it's acceptable - and that's keeping in mind the figure it comes with originally sold for about $3. I picked it up on a fairly amazing toy run last August under the assumption I'd never seen it before and I may never see it again, so what's $6? (Also, it looked like it might be a fun toy for my Mordles.)
The Lyscephalosaurus figure is quite impressive for the asking price - its glow-in-the-dark fangs remind me of Dino-Mites (Panosh Place), the painted hammer with a grappling hook at the end of it looks good, and the sculpt of the skin of our dinosaur friend is above average. His wrinkles and scales have a nice wash over them, bringing the orange to life while adding a blue stripe to the back as well as bony deco on the head. His eyes are freakish, yellow orbs with added black and red to make them come alive and if that weren't enough, the interior of the mouth is painted red. As silly as this thing is, as I type this review out, I think I should go get the rest of these while I still can - there's no articulation and they are kind of dumb looking, but the level of quality is impressive and they have more personality than half of the crap I buy these days. I know most of you will roll your eyes at me, but think about it - you pay $1.30-$2.00 for a SLUG Zombie or OMFG figure. This has a lot more going on... it's not as creative, but hey, it's neat at just under 2-inches high.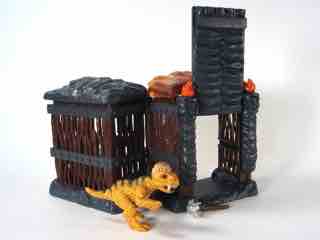 The Cage is the selling point,
The playset is pretty crappy. I know mini-figures are a cheap thrill and popular in Europe, but having seen what lines like Gormiti have offered us, this is pretty weak. Closed, it measures about 4x4x3.5-inches in boxitude. There's a sliding door in front (which sadly you can't see through), a light on top (why?), and a joint in the middle so you can crack it open (again, WHY?). I would say it's best as a place to store 2-3 dinosaurs or maybe six or seven Mordles inside, but your Manglor eggs can hold more and cost less. It's not a lot of fun, the light-up lava roof makes no sense given there are two torches near the door which slides open. Why don't those light up? Why is half of the roof lava? There's so much I don't understand here, and Irwin's sparse packaging makes this almost feel like a bootleg. It's just bad design with a lot of negative space on and in the box. I couldn't resist buying it just to write it up for this site - but I don't think I'd suggest you burn a lot of energy tracking it down.
The cage is entirely plastic, and looks like wood has been collected together with iron bars and rivets under a half-lava, half-cooled lava roof. A sliding door and two torches adorn the front, with dinosaur faces under the flames. The bottom reads "Predasaurs DNA Fusion" and "Dracco," plus has a sticker mentioning iToys USA. So if you find this at a garage sale or a thrift store, hopefully Google will direct you to this page so now you know that this crappy thing wasn't a Mega Bloks Dragons set or a Smurfs trap.
For $12 I would be greatly offended. At $6, I might get the other one - there's a Volcano as well. Other larger toys also showed up overseas in Spain and elsewhere. Mini-figure fans ought to pick this up just because you can count the amount of "playsets" for this size of toy on your hand most years, and I figure you'll have some fun with it. I think about 60 seconds after I got it out of the box, I felt I'd done everything I'd ever want to do with it - so maybe that six bones is better spent on an Adam West Batman figure or maybe a jar of dry roasted peanuts, them things are tasty.
--Adam Pawlus
Additional Images

See more Irwin Toy figures in Figure of the Day:
Day 500: Irwin Toy Predasaurs Kallan Trading Figure
Day 763: Irwin Toy Predasaurs Cage Set with Trading Figure

See more Predasaurs figures in Figure of the Day:
Day 500: Irwin Toy Predasaurs Kallan Trading Figure
Day 763: Irwin Toy Predasaurs Cage Set with Trading Figure