MVR Standard Gobon
Fat Robots Action Fun!

Glyos Action Figures
Item No.: n/a
Manufacturer: Onell Design
Includes: No bonus pieces
Action Feature: n/a
Retail: $8.00
Availability: July 29, 2013
Other: Mellow, Yellow

PREVIOUS
RSS
NEXT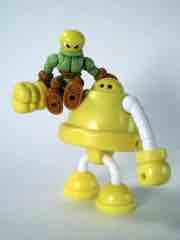 Believe it or not, the yellow MVR Standard Gobon is the first "standard" Gobon ever, even though flavors of him have been around for several years in silver, blue, gold, black, and numerous other colors. This is based on some of the earlier sketches of the character, and the reverse figure (white with yellow arms and legs) was produced at the same time as part of a six figure (technically seven) release in July of 2013. Standard Gobon was the first to sell through, and it's worth noting that a Gobon is usually around $10 and this one was a bargain basement $8.00.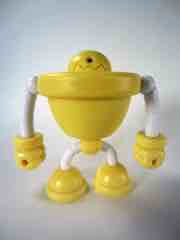 Made of 13 total parts, the pale yellow fellow has about 11 meaningful points of articulation and can be dismantled to reveal an alternate head with a reverse-torso build which looks significantly more evil. His normal head has two eyes on the front and a black single rectangular optic on the back, while the alternate, larger head has a single eye and a jagged mouth. This one looks good for customs, as the mouth itself is rarely painted on Onell Design releases of the mold.
With very little paint, the figure looks a lot like a toy - which makes it fun. There are no panel lines or hard edges, it's just a pretty cute chubby robot that looks right at home next to Imaginext toys or on your desk. At 3 1/4-inches high he isn't exactly tall, but he towers above the bulk of other Onell Design Glyos non-vinyl figures by a bit, and is wider than all of them.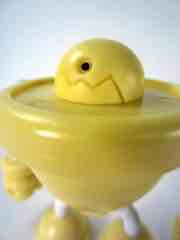 As it's probably impossible for one of these figures to disappoint, I'd say get it if the chance comes up. Gobon doesn't seem to be as popular, which is a shame as he has a few build options in the base figure given the alternate heads. He joins MVR Standard Noboto, Standard Crayboth, and Standard Pheyden MK IV in this year's current kick of "standard" releases, so that probably means we're about due for Sarvos, Argen, or even a Standard Armorvor soon. Because your collection won't be complete without him, I'd suggest to go ahead and get yourself a Standard Gobon on eBay or the forums if the price is right. (And get a Noboto to go with him.)
--Adam Pawlus
Additional Images


Click here to see more Onell Design figures in Figure of the Day.
Click here to see more Glyos Compatible figures in Figure of the Day.