Neo Voss Crayboth
Mean, Green

Glyos 2012 Figure
Item No.: n/a
Manufacturer: Onell Design
Includes: Zilch
Action Feature: Take apart, swap limbs
Retail: $4.00
Availability: May 25, 2012
Other: Small, Fun, You Need One

PREVIOUS
RSS
NEXT

Small and green, the Neo Voss Crayboth is another in the ongoing deluge of the little guys. For a few years, there were only about 10 flavors to speak of. I think it's close to 20 now after a hefty run of promo and other versions in the last year. This one is a delightful bright green color based on what has been referred to by those in the know as "sea glass," which is pretty foreign to me in the desert as we don't have the sea anywhere near here.
Oh, before we continue: there will be a Callgrim drop tonight. I wrote this FOTD ages ago, but had to insert that Glyos news in there.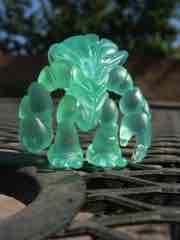 All Crayboth so far have the same mold, so you get a torso with four articulated limbs. One arm is like a claw, another is similar to Mega Man's gun arm. The feet are feet, with little round pads on the bottom and a generally knobby build all under a rounded carapace. It's cute. This one positively sings when you take it outside, so you'll notice the outdoor shots are amazingly bright and shiny while the indoor ones are merely sort of green.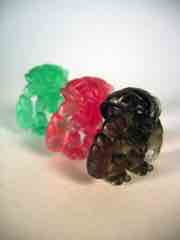 Since Sun is historically bad for plastic toys over time, I would not suggest putting this one somewhere will sunlight will hit it daily... but geez, look at those pictures. It's gorgeous outside. I rarely advise fans to put possibly aging the figure prematurely on their to-do list, but I rarely see a figure that looks this much better outside.

The figure features Glyos pegs like pretty much any other figure in the line, so you may swap parts with our Pheydens and Armorvors to your heart's content. Well, they'll look weird since the Crayboth is barely 2-inches tall but that is the price of love. I think this is the best translucent Crayboth to date just because of how pretty the little buggers can look outside, and he came out in May as a batch of 3 different colors. A clear smoke Crayboth and glittery pink one shipped at the same time, all of which should be on your hunting list if you like unusual, small collectible figures or have a strong affinity for things sized to play with original 1980s Battle Beasts.
--Adam Pawlus
Additional Images

Click here to see more Onell Design figures in Figure of the Day.
Click here to see more Glyos Compatible figures in Figure of the Day.