Standard Pheyden MK IV Action Figure
Fourth Time Is the Charm

Glyos Action Figures
Item No.: n/a
Manufacturer: Onell Design
Includes: n/a
Action Feature: n/a
Retail: $8.00
Availability: June 14 June 23, 2013
Other: Pheyden Redux

PREVIOUS
RSS
NEXT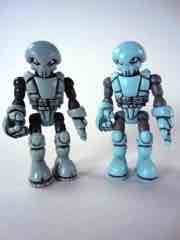 The original version of Pheyden has had numerous incarnations from a Stikfas-based prototype to hand-cast releases, eventually making it to fully-tooled made-in-China release. MK II and MK III sold out reasonably quickly, but the original stuck around for a while - and I got one of those a few years ago, it's the darker one in the image nearby. Standard Pheyden MK IV is similar to the previous releases, but is fairly bright and looks closer to what I assume they were going for since the beginning. This is the line's star character, as seen in the Passcode games and comics.
If you don't have any Pheydens, especially Standard Pheydens, get this one. If you have the original, this one is a softer plastic and is a lot easier to play around with. For $8, it's fun - there's not much packaging to speak of other than a clear unmarked plastic baggie, but hey, don't let that stop you. If you can appreciate action figures made without hinge knees or ball-jointed shoulders, Pheyden is a required purchase. It doesn't matter that you don't understand what the heck it is - it's worth snagging anyway.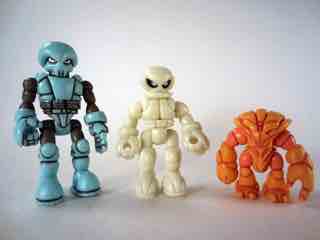 At just over 2 3/4-inches high, Pheyden is roughly the perfect size for your pocket or to be compatible with Imaginext or Playskool Adventure Heroes/Jedi Force/Rescue Bots toys. Since few proper vehicles or playsets exist for Glyos, this is handy. Pheyden has no accessories of his own, and is made of 13 pieces which can be popped apart and reconfigured to your liking. He stands, he sits, he can be posed to wave his hand... it's a fun figure. If you've been buying these, though, you know that it doesn't bring much new to the table other than allowing new fans (and old fans) to get a classic release in a slightly improved format.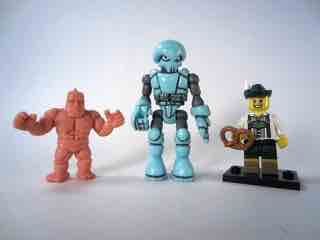 The figure is something of an enigma, mostly because the Matt Doughty school of design is, I think, intended to make you think you see things and then second-guess yourself. Pheyden's head is a head and not a helmet... right? And his belt, those are pouches for something... aren't they? Many.shtmlects of the character are left vague, so the skull-like head, clear eyes, and space suit-like body don't quite make it clear who this guy is and what's he made of. Flesh? Metal? Kevlar? Some questions don't have answers that I've been at liberty to see, so this mysterious space traveler with warping powers is open to a degree of interpretation.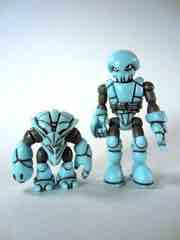 For a toy that's been available off and on for six years, Pheyden still looks pretty great and serves as a reminder of what action figures could have been like in the 1970s or 1980s, were they all given swappable arms and heads. This character kicked open the door for a lot of talented people to make neat figures in China - O.M.F.G., Banimon, Callgrim, Ni Stuff, and so on - so this figure is important to the world of indie toy collecting as both a symbol and a nifty thing in its own right.
A few years ago, Onell Design teased a new Pheyden sculpt might be in the works but so far, we've seen and heard nothing since then. I can't wait to see what it is, myself!
--Adam Pawlus
Additional Images


Click here to see more Onell Design figures in Figure of the Day.
Click here to see more Glyos Compatible figures in Figure of the Day.