Sideswipe
Series 01 #011

Transformers Generations Deluxe
Item No.: Asst. 37986 No. A1426
Manufacturer: Hasbro
Includes: Extending Battle Cannon
Action Feature: Transforms from Cybertronian Racer to robot
Retail: $15.99
Availability: December 2012
Other: 01 Series #011

PREVIOUS
RSS
NEXT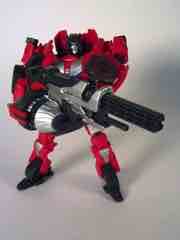 Not as crappy as you might think! Remolded from the questionable Jazz, Sideswipe is effectively the same toy with a new head, a new gun, and a new card body kit. Oh, and a terrible head paint job. (They left the eyes unpainted.) The toy manages to be interesting because it defies expectations and is something most Hasbro toys rarely are these days: fun. The large gun, dubbed the Path Blaster, adds a surprising amount of play to the otherwise ho-hum transforming toy which is probably the most extensive redeco we've seen on a deluxe mold. But let's be clear here... the reason you want this toy is for his gun. If that sounds insane, $15.99 for a deluxe toy and a giant weapon is a far cry from what you probably paid for your third party guns and axes over the last several years.
Just for kicks, let's start with the gun. The barrel can actually extend and retract, as far as I can tell for no valid reason other than "because it's cool." At its longest, it measures about 4 1/4-inches long and sports a decent amount of gimmickry. There are painted silver and red highlights, which are quite unusual for most weapons on these toys. There's a spinning, clicking barrel only "spinning" is a bit of an exaggeration. It does make a satisfying "click" and takes a fair amount of effort to make the thing move, which means it's streets ahead of your other Transformers weapons. With 2 5mm pegs, it's easy to connect to Sideswipe in either mode. But wait, there's more! The back of the gun has this undocumented clip feature, so it can be mounted on the rear spoiler of the car. Because of this, there's no doubt the weapon is optimized for this Sideswipe figure... but the pegs are so great and the weapon is so cool, you'll want to pull your other toys out, just so they can take turns messing with it. To me, that's the very definition of a new fun toy in a line I already collect. If any toy worms its way into your core and makes you pull out your other toys to play with, it's a winner.
If Sideswipe ever gets blown out on the cheap, I'll likely buy more just to swipe his gun. I really like it.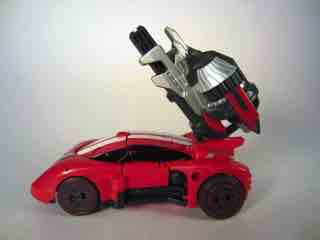 In car mode, the figure looks like a brand-new toy. As mentioned above, it builds on Jazz' chassis but adds a new body with a few new sections. The doors and fenders are basically the same, but the hood, windows, and bumper sections are all completely new. Colored red with silver stripes, they also look a heck of a lot better than Jazz' pearly but ultimately limp car paint job. You can see painted windows here, and I would argue he makes a better car than a robot.
That's the good news. The bad news is that the transformation is basically the same, and my sample is a little worse. Tabbing Sideswipe's arms into the tabs on the car is difficult, and his arms also pop out a lot more. (For the record, my Jazz has yet to pop apart during transformation.) The process is pretty much the same as Jazz, but slightly less frustrating... save for the arm popping. It's still not an ideal transforming toy.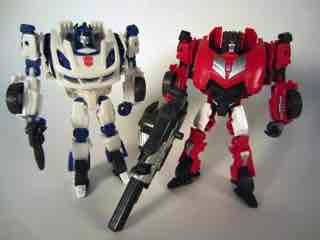 As a 5-inch robot, the toy is pretty good. His gun is so heavy that gravity may get in the way of posing him properly, but you can use it as a third leg and the tripod will stand just fine. Deco is nice, with the silver carrying over from the racer mode and new white thighs popping up. They're painted, so be sure to look at the store for a pristine specimen. The figure's head sculpt has been the subject of some fan rage, as the sculpt is a little weird and the unpainted eyes are downright unpleasant at first. I've since gotten used to it since finding it last week, but I really wish they were painted blue like on the packaging photos. For such a great figure, it really feels like the one thing that's missing here. And if there were to be two missing things here, I'd say look at his feet. The foot piece has fake tires on them, and that entire component is unpainted. It doesn't look terrible, but it doesn't look good either.
I was originally going to post Ultra Magnus first, but Sideswipe's gun just grabbed me so much that I hat to talk him up first. The overall package should be an acceptable toy, but I'm going to guess he won't get a lot of play. His gun, on the other hand, is a gem. I am dumb enough to contemplate paying $16 for a nice accessory and have come close on many occasions. If you see him on clearance and collect this line, do not hesitate-- buy it. If you're at all on the fence, I'd suggest waiting. He's the slowest seller of the wave so far, and it seems likely he'll be around for a sale, or maybe in a future case or set that you order online. If you like to arm your figures, consider this one an essential purchase. If it weren't for the gun, though, I'd probably suggest that you skip him unless you're a die-hard Sideswipe fan, and I know at least one of you fits this description.
--Adam Pawlus
Additional Images

Click here to see more Hasbro figures in Figure of the Day.

Click here to see more Transformers figures in Figure of the Day.

Want to buy this figure? Check Transformers availability at our sponsors:
Entertainment Earth