Elf
Nameless, assumed LEGO-las

LEGO Minifigures Series 3
Item No.: 8803
Manufacturer: LEGO
Includes: Stand, cape, bow, shield
Action Feature: n/a
Retail: $2.99-$3.99
Availability: Janaury 2011
Other: #9 in a collection of 16

PREVIOUS
RSS
NEXT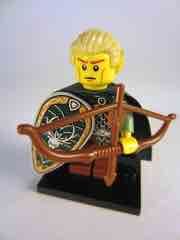 There's no mistaking this Elf LEGO Minifigure for anything other than Legolas of Lord of the Rings fame. In 2011 when he debuted, LEGO had not yet announced Tolkien-based sets. Those would come in 2012. A number of characters that were similar to famous licensed faces but just different enough to dodge any squirmy copyright issues have come out of LEGO and Playmobil in their blind bagged line, most of which were generic concepts that weren't that similar to pop culture. The gorilla suit guy could be just any guy in a suit, and mummies aren't exactly unique to Universal Studios.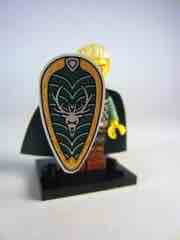 In a particularly clever reuse of parts, the Elf's painty ears and hair are the same piece as the werewolf of series 4. Even in series 3 the ingenuity combined with the economy of parts resulted in some pretty nifty things, but the fun of a new license means more funding for more new parts, so the proper 2012 Legolas Greenleaf minifigure got a whole new hair with ear piece.
The printed deco doesn't disappoint, with visible armor, belts, and straps plus a painted fake c.shtml for his real cloth cape. The determined expression looks fantastic, and the color selection is perfect for one of the first (if not first) "fantasy" elf figures from LEGO. While numerous spins on woodland warriors like Robin Hood have been in various Castle lines for years, LEGO's interest in fantasy didn't crop up until relatively recently with a number of ogres and orcs and dwarves, many of which are of their own design. Knights are nothing new, there are plenty of those.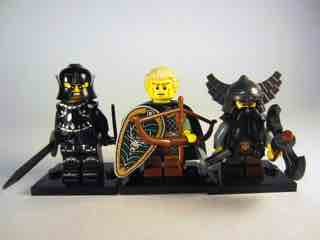 This figure has proven popular and now commands $12-$15, give or take, on eBay. With the awesome deer shield and the adequate bow with arrow, it's a hard figure to ignore. The classic yellow heads probably appeal to a lot more of the older audience, and the figure proved popular enough to warrant a "Forest Maiden" in series 9 as a sort of a lady elf. While not explicitly elven, the similar coloring and gear are hard to ignore. If you can get the not-Legolas on the cheap, I suggest that you do so. I really dig how he turned out, and unless you have too many LEGO men I'm sure you'll dig this one too.
--Adam Pawlus
Additional Images

See more LEGO figures in Figure of the Day:
Day 2: LEGO Minifigures Series 2 Disco Dude
Day 33: LEGO Minifigures Series 1 Super Wrestler
Day 36: LEGO Minifigures Series 2 Mime
Day 38: LEGO Minifigures Series 2 Karate Master
Day 77: LEGO Minifigures Series 1 Ninja
Day 85: LEGO Minifigures Series 1 Spaceman
Day 106: LEGO Minifigures Series 2 Witch
Day 123: LEGO Minifigures Series 1 Robot
Day 130: LEGO Ninjago 2112 Cole Action Figure
Day 136: LEGO Bionicle 8563 Tahnok Action Figure
Day 148: LEGO Minifigures Series 1 Cheerleader
Day 152: LEGO Minifigures Series 1 Crash Test Dummy
Day 161: LEGO Minifigures Series 1 Forestman
Day 174: LEGO Minifigures Series 3 Gorilla Suit Guy
Day 176: LEGO Minifigures Series 3 Mummy
Day 181: LEGO Bionicle 8534 Tahu Action Figure
Day 182: LEGO Minifigures Series 3 Sumo Wrestler
Day 188: LEGO Minifigures Series 3 Tennis Player
Day 190: LEGO Minifigures Series 3 Rapper
Day 195: LEGO Minifigures Series 3 Space Alien
Day 198: LEGO Minifigures Series 1 Deep Sea Diver
Day 215: LEGO Minifigures Series 3 Fisherman
Day 218: LEGO Minifigures Series 2 Weightlifter
Day 220: LEGO Bionicle Stars 7116 Tahu Action Figure
Day 225: LEGO Minifigures Series 3 Baseball Player
Day 239: LEGO Minifigures Series 2 Lifeguard
Day 260: LEGO Minifigures Series 2 Ringmaster
Day 267: LEGO Minifigures Series 3 Tribal Chief (Indian)
Day 275: LEGO Minifigures Series 2 Traffic Cop
Day 347: LEGO Minifigures Series 4 Punk Rocker
Day 358: LEGO Minifigures Series 3 Pilot
Day 368: LEGO Minifigures Series 5 Lizard Man
Day 378: LEGO Minifigures Series 5 Lumberjack
Day 389: LEGO Minifigures Series 5 Evil Dwarf
Day 402: LEGO Minifigures Series 4 Crazy Scientist
Day 414: LEGO Minifigures Series 5 Gangster
Day 422: LEGO Minifigures Series 5 Ice Fisherman
Day 434: LEGO Minifigures Series 4 Artist
Day 452: LEGO Minifigures Series 4 Hazmat Guy
Day 455: LEGO Minifigures Series 7 Computer Programmer
Day 462: LEGO UFO Shell Exclusive Spacecraft
Day 467: LEGO Minifigures Series 4 The Monster
Day 474: LEGO Minifigures Series 6 Intergalactic Girl
Day 489: LEGO Minifigures Series 6 Clockwork Robot
Day 501: LEGO Minifigures Series 6 Classic Alien
Day 522: LEGO Minifigures Series 6 Genie
Day 535: LEGO Minifigures Series 4 Kimono Girl
Day 535: LEGO Minifigures Series 4 Werewolf
Day 633: LEGO Minifigures Series 7 Galaxy Patrol
Day 692: LEGO Minifigures Series 6 Skater Girl
Day 707: LEGO Minifigures Series 3 Elf
Day 721: LEGO Minifigures Series 5 Egyptian Queen
Day 724: LEGO Minifigures Series 10 Sad Clown
Day 730: LEGO Minifigures Series 10 Librarian
Day 730: LEGO Minifigures Series 6 Sleepyhead
Day 825: LEGO Minifigures Series 11 Yeti
Day 831: LEGO Minifigures Series 7 Hippie
Day 837: LEGO Minifigures Series 7 Scientist
Day 871: LEGO Minifigures Series 10 Bumblebee Girl
Day 884: LEGO Minifigures Series 5 Fitness Instructor
Day 884: LEGO Minifigures Series 4 Soccer Player
Day 1,120: LEGO Teenage Mutant Ninja Turtles Mikey's Mini Shellraiser
Day 1,122: LEGO Minifigures Series 8 Vampire Bat
Day 1,533: LEGO Minifigures Series 16 Spy
Day 1,680: The LEGO Batman Movie Catman
Day 2,063: LEGO The LEGO Movie 2 70841 Benny's Space Squad Set
Day 2,071: LEGO Space Police 5981 Raid VPR Set

Want to buy this figure? Check LEGO availability at our sponsors:
Entertainment Earth