Molotov
8-inch-Scale Figure

Venture Bros. 8-inch Scale Action Figure
Item No.: No. 09104
Manufacturer: Bif Bang Pow!
Includes: Knife, 2 pistols
Action Feature: n/a
Retail: $21.99
Availability: March 2013
Other: Full character name does not appear on package

PREVIOUS
RSS
NEXT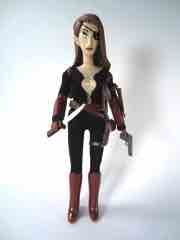 The 8-inch Molotov was another character that I was pleased to see happen (full disclosure: I consulted on this line) and while I didn't have a ton of input, seeing them get out a figure with the name "Molotov Cocktease" in toy form required a little bit of word-based trickery. Much like the Star Destroyer Executor became "Darth Vader's Star Destroyer" and the Phantom Shithouse became the Phantom Outhose, Molotov Cocktease just dropped her last name for a simpler, retail-friendly parent-don't-need-to-blush name. It's clever, I have to think.
The figure puts a brand-new head on an old Mego/Emce Toys retro body, with boots that are a little olde-tyme and a completely new outfit. Due to Molotov's uniquely thin form factor, the skinny 1970s female body image sort of works well here - the outfit hugs her nicely, and clear plastic straps keep her outfit from exposing herself to you. The boots feel quite retro, and not wanting to futz with getting them back on, I'm going to leave them as is and assume they come off just fine. The boots do not help her stand, so prepare to lean her against a wall or buy some doll stands at the hobby shop. Such is the fate of most Mego toys.
Her face feels like a nice modern sculpt based on the animation model, like most of these figures. It's a strange combination - classic 1970s body, modern 21st century head - but it generally looks pretty good and feels like something that might exist within the confines of the show. Her costume is very old-fashioned, with some printing on it for the buckles. There are two velcro holsters, a sheath for her knife, and two pistols included - so she has just enough gear to keep her hands busy, or you can holster them away. The figure strikes a good balance between "new" and "old."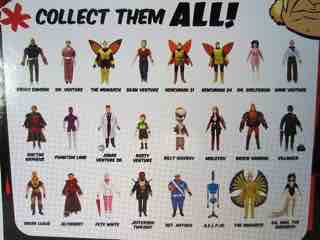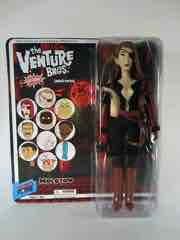 As Brock's on-again, off-again gal pal and one of the world's most deadliest assassins, Molotov is one of few women on the boy's club of The Venture Bros., and like the others she tends to be competent while most of the guys are more or less buffoons - of course, the women are also largely fairly hot in the James Bond girl/comic/pop culture tradition. As the only (and therefore greatest) 3-D representation of this babysitter/killer, I'd say put her near the top of your wish list. She turned out well, she has the heart eye patch, and her weapons aren't bad. The pistol is unpainted, but the knife has a great silver blade and a brown grip. If you think you want this figure, I think you're going to be happy with it.
--Adam Pawlus
Additional Images

See more Bif Bang Pow! action figures in Figure of the Day:
Day 3: Venture Bros. The Monarch Action Figure
Day 192: Venture Bros. Dean Venture Action Figure
Day 289: Venture Bros. Jonas Venture Action Figure
Day 297: Venture Bros. Rusty Venture Action Figure
Day 303: Bif Bang Pow! Venture Bros. Dr. Girlfriend Action Figure
Day 308: Bif Bang Pow! Doctor Who Fourth Doctor Action Figure
Day 313: Bif Bang Pow! Venture Bros. Dr. Orpheus Action Figure
Day 362: Bif Bang Pow! Venture Bros. Hank Venture Action Figure
Day 439: Bif Bang Pow! Venture Bros. Phantom Limb Action Figure
Day 490: Bif Bang Pow! Venture Bros. Bloody Brock Samson Action Figure
Day 499: Bif Bang Pow! Venture Bros. Brock Samson Action Figure
Day 666: Bif Bang Pow! Venture Bros. Dean Venture Action Figure
Day 666: Bif Bang Pow! Venture Bros. Hank Venture Action Figure
Day 699: Bif Bang Pow! Venture Bros. Molotov Action Figure
Day 732: Bif Bang Pow! Venture Bros. Dr. Mrs. The Monarch Action Figure
Day 771: Bif Bang Pow! Venture Bros. Brock Samson Action Figure
Day 867: Bif Bang Pow! Venture Bros. Unpainted Test Shot Monarch Action Figure
Day 970: Bif Bang Pow! The Twilight Zone Henry Bemis Action Figure
Day 1,003: Bif Bang Pow! Venture Bros. Monarch Action Figure
Day 1,027: Bif Bang Pow! The Twilight Zone Kanamit (Work Uniform) Action Figure
Day 1,054: Bif Bang Pow! Star Trek: The Next Generation Lieutenant Worf
Day 1,063: Bif Bang Pow! The Twilight Zone Talky Tina Action Figure
Day 1,388: Bif Bang Pow! Peg Pals Batman Armored
Day 1,928: Bif Bang Pow! DC Comics Pin Mate Wonder Woman
Day 2,134: Bif Bang Pow! The Twilight Zone Gremlin

See more Venture Bros. figures in Figure of the Day:
Day 3: Venture Bros. The Monarch Action Figure
Day 192: Venture Bros. Dean Venture Action Figure
Day 289: Venture Bros. Jonas Venture Action Figure
Day 297: Venture Bros. Rusty Venture Action Figure
Day 303: Bif Bang Pow! Venture Bros. Dr. Girlfriend Action Figure
Day 313: Bif Bang Pow! Venture Bros. Dr. Orpheus Action Figure
Day 362: Bif Bang Pow! Venture Bros. Hank Venture Action Figure
Day 439: Bif Bang Pow! Venture Bros. Phantom Limb Action Figure
Day 490: Bif Bang Pow! Venture Bros. Bloody Brock Samson Action Figure
Day 499: Bif Bang Pow! Venture Bros. Brock Samson Action Figure
Day 666: Bif Bang Pow! Venture Bros. Hank Venture Action Figure
Day 699: Bif Bang Pow! Venture Bros. Molotov Action Figure
Day 732: Bif Bang Pow! Venture Bros. Dr. Mrs. The Monarch Action Figure
Day 771: Bif Bang Pow! Venture Bros. Brock Samson Action Figure
Day 867: Bif Bang Pow! Venture Bros. Unpainted Test Shot Monarch Action Figure
Day 1,003: Bif Bang Pow! Venture Bros. Monarch Action Figure

Want to buy this figure? Check Venture Bros. availability at our sponsors:
Entertainment Earth