Standard Crayboth MK II Action Figure
Surprisingly Different From The First Crayboth

Glyos Action Figures
Item No.: n/a
Manufacturer: Onell Design
Includes: n/a
Action Feature: n/a
Retail: $4.00
Availability: June 14 June 23, 2013
Other: Crayboth Redux

PREVIOUS
RSS
NEXT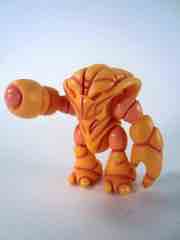 On paper I had no reason to snag a Standard Crayboth MK II, but I got a glimpse at the pictures showing it was, in fact, different enough to be interesting. If you've never played with one before you'll be amazed, but odds are if you're reading a Glyos review, you're probably a low-level expert on their various offerings by now.
It's similar to the original Standard Crayboth (seen below) but with a few superficial changes, not the least of which is packaging - the original Crayboth figures were 2-packs in small boxes, which were eventually phased out. The 2013 model comes to you in a plain clear wrapper.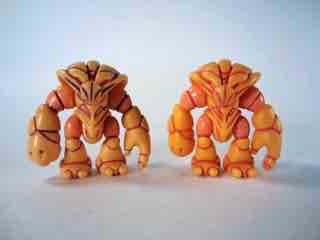 Above on the left is the original, on the right is the MK II. The colors feel very different - the plastic is more orange than peach, the panel lines are pink instead of purple, and the right arm's "cannon hole" part is now painted rather than unpainted. If you're trying to tell an original from a MK II, that painted nub on the arm below is basically the dead giveaway. At first glance, you might not notice all the other differences.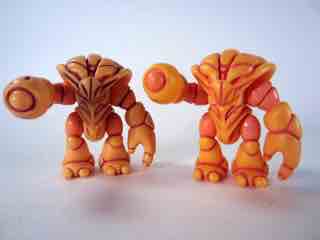 This little guy came out as part of a "Buildstation Wave," and the general idea seemed to be making basic figures for new fans, in large numbers, that would be in stock for a while. They lasted longer than most new figures, although several of them sold out within a week and for all I know, will go out of stock for another year once it sells. The Crayboth figures are really great little guys, similar in stature to the original Battle Beasts with moving arms and legs. There are no accessories or special features, but the little crab/bug guys are really nifty as they seem to combine the best parts of Samus Aran or Mega Man with the crab people. Little toes, various panel lines, and large wide heads make the 1 1/2-inch tall little guys a distinctive collectible. As toys they don't offer the range of movement of a Noboto or a Pheyden, but they fit in nicely with a number of other toy lines and were the first area of Glyos I decided to collect in their entirety.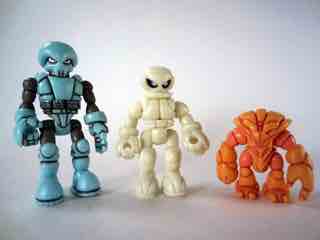 I appreciate that Onell Design made this figure more orange than his ancestor, as the figure feels generally more vibrant and saturated in color than the original. It's simpler than the average modern action figure, but more complex than a little rubber figure. At $4, it's not exactly a bargain but since they're fun, I'd suggest you snag at least one all the same. Since they first went on sale in 2008, depending on how you count, there are at least 27 mass-produced varieties of the little guys at this point - and even though they've been around since 2008, the greatest concentration of new ones was released in 2012. Should you decide to collect these guys, there are usually between one and three per new "drop" and quite often, they are placed in orders as freebies - unadvertised - so that should make you paranoid to order something each time.
--Adam Pawlus
Additional Images


Click here to see more Onell Design figures in Figure of the Day.
Click here to see more Glyos Compatible figures in Figure of the Day.