Cyclops
Giant from Beyond the Milky Way

Outer Space Men infinity Edition
Item No.: n/a
Manufacturer: Four Horsemen
Includes: 2-piece helmet, inner helmet, 2-piece armor, twin eye blasters, alternate fists
Action Feature: n/a
Retail: $50.00 (sold as a set with Orbitron and Gemini)
Availability: March 2013
Other: Fourth release of Cyclops in this line

PREVIOUS
RSS
NEXT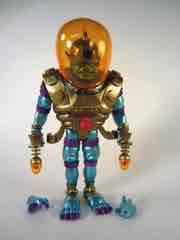 The Outer Space Men line has been on a pretty level trajectory since its start in 2010, with figures basically meeting expectations as to what you get for your $10 $12.50 $13-$26. As the first "deluxe" sized creature in this line, Cyclops is a massive, impressive, exquisitely detailed action figure. But is it worth $26 next to his $13ish siblings? That's debatable, but it's still the best space cyclops you'll ever see. It's like a monster out of The 7th Voyage of Sinbad, only, you know, blue. And not vaguely hairy.
At the tip of his helmet, this figure - the largest in the line - stands about 5 1/2-inches tall. Because of this size, certain elements take on a different feel with the additional heft of the design. It still employs Glyos joints and the same basic structure as the other figures, but it also adds on a large chunk of armor with working holsters for his blaster. The design eschews the alternate bent arms of the smaller figures in favor of open or closed fists, which have purple palms and claws. My initial reaction to the added purple paint was that it seemed overly ornate, but within minutes it goes from "this is overkill" to "duuuuuuuude this is nice." The figure's head has some added color like a golden horn, purple ears, and a big white eye with some red and black which makes it pop to life. Cyclops' face really does feel like an artifact of the 1960s with bright colors and sharp shapes, plus his metallic blue skin looks like it could have stepped out of a mall department store of old. It's gorgeous, lively, and helps bring the head sculpt to life quite nicely. Previous releases of Cyclops were in clear plastic, so this one's opaque and metallic appearance really causes the teeth and nose to pop out.
The Cyclops body is made of about 15 pieces, plus 2 helmet parts, 2 armor parts, and a smaller inner-helmet. The figure is cast in white plastic and painted with metallic blue, a flat purple, and metallic gold. And boy howdy, it's amazing. The armor is a nice bonus, adding even more heft to this already huge figure. It fits tightly over his body, and there's a peg that plugs into Cyclops' back for added stability. The front of the outfit has a big red knob on it which... well, make your own jokes here.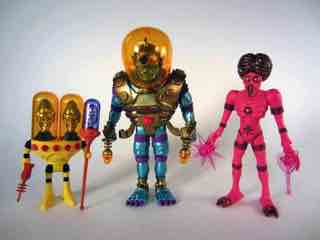 Both eye blasters fit into his closed fists nicely, plus they also fit into the holsters in his armor without a problem. Everything fits, everything belongs, but the blasters are worth exploring. The prototype for this release (and the 1969 non-release) had uncovered blasters, the clear orange plastic was not originally on them. Why? Not sure, but the backstory says that these are not actually guns but rather extra eyes for Cyclops. The one on his head is an all-seeing eye, but these have powers to see the future and the past. Or, you know, the ability to go "pew pew pew" when kids play with it. It's difficult to see in the pictures, but the Four Horsemen did indeed paint eyes inside each one of the blasters, which is a detail I never realized until getting this figure home. The previous 3 clear releases didn't seem particularly eye-like.
>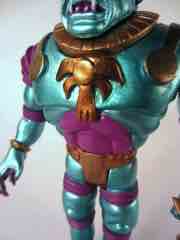 One last detail worth mentioning, which I pointed out in other reviews, was that Pheyden of Glyos fame sort of appears on this figure's chest. Creator Mel Birnkrant even confirms it on his own page, and now that it's painted, it's a little more pronounced. Easter eggs like these make the toys superbly fun for us old collector folk, although I have to wonder what kind of grand space opus is going on in the minds of the creators where Cyclops and Pheyden may have, at some point, met up and fought evil or something. I'd like to read that story.
Context is everything - were this released individually (or first), or on Kickstarter, it would be unquestionably worth the $26. Because the rest of the line is so much cheaper, it's hard to say that this figure is twice as good as a basic figure but it really, really is spectacular to look at. If you're waffling on just getting this one figure because of the price, I can't blame you - but the entire wave at $50, with this figure, is totally, totally worth the asking price. If you only get one Outer Space Men figure, I would put this at the top of your wish list. (Along with Inferno and Astro-Nautilus and Mystron and... just go ahead and get them all.) This is a figure that meets and basically exceeds expectations, it would seem difficult if not impossible to make it even better than it is.
--Adam Pawlus
Additional Images

Click here to see more Four Horsemen figures in Figure of the Day.

Click here to see more Outer Space Men figures in Figure of the Day.

Click here to see more Glyos Compatible figures in Figure of the Day.