Neo Gatekeeper Reverse Mimic Armorvor
Think Pink - Think Very Pink

Glyos Action Figures
Item No.: n/a
Manufacturer: Onell Design
Includes: Backpack, furry head, helmet head
Action Feature: Multiple swell configurations
Retail: $8.00
Availability: September 2013
Other: Armorvor #12 (or #13 if you count the eye variant)

PREVIOUS
RSS
NEXT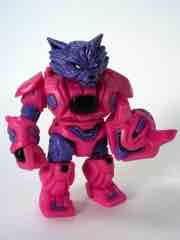 The "neo" in Neo Gatekeeper Reverse Mimic Armorvor references a couple of traveler figures made several years ago in very similar colors. In September 2013, Onell Design brought back the basic palette in new configurations and no panel lines, and the results are staggeringly bright. Or, if you prefer, something out of a late 1980s girl-driven toy line. The pink is quite bright, while the purple is similar to that of all of October Toys' purple exclusive figures.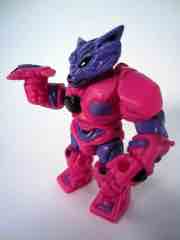 The color layout is similar to other recent figures, with the palette mixed up. The eyes are white with a black outline, while the fur is now purple - again, very similar to the October Toys purple and very similar to the purple markings on the body. The figure is cast entirely in a pink plastic, with a few highlights and the always-fun black core piece. Our pal's helmeted head has a black visor, and can be swapped around to go from robotic wolf to a robotic dog face. I prefer the furry head or the robo wolf head on this model.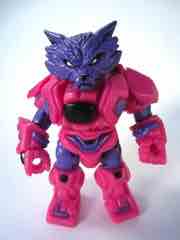 The figure is a hair shorter than Glyans and is made of 18 plastic parts. While other Glyos figures have tampographed symbols on their shoulders or panel lines, the Armorvors haven't had such adornments just yet. As is it's a nice and blisteringly bright figure, and really stands out from the rest of the Armorvors and most of the Glyos line. Most new figure development tends to be very similar to existing products, so the real big changes come from deco or plastic color - and Matt Doughty is nothing if not good at finding new plastic colors for his figures.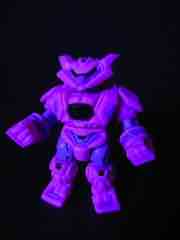 This is a fun one because it looks like it could have been released in 1992. It seems like a late-era unmade Battle Beasts figure in almost all but name, but as much as I love the Armorvor figures I think I'm ready for something new - new heads, new weapons, or some other different element. The coloring is good, though, and as these figures are taking a little longer to sell through I assume some strange experimenting is in order to get people even more crazed over these guys.
--Adam Pawlus
Additional Images


Click here to see more Onell Design figures in Figure of the Day.
Click here to see more Glyos Compatible figures in Figure of the Day.