Gemini
The Man from the Twin Star Algol

Outer Space Men Beta Phase New York Comic Con 2012 Exclusive
Item No.: n/a
Manufacturer: Four Horsemen
Includes: Alternate bent (or straight) arms, removable helmets, multi-part staff, ray gun
Action Feature: n/a
Retail: $65.00 (sold as a set with smoke Cyclops and purple Orbitron)
Availability: October 2012
Other: Second release of Gemini in this line

PREVIOUS
RSS
NEXT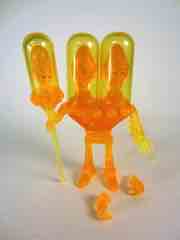 Sometimes a high price stings for a long time, and with Gemini time has softened it a bit. It still hurts, particularly given how lush the fully-painted figure looked when he showed up at my house recently at a lower price to boot. But I do love orange. So much. Gemini is one of only two figures to be cast in orange so far, the other being Xodiac from the very first release of these figures back in 2010. Both the orange and the yellow plastics match fairly closely, making this a worthwhile bright and shiny addition to your toy shelf. If you've got a little extra cash to waste, that is, otherwise just get the painted one.
The figure is one of the smallest in the line, but also has a ridiculously high piece count for reasons that I assume were done mostly just to show off. It's quite remarkable - numerous removable pieces and connections were added to this figure for no reason other than for customizers to enjoy them, and that's really something. Ten rivets orbit his torso, all of which can be replaced with other parts. There are three holes for the head on the "neck" region, two of which are occupied by heads by default with a third, centered head if you're looking to try another look.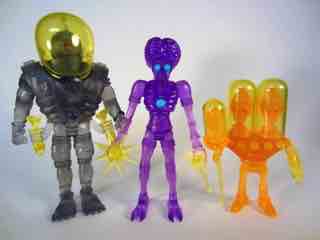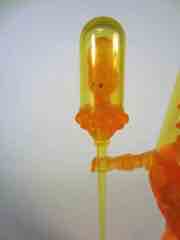 The figure is made of about 24 parts, plus 2 helmet pieces, plus a 4-part staff, with 2 bonus arms and a ray gun. That's a fair amount of plastic, and I have to say I'm impressed and a little disappointed they didn't cut costs. The Horsemen certainly gave us the best possible figure, which is always welcome, but I don't think I'd have missed it if the "neck" pieces were fused to either the head or body to save a few cents, or if the rivets were molded in place. This just goes to show the kinds of extremes they will go to make sure fans have pretty much nothing to complain about, really. I mean, I have no reason to complain at all other than my cheapness.
While a neat figure on his own, Gemini really shines as sort of the ultimate proof-of-concept for Glyos. All of the pieces are swappable with one another save for a couple of "mini" Glyos pegs used for the wrists and ankles, so you can swap parts around on this figure or exchange them with others. If I had more Astro-Nautilus figures, I could replace all of those rivets with tentacles, and boy howdy I wish I had enough matching ones to pull that off. It's quite impressive to see how an action figure design from 1969 could be modified to look not only like the original idea, but that it could be compatible with a system of action figure construction that wouldn't see plastic for another four decades.
If you like Glyos or Outer Space Men toys, Gemini is essential. I love the orange one a lot, and the painted one is quite nice as well. This is probably the best figure out of the New York Comic Con "Beta Phase" batch, and in terms of overall execution I'd say it's on par with the fully-painted Gemini. Get what your budget allows, but if it allows for two Gemini figures go ahead and snag this red-eyed clear-orange candylike creature.
--Adam Pawlus
Additional Images

Click here to see more Four Horsemen figures in Figure of the Day.

Click here to see more Outer Space Men figures in Figure of the Day.

Click here to see more Glyos Compatible figures in Figure of the Day.