Slasher Seahorse
Japanese name "Juniordragon"

Battle Beasts Series 2
Item No.: #45
Manufacturer: Hasbro
Includes: Screw Spinner trident, second randomly-selected figure)
Action Feature: n/a
Retail: approx. $3.99
Availability: ca. 1987
Other: This sample has a "Fire" color rubsign

PREVIOUS
RSS
NEXT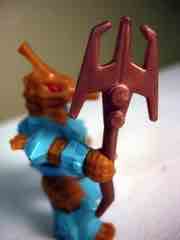 Another Battle Beasts I've had since it was first in stores, Slasher Seahorse is my buddy. It looks like we'll get at least one semi-updated version of this sea creature in Beast Saga eventually, but he ain't out yet. Let's look at an original!
Like most of the vintage Battle Beasts, Slasher Seahorse manages to combine Takara's robotic eyes with an adorable house style, resulting in a collectible figure that appeals to children and adult man-children alike. His glowing red eyes don't really shine in his brown plastic head, but they contrast nicely with his blue armor complete with silver lights. Much like the fire-spitting dragons in Metroid, his snout and crest come off as cute and you're probably also just so gosh darned happy to have one that it may not bother you that his paint spray isn't terribly even, and when you have dark plastic it can show through any light paint errors much more easily.
With two points of articulation, the figure has a heat-sensitive rubsign and the traditional robo man panties. His "feet" are exposed in his boots, and the outfit (when you get right down to it) has body coverage similar to that of Masters of the Universe. The real-life creature's fins are represented by fleshy growths on the shoulders, and unlike some other early figures Slasher Seahorse has textured hands. The armor is covered with panel lines and vents, which look great for really no good reason. His entire body has a fairly consistent and boxy texture, and this contrasts nicely with the fairly smooth look of pretty much the entire line. In other words, this is one of those figures that's not like the others.
His trident, or spear, or whatever fits in his hands perfectly because in the 1980s, that was considered normal. Figures which couldn't carry their gear from major toy companies were far and few between, and its bizarre, angled pole vaguely recalls undersea life like rays. I might just be reading into something that wasn't there. Sorry this one wasn't more amusing, I never really looked at this figure under the hi-res lens of a camera before and it's weird realizing that one of my best plastic pals from childhood is actually a finely-sculpted action figure worthy of your attention. Even today, it still looks great and gives current Beast Saga figures a run for their money in terms of sculpted detail, if not deco or articulation. To this day I don't g.shtml why he has such a horrifying name. Heck, lots of these guys have pretty gritty names, I suppose it was easier to get away with as none of the toys were named on-pack and were revealed through a mail-in poster offer.
As a kid I made it a point to get as many ocean-based Battle Beasts as possible, as I've found many of you have as well when you write in. (Don't forget, you can leave comments too!) The vintage figure/weapon/figure+weapon are actually pretty cheap on the secondary market and you shouldn't have too much trouble scoring one in good, complete condition for under $10. I'm seeing several closing for around $7. Considering modern Battle Beasts Minimates 2-packs are close to $10 and Beast Saga imports are impossible to get for under $7, why not get some vintage, OG-style figures while the prices are still decent?
--Adam Pawlus
Additional Images

Click here to see more Hasbro figures in Figure of the Day.
See more Battle Beasts figures in Figure of the Day:
Day 82: Diamond Select Battle Beasts Minimates SDCC Gold Alligator Action Figure
Day 373: Diamond Select Battle Beasts Minimates Case Red Alligator Action Figure
Day 374: Hasbro Battle Beasts Sawtooth Shark Action Figure
Day 375: Hasbro Battle Beasts Wolfgang Walrus Action Figure
Day 376: Hasbro Battle Beasts Diving Duckbill Action Figure
Day 377: Hasbro Battle Beasts Spark Shark Action Figure
Day 390: Diamond Select Battle Beasts Minimates C2E2 2012 Red Vorin
Day 391: Hasbro Battle Beasts Anarchy
Day 395: Diamond Select Battle Beasts Minimates C2E2 2012 Grey Vorin
Day 417: Hasbro Battle Beasts Run Amuck Duck
Day 436: Hasbro Battle Beasts Horny Toad
Day 450: Diamond Select Battle Beasts Minimates SDCC 2012 Vorin & Zik
Day 451: Hasbro Battle Beasts Sledgehammer Elephant
Day 460: Diamond Select Battle Beasts Minimates SDCC 2012 Gold Vorin
Day 463: Diamond Select Battle Beasts Minimates C2E2 Exclusive Black Alligator
Day 451: Hasbro Battle Beasts Pillaging Polar Bear
Day 577: Hasbro Battle Beasts Slasher Seahorse
Day 610: Diamond Select Battle Beasts Minimates Gruntos the Walrus & Tate Reynolds
Day 639: Hasbro Battle Beasts Triple Threat Snake
Day 674: Hasbro Battle Beasts Hare Razing Rabbit
Day 720: Diamond Select Battle Beasts Minimates Shadow Merk
Day 723: Hasbro Battle Beasts Pillager Pig
Day 914: Hasbro Battle Beasts Rainbow Sam
Day 972: Hasbro Battle Beasts Pixilated Pointer
Day 1,084: Hasbro Battle Beasts Sir Sire Horse
Day 1,278: Hasbro Battle Beasts Hardtop Tortoise
Day 1,291: Hasbro Battle Beasts Tanglin Pangolin
Day 1,306: Hasbro Battle Beasts Eager Beaver
Day 1,313: Hasbro Battle Beasts Bodacious Bovine
Day 1,756: Diamond Select Independent Comic Book Minimates Battle Beasts Ruminant and Spyrnus
Day 1,815: Diamond Select Battle Beasts Minimates Stealth Vorin
Day 1,827: Hasbro Battle Beasts Sabre Sword Tiger
Day 1,890: Hasbro Battle Beasts Battling Deer Stalker Chariot
Day 1,905: Diamond Select Battle Beasts Minimates Antalor and Nychirix
Day 1,906: Hasbro Battle Beasts Killer Carp
Day 2,024: Fisher-Price Imaginext Series 11 Collectible Figures Triple Threat Snake
Day 2,074: Hasbro Battle Beasts Octillion Octopus