Spark Shark
Japanese name is also Spark Shark (or he has no US name)

Battle Beasts Shadow Warriors
Item No.: #78
Manufacturer: Hasbro
Includes: Black Spark Laser, additional figure
Action Feature: n/a
Retail: est. $3.99
Availability: ca. 1988
Other: This sample has a "Water" Orb/Crystal

PREVIOUS
RSS
NEXT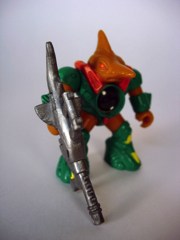 One of the most fascinating things about toy lines in the 1980s and 1990s is as they wind down, nobody really knew what was going on at the time. The final series of Star Wars, Battle Beasts, and other lines were tough to tell because with no real marketing support, no internet, and no resources, rumors and "my cousin got this somehow" were our main sources of intel. As such, I have vague memories of the final US series called "Shadow Warriors" (Laser Beasts in Japan) and I didn't really have much of awareness of the line (beyond it existing) until recently. Heck, I didn't even intend on getting Spark Shark until he showed up in a collection with a bunch of rubsign figures I was after. By himself, he sells for $15-$20 (no weapon) and $30-$35 (with weapon), and he's probably the cheapest and seemingly most commonly sold Laser Beasts figure.
Spark Shark is cool. Like, really cool. It's rare that I get to jump into a toy line which I like and find several figures I didn't really know about, so this was a real treat. Depending on who you ask, he's an Ichthyosaur or a Sawtooth Shark, and I'm leaning toward the shark due to the little crinkles on the figure's nose. He's brown, with green armor and some orange highlights. Under his arms, it looks like the sculptors meant to incorporate gills, and (unless I'm mistaken) the paint department just considered these part of the armor and made them green.
The 2-inch figure was released without his name on the packaging, and after the poster which was released to show "all" the names-- so "Spark Shark" comes from a translation of his Japanese name, and it's not known what he was meant to be called in the USA as far as I can tell. The little guy came with a gun (the previous three series did not) and the Japanese fiction says that these guys with the orbs were an ancient race of Beasts trying to claim back the planet from the usurpers, the rubsign figures. It's a nifty idea, having a line of figures where everybody fights, and continuing the line by giving them a new common enemy with superior firepower.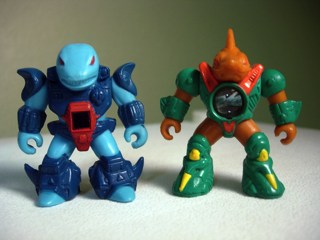 While the other figures had rubsign stickers, this guy had a small "orb" which was quite the clever design. A hole in his back let in light to illuminate a small fire/wood/water image, which was magnified by what was essentially a magnifying glass in his belly. If you line it up just right, the image really pops. It's magical.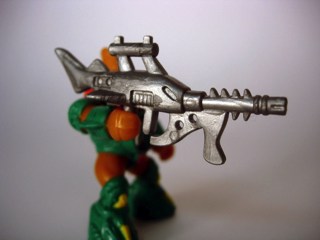 Rounding out the figure was his gun. The neat thing about the Laser Beast guns was that they're modeled after their owners, so while a penguin just had a spear, Spark Shark has a gun with fins and a chainsaw nose. The silvery plastic has tons of swirls and feels a little chunky, making me slightly fearful it could crumble if improperly handled-- although I don't know of many reported complaints of such a thing as of yet. The fishy gun reminds me a lot of the Gears of War weapons, but with a shark motif. The downside? It's big. It feels just a smidgen too large for the figure, giving it a slightly overpowered look as opposed to the less bulky weapons of the other 76 earlier figures.
While these figures are getting a little more expensive, there's no denying that they're quite nice and (if you can afford it) a great way to continue the basic line some of us remember from the 1980s. He seems to show up somewhat often on eBay, but it's pretty uncommon for there to be one (or all) of these figures up there all at the same time, unlike, say, pretty much any other collector's line. I like him a lot-- he aged well, he looks good, and he's nifty. What more could you ask for, beyond a lower price?
Trivia buffs and number freaks, take note: Hasbro released 76 Battle Beasts with the Fire/Wood/Water rubsign stickers over 3 series. About 12 "Shadow" Battle Beasts with orbs in their bellies were definitely released in the USA, and all of these-- plus more-- were released in Japan. (Even dinosaurs, damn those lucky kids.) 12 of the remaining 24 Laser Beasts were released in Europe, and US packaging samples exist but they're so uncommon it's assumed they were not released widely here. Not counting premium mail-in figures or other variations, a grand total of 112 Battle Beasts figures were produced as well as a handful of vehicles and playsets, placing its figure tally on par with the original Kenner Star Wars line in terms of overall variety. It would be dwarfed by other similar collectible mini-figure lines like M.U.S.C.L.E. and the runaway success of Monster in my Pocket, plus the more recent phenomenon of Gormiti. (Which, again, had a strong life in Europe after the USA dumped it after a couple of short series.) I hope you enjoyed Beast Week 2012 and I hope the recent news in the world of beasts keeps you excited for next year's Beast Week!
--Adam Pawlus
Additional Images

Click here to see more Hasbro figures in Figure of the Day.
See more Battle Beasts figures in Figure of the Day:
Day 82: Diamond Select Battle Beasts Minimates SDCC Gold Alligator Action Figure
Day 373: Diamond Select Battle Beasts Minimates Case Red Alligator Action Figure
Day 374: Hasbro Battle Beasts Sawtooth Shark Action Figure
Day 375: Hasbro Battle Beasts Wolfgang Walrus Action Figure
Day 376: Hasbro Battle Beasts Diving Duckbill Action Figure
Day 377: Hasbro Battle Beasts Spark Shark Action Figure
Day 390: Diamond Select Battle Beasts Minimates C2E2 2012 Red Vorin
Day 391: Hasbro Battle Beasts Anarchy
Day 395: Diamond Select Battle Beasts Minimates C2E2 2012 Grey Vorin
Day 417: Hasbro Battle Beasts Run Amuck Duck
Day 436: Hasbro Battle Beasts Horny Toad
Day 450: Diamond Select Battle Beasts Minimates SDCC 2012 Vorin & Zik
Day 451: Hasbro Battle Beasts Sledgehammer Elephant
Day 460: Diamond Select Battle Beasts Minimates SDCC 2012 Gold Vorin
Day 463: Diamond Select Battle Beasts Minimates C2E2 Exclusive Black Alligator
Day 451: Hasbro Battle Beasts Pillaging Polar Bear
Day 577: Hasbro Battle Beasts Slasher Seahorse
Day 610: Diamond Select Battle Beasts Minimates Gruntos the Walrus & Tate Reynolds
Day 639: Hasbro Battle Beasts Triple Threat Snake
Day 674: Hasbro Battle Beasts Hare Razing Rabbit
Day 720: Diamond Select Battle Beasts Minimates Shadow Merk
Day 723: Hasbro Battle Beasts Pillager Pig
Day 914: Hasbro Battle Beasts Rainbow Sam
Day 972: Hasbro Battle Beasts Pixilated Pointer
Day 1,084: Hasbro Battle Beasts Sir Sire Horse
Day 1,278: Hasbro Battle Beasts Hardtop Tortoise
Day 1,291: Hasbro Battle Beasts Tanglin Pangolin
Day 1,306: Hasbro Battle Beasts Eager Beaver
Day 1,313: Hasbro Battle Beasts Bodacious Bovine
Day 1,756: Diamond Select Independent Comic Book Minimates Battle Beasts Ruminant and Spyrnus
Day 1,815: Diamond Select Battle Beasts Minimates Stealth Vorin
Day 1,827: Hasbro Battle Beasts Sabre Sword Tiger
Day 1,890: Hasbro Battle Beasts Battling Deer Stalker Chariot
Day 1,905: Diamond Select Battle Beasts Minimates Antalor and Nychirix
Day 1,906: Hasbro Battle Beasts Killer Carp
Day 2,024: Fisher-Price Imaginext Series 11 Collectible Figures Triple Threat Snake
Day 2,074: Hasbro Battle Beasts Octillion Octopus