Kingdom of Sea Death
Featuring Coelence, Killer Shark, and Pirazon

Beast Saga Action Figures
Item No.: BS02
Manufacturer: Takara-Tomy
Includes: 3 shields, 3 spears, 3 shields, 7 dice, play mat, game instructions
Action Feature: Dice launch out of stomach
Retail: 1,575 yen (or about $21)
Availability: September 2012
Other: Probably the Best Entry Item

PREVIOUS
RSS
NEXT

It's no secret I like beastly toys, and the Kingdom of Sea Death action figure set (this may not be a precise translation) is one of the better items you can buy in this line. As a kid I chased down Battle Beasts based on fish and sea life, so this set with a shark, coelacanth, and piranha is pretty much the bestest thing you could buy short of a competing pack with manatees and dinosaurs. For roughly $20 you get 3 figures and accessories, which sounds like a bad deal because in the US market, it is. But in Japan, a $10-$15 Transformers toy is closer to $20-$25, so all things being equal, it's priced about right.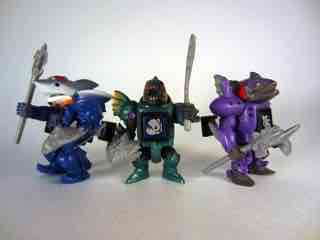 Each figure has 4 points of articulation and is made of a soft, rubbery plastic. Since the figures have closed fists, getting the weapons in there can be a tight fit-- but it's doable. Each figure has a hard plastic die launcher in their chest which has a swell light-piping effect making use of clear plastic and a tiny prism. As toys which live on your desk, or on a shelf, they're great. They could stand to have some vehicles or playsets with some oomph, though, although that seems unlikely in the post-Beyblade era with arenas and junk.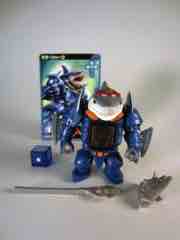 The leader of this set-- and if the one issue of the manga I saw is any indication, chief bad guy-- Killer Shark is the reason to track this one down. He looks great, with cold, dead black marbles for eyes and a somewhat silly sea kingdom crest of some sort on his head. It's like the Jaws poster was mixes with a classic skull and crossbones, resulting in a far more colorful take on the Jolly Roger. His armor is classic Battle Beasts, with superfluous fins on his armor and tubes running over his person, presumably enabling the whole shark-walking-outside-water thing. His gills are exposed on the sides of his head, and his mostly cybernetic body leaves the buyer with some question if he's a shark stuffed in a robot suit, or a shark man, or some other thing. While most of this kind of figure have some sort of exposed flesh, the shark is mostly enclosed. Also notable, there are some clothlike elements sculpted to his shoulders and hips that you probably missed. If decorated, these would add some color to the figure, possibly giving it a boat motif with these as sails. As it is, they may as well have been left out because blue blends into blue quite nicely.
Armed with a cool trident with a shark sculpted into the tip (unlike the single clear blind-boxed one, which comes with the elephant's weapons), this is a nifty figure with great gear. His shield looks a little like a ray, and the arm movement is as smooth as these figures get. Like the rest, there's no real chance of his legs swinging forward allowing him to sit. By and large, what you see is what you get. His die and launcher share a cool shark symbol which isn't so much a faction as it is some sort of personal symbol. I dig it. It'd make a nice t-shirt were it not likely to cause the owners of Jaws to sue.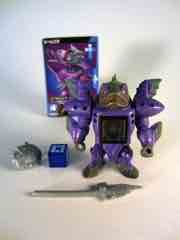 Next up is Coelence, which I believe was a name I saw Guido Guidi use when the pictures first hit. This was one of the most unlikely figures, and I think it diverts a lot from the source material. While the little faction symbol on the die and launcher are unquestionably a coelacanth, the fish looks like it could be any of several angry deep sea creatures. Young sea nerds will recall this species a "living fossil" thought extinct and recently discovered alive, and it's a striking, very dark creature. This one seems a smidgen lighter than most pictures I've seen, and with his added cybernetic implants and open, red mouth looks a lot meaner. He has metallic gold eyes for some reason, and seems to be one of the more fanciful takes on the source material.
Clad in purple armor clearly sculpted to resemble a submarine, this figure feels like the designer got to have a bunch of fun pouring character into the figure. This is a well-thought-out design, although the spear and shield are merely OK. There are some fishy elements on the spear but it ultimately just looks like a spear, while the shield doesn't seem particularly clever beyond being a shield. Particularly notable is his card art: I would best describe it as smug. Go ahead, look below. Tell me that isn't a smug fish.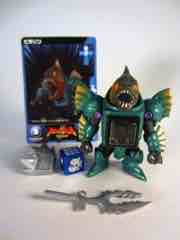 Rounding out the collection is a figure that, Takara Tomy tells us, kids don't like. While Killer Shark ranked the #2 most popular design with kids, Pirazon came in dead last. Piranhas are nasty creatures and look pretty evil, and the card art looks about as villainous as they come. The real deal isn't all that scary, nor does it have the orange eyes of this nasty little figure. He's way more vicious in his appearance than necessary, making him a pretty great villain. If anything, the figure captures the demeanor of the real creature more than its appearance with an open, tooth mouth and a brow that seems to be ready to stab you in the face. With green armor and fins, he looks right at home in the water. Also like Coelence, he has a tail on his backside. This is a pretty good one.
Like his pal in this set, the shield for this undersea thug doesn't have much going on. His weapon has two nasty prongs, ribbed, and appropriately stabby. There's a lot of detailing with rivets and vents, making this figure spiritually similar to the original Battle Beasts.
Of most of the items you can buy in this line, this is probably one of the best. I'd say all the sea creatures so far are pretty good, and for $20ish you get a good feel of what the line can offer. If this set makes it to the USA on the cheap I'd suggest getting it without question, as an import buy I'd say get it only if it can be delivered below $30. It's neat, I like it, but at $30 you may as well just get some vintage beasts or hold out for Diamond's much cheaper Minimates.
--Adam Pawlus
Additional Images

See more Beast Saga figures in Figure of the Day:
Day 495: Takara-Tomy Beast Saga Raioga Action Figure
Day 529: Takara-Tomy Beast Saga Kingdom of Sea Death Action Figure Set
Day 534: Takara-Tomy Beast Saga Dolphin Burst Action Figure
Day 540: Takara-Tomy Beast Saga Kingdom of Gloria Action Figure Set
Day 544: Takara-Tomy Beast Saga Aldyle Action Figure
Day 549: Takara-Tomy Beast Saga Dorfan Action Figure
Day 551: Takara-Tomy Beast Saga Eledram Elephant Action Figure
Day 564: Takara-Tomy Beast Saga DX Starter Set Action Figure Set
Day 568: Takara-Tomy Beast Saga Tarlock Action Figure
Day 573: Takara-Tomy Beast Saga Long Giraf Action Figure
Day 579: Takara-Tomy Beast Saga Garrison G Action Figure
Day 580: Takara-Tomy Beast Saga GachaBooster General Hawk Knight Action Figure
Day 586: Takara-Tomy Beast Saga Killer Shark Burst Action Figure
Day 585: Takara-Tomy Beast Saga Beast Machines Sky Darling Vehicle
Day 593: Takara-Tomy Beast Saga Rynas Action Figure
Day 595: Takara-Tomy Beast Saga Seylas Action Figure
Day 601: Takara-Tomy Beast Saga Bamet Burst Action Figure
Day 616: Takara-Tomy Beast Saga Long Giraf Burst Action Figure
Day 622: Takara-Tomy Beast Saga Bamet Action Figure
Day 626: Takara-Tomy Beast Saga Killer Shark Action Figure
Day 637: Takara-Tomy Beast Saga Liorga Action Figure
Day 642: Takara-Tomy Beast Saga Aldyle Burst Action Figure
Day 663: Takara-Tomy Beast Saga Janjan Action Figure
Day 669: Takara-Tomy Beast Saga Ogre Burst Action Figure
Day 678: Takara-Tomy Beast Saga Swordbill Action Figure
Day 693: Takara-Tomy Beast Saga Guarl Burst Action Figure
Day 715: Takara-Tomy Beast Saga Guarl Action Figure
Day 824: Takara-Tomy Beast Saga Mantaray Action Figure
Day 828: Takara-Tomy Beast Saga Aljaylo Action Figure
Day 839: Takara-Tomy Beast Saga Ogre Action Figure
Day 846: Takara-Tomy Beast Saga Dakker Action Figure
Day 856: Takara-Tomy Beast Saga Moreek Action Figure
Day 873: Takara-Tomy Beast Saga Wonderriver Action Figure
Day 937: Takara-Tomy Beast Saga Rynas Burst Action Figure
Day 974: Takara-Tomy Beast Saga Super Win Deck Impact Set Action Figure Set
Day 993: Takara-Tomy Beast Saga Kannigal Burst Action Figure
Day 1,326: Takara-Tomy Beast Saga Buffam Action Figure
Day 1,332: Takara-Tomy Beast Saga Bunikis Action Figure
Day 1,339: Takara-Tomy Beast Saga Aljaylo Burst Action Figure
Day 1,381: Takara-Tomy Beast Saga Eledram Burst Action Figure
Day 1,496: Takara-Tomy Beast Saga Dacker Burst Action Figure
Day 1,814: Takara-Tomy Beast Saga Mantaray Burst Action Figure
Day 1,911: Takara-Tomy Beast Saga Wolfen Burst Action Figure
Day 1,964: Takara-Tomy Beast Saga Buffam Burst Action Figure
Day 2,006: Takara-Tomy Beast Saga Raioga Burst Action Figure
Day 2,213: Takara-Tomy Beast Saga Kannigal Action Figure

See more Takara-Tomy figures in Figure of the Day:
Day 180: Takara-Tomy Transformers Animated Ironhide (Bulkhead) Key Chain
Day 435: Takara-Tomy Transformers Prime Gacha Arms Micron Optimus Prime Blaster
Day 476: Takara-Tomy Transformers Prime Bumblebee Sword Action Figure
Day 495: Takara-Tomy Beast Saga Raioga Action Figure
Day 529: Takara-Tomy Beast Saga Kingdom of Sea Death Action Figure Set
Day 534: Takara-Tomy Beast Saga Dolphin Burst Action Figure
Day 540: Takara-Tomy Beast Saga Kingdom of Gloria Action Figure Set
Day 544: Takara-Tomy Beast Saga Aldyle Action Figure
Day 549: Takara-Tomy Beast Saga Dorfan Action Figure
Day 551: Takara-Tomy Beast Saga Eledram Elephant Action Figure
Day 564: Takara-Tomy Beast Saga DX Starter Set Action Figure Set
Day 568: Takara-Tomy Beast Saga Tarlock Action Figure
Day 573: Takara-Tomy Beast Saga Long Giraf Action Figure
Day 579: Takara-Tomy Beast Saga Garrison G Action Figure
Day 580: Takara-Tomy Beast Saga GachaBooster General Hawk Knight Action Figure
Day 585: Takara-Tomy Beast Saga Beast Machines Sky Darling Vehicle
Day 586: Takara-Tomy Beast Saga Killer Shark Burst Action Figure
Day 593: Takara-Tomy Beast Saga Rynas Action Figure
Day 595: Takara-Tomy Beast Saga Seylas Action Figure
Day 597: Takara-Tomy Transformers Prime Zad Action Figure
Day 601: Takara-Tomy Beast Saga Bamet Burst Action Figure
Day 616: Takara-Tomy Beast Saga Long Giraf Burst Action Figure
Day 622: Takara-Tomy Beast Saga Bamet Action Figure
Day 626: Takara-Tomy Beast Saga Killer Shark Action Figure
Day 637: Takara-Tomy Beast Saga Liorga Action Figure
Day 642: Takara-Tomy Beast Saga Aldyle Burst Action Figure
Day 663: Takara-Tomy Beast Saga Janjan Action Figure
Day 669: Takara-Tomy Beast Saga Ogre Burst Action Figure
Day 678: Takara-Tomy Beast Saga Swordbill Action Figure
Day 693: Takara-Tomy Beast Saga Guarl Burst Action Figure
Day 715: Takara-Tomy Beast Saga Guarl Action Figure
Day 824: Takara-Tomy Beast Saga Mantaray Action Figure
Day 828: Takara-Tomy Beast Saga Aljaylo Action Figure
Day 839: Takara-Tomy Beast Saga Ogre Action Figure
Day 846: Takara-Tomy Beast Saga Dakker Action Figure
Day 856: Takara-Tomy Beast Saga Moreek Action Figure
Day 873: Takara-Tomy Beast Saga Wonderriver Action Figure
Day 905: Takara-Tomy Transformers Masterpiece Edition Lambor G-2 Ver.
Day 937: Takara-Tomy Beast Saga Rynas Burst Action Figure
Day 974: Takara-Tomy Beast Saga Super Win Deck Impact Set Action Figure Set
Day 993: Takara-Tomy Beast Saga Kannigal Burst Action Figure
Day 1,127: Takara-Tomy Transformers Sega Genesis Megatron Action Figure
Day 1,207: Takara-Tomy Transformers United Rumble & Frenzy
Day 1,224: Takara-Tomy Transformers Adventure Roadblock
Day 1,242: Takara-Tomy Transformers Go! Go
Day 1,247: Takara-Tomy Transformers Go! Sen
Day 1,259: Takara-Tomy Transformers Go! Geki
Day 1,262: Takara-Tomy Transformers Masterpiece Bumble G-2 Ver.
Day 1,273: Takara-Tomy Transformers Go! Ex
Day 1,284: Takara-Tomy Transformers Go! Shou
Day 1,310: Takara-Tomy Transformers Legends Slipstream
Day 1,327: Takara-Tomy Transformers Unite Warriors Grand Scourge
Day 1,328: Takara-Tomy Transformers Unite Warriors Nightbird Shadow
Day 1,326: Takara-Tomy Beast Saga Buffam Action Figure
Day 1,328: Takara-Tomy Transformers Adventure Override
Day 1,332: Takara-Tomy Beast Saga Bunikis Action Figure
Day 1,339: Takara-Tomy Beast Saga Aljaylo Burst Action Figure
Day 1,357: Takara-Tomy Transformers United Stepper
Day 1,381: Takara-Tomy Beast Saga Eledram Burst Action Figure
Day 1,429: Takara-Tomy Transformers Legends Armada Starscream Super Mode
Day 1,468: Takara-Tomy Transformers Unite Warriors Grand Galvatron
Day 1,471: Takara-Tomy Zoids Masterpiece Shield Liger
Day 1,496: Takara-Tomy Beast Saga Dacker Burst Action Figure
Day 1,627: Takara-Tomy Transformers Legends Convobat
Day 1,670: Takara-Tomy Transformers Legends Leo Prime
Day 1,814: Takara-Tomy Beast Saga Mantaray Burst Action Figure
Day 1,842: Takara-Tomy Transformers Legends Blackarachnia
Day 1,911: Takara-Tomy Beast Saga Wolfen Burst Action Figure
Day 1,964: Takara-Tomy Beast Saga Buffam Burst Action Figure
Day 2,000: Takara-Tomy Zoids Wild ZW-05 Gannontoise Figure Kit
Day 2,006: Takara-Tomy Beast Saga Raioga Burst Action Figure
Day 2,008: Takara-Tomy Zoids Wild ZW-01 Wild Liger Figure Kit
Day 2,013: Takara-Tomy Zoids Wild ZW-03 Kabtor Figure Kit
Day 2,017: Takara-Tomy Zoids Wild ZW-04 Scorpear Figure Kit
Day 2,039: Takara-Tomy Zoids Wild ZW-06 Gabrigator Figure Kit
Day 2,075: Takara-Tomy Zoids Wild ZW-07 Kuwaga Figure Kit
Day 2,191: Takara-Tomy Transformers Generations Selects Deluxe Gulf (Skalor) Action Figure
Day 2,200: Takara-Tomy Transformers Generations Selects Deluxe Turtler (Snaptrap) Action Figure
Day 2,213: Takara-Tomy Beast Saga Kannigal Action Figure
Day 2,273: Takara-Tomy Transformers Generations Selects Voyager Super Megatron Action Figure