Gulf (Skalor)
TT-GS04 Japanese / Hasbro Pulse Exclusive

Transformers Generations Selects Deluxe
Item No.: No. E9304
Manufacturer: Takara-Tomy
Includes: 2 blue cannons, sword, fist, fish tail cannon
Action Feature: Transforms from Robot to Coelacanth
Retail: $34.99
Availability: January 2020 (March 2020 in USA)
Other: Seacons Stinker

PREVIOUS
RSS
NEXT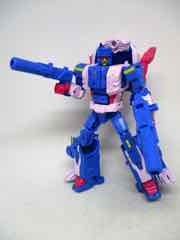 The Seacons aren't so much a "grail" as a "bucket list" items - I don't know how long I'll be collecting things, but this group was something I wanted to see before I called it quits. Six toys were made for Japan as heavy retools of existing toys, with Gulf (Skalor) sharing a lot of DNA with Blot (and Rippersnapper) with tons of new accessories and more paint than a figure should have. It's pretty lavish.
Per Takara-Tomy's request, this figure was exclusive to Hasbro Pulse in the USA - and its pricetag, presumably, was also at their insistence. This one was $34.99, wile the toy from which it was retooled was about $17.99. The original Gulf/Skalor toy was a multi-color fish monster featuring minimal paint - everything was molded in color and simple. The 2020 version is much more complex. The blue plastic and pink robot mode fists are molded in color - everything else on the toy is paint. All lavender, the pink fin, the pink arms... all paint. Why? I'm not sure. It's lavish but expensive, which is undoubtedly why it was a lower-run fan-specific thing. I'm sure mass retail versions would have been awesome, but there were enough improvements that while the sticker shock hurts, I can see it.
The 5 1/4-inch figure looks a lot like Rippersnapper, but it shares very few parts with him. (Blot, on the other hand, is a different story.) The colors are similar and the layout isn't all that different from the original 1980s toy, but it is a lot less ugly. 14 points of articulation make this figure surprisingly limber retool of Blot, and it's just as good as a lot of those recent Combiner figures. But Gulf has a lot more paint, and an exceptionally large quantity of gear. He's got a sword and a tail blaster, in addition to two blue blasters and a combiner fist with individually articulated fingers. That's impressive. There are several places to mount weapons, so you can probably slap all of the accessories on any of this figure's many modes.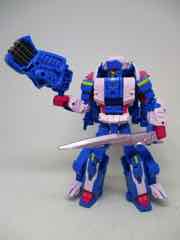 Changing forms is kind of a pain - I'm glad I had photos. It's clever. The fish tail weapon plugs in to the Blot "stand port" on the waist. The legs fold up over the back to make a big chunk of the fish. The fish head is a backpack with an articulated jaw. It's a gem. And weird. It's also pretty big, fans buying Siege and Earthrise toys will bemoan the price but probably see how the alt mode is sizable enough to almost feel worth it. Plugging in the C.O.M.B.A.T.-compatible cannons gives the fishy fiend a little extra future-proofing, and the sword part (and hand) just sort of get in the way. It's almost too much gear, but that's what you paid for. The fishy part I miss the most was the G1 toy's scale pattern - it was a bit more quasi-organic, while the new one is definitely more robotic.
Most of the major landmarks are there, though - feet, hands, articulated jaw, a big Decepticon symbol between the yellow eyes. It lacks the stickers of the old toy, and beast articulation is better than the original with lateral joints on the hips, jointed ankles, and the same old rotating arms. Some things don't change. I assume this is as good as this character will get unless there's another revision of the Combiners in a few years, an I certainly hope we don't see better, cheaper ones too soon as we all just bought (or skipped) this $240ish set.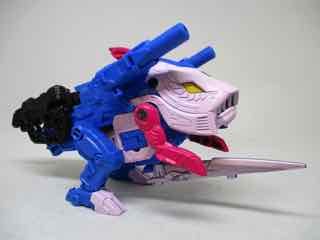 If you liked Combiner Wars or Power of the Primes combiners, the figure is a fish/robot or leg/arm, with the added bonus of having a weapon mode for the combiner robot King Poseidon. Since it's basically Blot with more parts on it, the design works and the robot was generic enough in the 1980s that nobody is complaining that most of the budget went to the beast mode. As I write this all the parts aren't here, but as a stand-alone piece it's pretty good. It's just tough to get it back in that fish form as the parts aren't as simple as they were in the old days.
This figure is part of a set - if you want one of the Seacons, you probably want all six. I see why they went with this one first, because it is suitably fishy. It's kind of a pain to transform, and it's expensive - so maybe you don't need it. But I did! If you see it on sale, you have to get one. It comes in a box, in a sleeve, packaged in another sleeve box - it's a lot of packaging just to conform to US safety laws. The exterior box is bold but ugly, so odds are you'll never see this on a regular retail shelf even if Hasbro had surplus stock.
Get one if you can spring for it. You probably already know if you want it.
--Adam Pawlus
Additional Images

See more Takara-Tomy figures in Figure of the Day:
Day 180: Takara-Tomy Transformers Animated Ironhide (Bulkhead) Key Chain
Day 435: Takara-Tomy Transformers Prime Gacha Arms Micron Optimus Prime Blaster
Day 476: Takara-Tomy Transformers Prime Bumblebee Sword Action Figure
Day 495: Takara-Tomy Beast Saga Raioga Action Figure
Day 529: Takara-Tomy Beast Saga Kingdom of Sea Death Action Figure Set
Day 534: Takara-Tomy Beast Saga Dolphin Burst Action Figure
Day 540: Takara-Tomy Beast Saga Kingdom of Gloria Action Figure Set
Day 544: Takara-Tomy Beast Saga Aldyle Action Figure
Day 549: Takara-Tomy Beast Saga Dorfan Action Figure
Day 551: Takara-Tomy Beast Saga Eledram Elephant Action Figure
Day 564: Takara-Tomy Beast Saga DX Starter Set Action Figure Set
Day 568: Takara-Tomy Beast Saga Tarlock Action Figure
Day 573: Takara-Tomy Beast Saga Long Giraf Action Figure
Day 579: Takara-Tomy Beast Saga Garrison G Action Figure
Day 580: Takara-Tomy Beast Saga GachaBooster General Hawk Knight Action Figure
Day 585: Takara-Tomy Beast Saga Beast Machines Sky Darling Vehicle
Day 586: Takara-Tomy Beast Saga Killer Shark Burst Action Figure
Day 593: Takara-Tomy Beast Saga Rynas Action Figure
Day 595: Takara-Tomy Beast Saga Seylas Action Figure
Day 597: Takara-Tomy Transformers Prime Zad Action Figure
Day 601: Takara-Tomy Beast Saga Bamet Burst Action Figure
Day 616: Takara-Tomy Beast Saga Long Giraf Burst Action Figure
Day 622: Takara-Tomy Beast Saga Bamet Action Figure
Day 626: Takara-Tomy Beast Saga Killer Shark Action Figure
Day 637: Takara-Tomy Beast Saga Liorga Action Figure
Day 642: Takara-Tomy Beast Saga Aldyle Burst Action Figure
Day 663: Takara-Tomy Beast Saga Janjan Action Figure
Day 669: Takara-Tomy Beast Saga Ogre Burst Action Figure
Day 678: Takara-Tomy Beast Saga Swordbill Action Figure
Day 693: Takara-Tomy Beast Saga Guarl Burst Action Figure
Day 715: Takara-Tomy Beast Saga Guarl Action Figure
Day 824: Takara-Tomy Beast Saga Mantaray Action Figure
Day 828: Takara-Tomy Beast Saga Aljaylo Action Figure
Day 839: Takara-Tomy Beast Saga Ogre Action Figure
Day 846: Takara-Tomy Beast Saga Dakker Action Figure
Day 856: Takara-Tomy Beast Saga Moreek Action Figure
Day 873: Takara-Tomy Beast Saga Wonderriver Action Figure
Day 905: Takara-Tomy Transformers Masterpiece Edition Lambor G-2 Ver.
Day 937: Takara-Tomy Beast Saga Rynas Burst Action Figure
Day 974: Takara-Tomy Beast Saga Super Win Deck Impact Set Action Figure Set
Day 993: Takara-Tomy Beast Saga Kannigal Burst Action Figure
Day 1,127: Takara-Tomy Transformers Sega Genesis Megatron Action Figure
Day 1,207: Takara-Tomy Transformers United Rumble & Frenzy
Day 1,224: Takara-Tomy Transformers Adventure Roadblock
Day 1,242: Takara-Tomy Transformers Go! Go
Day 1,247: Takara-Tomy Transformers Go! Sen
Day 1,259: Takara-Tomy Transformers Go! Geki
Day 1,262: Takara-Tomy Transformers Masterpiece Bumble G-2 Ver.
Day 1,273: Takara-Tomy Transformers Go! Ex
Day 1,284: Takara-Tomy Transformers Go! Shou
Day 1,310: Takara-Tomy Transformers Legends Slipstream
Day 1,327: Takara-Tomy Transformers Unite Warriors Grand Scourge
Day 1,328: Takara-Tomy Transformers Unite Warriors Nightbird Shadow
Day 1,326: Takara-Tomy Beast Saga Buffam Action Figure
Day 1,328: Takara-Tomy Transformers Adventure Override
Day 1,332: Takara-Tomy Beast Saga Bunikis Action Figure
Day 1,339: Takara-Tomy Beast Saga Aljaylo Burst Action Figure
Day 1,357: Takara-Tomy Transformers United Stepper
Day 1,381: Takara-Tomy Beast Saga Eledram Burst Action Figure
Day 1,429: Takara-Tomy Transformers Legends Armada Starscream Super Mode
Day 1,468: Takara-Tomy Transformers Unite Warriors Grand Galvatron
Day 1,471: Takara-Tomy Zoids Masterpiece Shield Liger
Day 1,496: Takara-Tomy Beast Saga Dacker Burst Action Figure
Day 1,627: Takara-Tomy Transformers Legends Convobat
Day 1,670: Takara-Tomy Transformers Legends Leo Prime
Day 1,814: Takara-Tomy Beast Saga Mantaray Burst Action Figure
Day 1,842: Takara-Tomy Transformers Legends Blackarachnia
Day 1,911: Takara-Tomy Beast Saga Wolfen Burst Action Figure
Day 1,964: Takara-Tomy Beast Saga Buffam Burst Action Figure
Day 2,000: Takara-Tomy Zoids Wild ZW-05 Gannontoise Figure Kit
Day 2,006: Takara-Tomy Beast Saga Raioga Burst Action Figure
Day 2,008: Takara-Tomy Zoids Wild ZW-01 Wild Liger Figure Kit
Day 2,013: Takara-Tomy Zoids Wild ZW-03 Kabtor Figure Kit
Day 2,017: Takara-Tomy Zoids Wild ZW-04 Scorpear Figure Kit
Day 2,039: Takara-Tomy Zoids Wild ZW-06 Gabrigator Figure Kit
Day 2,075: Takara-Tomy Zoids Wild ZW-07 Kuwaga Figure Kit
Day 2,191: Takara-Tomy Transformers Generations Selects Deluxe Gulf (Skalor) Action Figure
Day 2,200: Takara-Tomy Transformers Generations Selects Deluxe Turtler (Snaptrap) Action Figure
Day 2,213: Takara-Tomy Beast Saga Kannigal Action Figure
Day 2,273: Takara-Tomy Transformers Generations Selects Voyager Super Megatron Action Figure

Click here to see more Transformers figures in Figure of the Day.

Want to buy this figure? Check Transformers availability at our sponsors:
Entertainment Earth