Roadblock
with Targetmaster

Transformers Adventure TAV07
Item No.: No. n/a
Manufacturer: Takara-Tomy
Includes: Targetmaster, that's really its name
Action Feature: Changes from payloader to robot
Retail: 2,500 yen (or $20-$25)
Availability: March 21, 2015
Other: Sort of accurate to Combiner Wars comics with Scoop

PREVIOUS
RSS
NEXT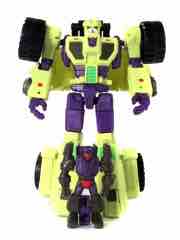 In the Combiner Wars comics, Scoop gets painted green and joins the Constructicons as a part of Devastator. Even though Roadblock is a new, Japan-only toy-only release he may fit the bill as your alternate Scoop from the comics - given the import prices as I write this, he's a decent choice. He only has one Targetmaster companion instead of two, and sure its name is the horrendously goofily simple "Targetmaster," but I paid $22 shipped for the set from Japan. On one hand, it's more than the $12-$15 Scoop was... but on the other, it's cheaper than Club toys and a Deluxe goes for about $17-$20 in the stores today. I couldn't argue with that reasoning, so now I got one.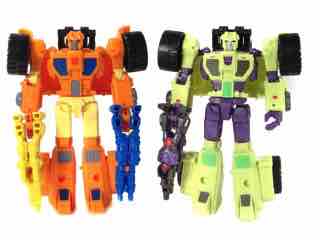 Standing roughly 5-inches tall, this figure is basically Scoop with different paint apps and some color swaps. With the exception of one piece behind the robot mode's neck, all the orange is now green and all of Scoop's yellow is now purple. The yellow of the original companion gun is now grey, though, so I don't know how that works. He's got added red paint applications on the robot mode, and the paint masks aren't exactly identical in terms of color swappage either. He's got roughly 20 points of articulation and is more or less a joy to play with save for the shoulder piece rotating when you don't want it to do so. Joints are overall more stiff than Scoop, and the silver paint on his face completely changes his personality - he really does look and feel like a Decepticon now! Even better, the ugly "Adventure" sticker is hidden on his back, so you won't even see it while he's in robot mode. It is visible as a construction vehicle, so you can't win them all.
Roadblock's buddy Targetmaster is similarly paint swapped, basically the picture explains it all - he's different now. He can still connect to the other guns to make a triple-decker blaster but gravity may not be allowing for such orgies of plastic combination. The little guy has articulated arms and not much else, other than the bits that move for his gun mode. He's cute - if Takara-Tomy put out these as blind-bagged gun accessories I'd buy a bunch more. I love these things.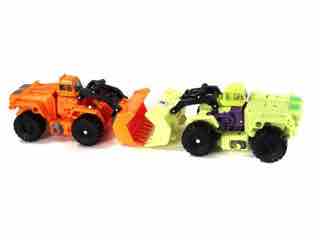 Transformation is easy - fold in the hands. Rotate down the scoop. Peg the arms in place, wrap around the legs, and you've got a decent homage to G2 Autoroller Scoop. He has a whopping six places to mount 5mm accessories, an articulated scoop, and rolling wheels. Even better, you can see his head through the window of the vehicle mode - well, I find it funny. Maybe you won't. The "Adventure" sticker is on the top of his scoop and quite small. It's not really an eyesore and it looks like its removal (were you so inclined) should be pretty easy. The aforementioned purple piece of the robot mode behind the neck sort of sticks out like a sore thumb in vehicle mode, and differs from the prototype and solicitation photos. Such is life. Such is the price of love.
You've got a ton of Constructicons or figures in that color, so this is basically another one - your enjoyment should depend heavily on how much you dug Scoop. For $20 or so this is a nice toy. For $30 you need to start looking at what you've paid for in the past - for me the magic number usually comes from "This is really different, it's a new character, and it's closer to a US retail item than a BotCon priced item." I couldn't argue against buying it and I like it too, so get it if the price is right. And if for some reason you hate Targetmasters or characters with ridiculously marketingy names like Targetmaster, you're no fun anyway.
--Adam Pawlus
Additional Images

See more Takara-Tomy figures in Figure of the Day:
Day 180: Takara-Tomy Transformers Animated Ironhide (Bulkhead) Key Chain
Day 435: Takara-Tomy Transformers Prime Gacha Arms Micron Optimus Prime Blaster
Day 476: Takara-Tomy Transformers Prime Bumblebee Sword Action Figure
Day 495: Takara-Tomy Beast Saga Raioga Action Figure
Day 529: Takara-Tomy Beast Saga Kingdom of Sea Death Action Figure Set
Day 534: Takara-Tomy Beast Saga Dolphin Burst Action Figure
Day 540: Takara-Tomy Beast Saga Kingdom of Gloria Action Figure Set
Day 544: Takara-Tomy Beast Saga Aldyle Action Figure
Day 549: Takara-Tomy Beast Saga Dorfan Action Figure
Day 551: Takara-Tomy Beast Saga Eledram Elephant Action Figure
Day 564: Takara-Tomy Beast Saga DX Starter Set Action Figure Set
Day 568: Takara-Tomy Beast Saga Tarlock Action Figure
Day 573: Takara-Tomy Beast Saga Long Giraf Action Figure
Day 579: Takara-Tomy Beast Saga Garrison G Action Figure
Day 580: Takara-Tomy Beast Saga GachaBooster General Hawk Knight Action Figure
Day 585: Takara-Tomy Beast Saga Beast Machines Sky Darling Vehicle
Day 586: Takara-Tomy Beast Saga Killer Shark Burst Action Figure
Day 593: Takara-Tomy Beast Saga Rynas Action Figure
Day 595: Takara-Tomy Beast Saga Seylas Action Figure
Day 597: Takara-Tomy Transformers Prime Zad Action Figure
Day 601: Takara-Tomy Beast Saga Bamet Burst Action Figure
Day 616: Takara-Tomy Beast Saga Long Giraf Burst Action Figure
Day 622: Takara-Tomy Beast Saga Bamet Action Figure
Day 626: Takara-Tomy Beast Saga Killer Shark Action Figure
Day 637: Takara-Tomy Beast Saga Liorga Action Figure
Day 642: Takara-Tomy Beast Saga Aldyle Burst Action Figure
Day 663: Takara-Tomy Beast Saga Janjan Action Figure
Day 669: Takara-Tomy Beast Saga Ogre Burst Action Figure
Day 678: Takara-Tomy Beast Saga Swordbill Action Figure
Day 693: Takara-Tomy Beast Saga Guarl Burst Action Figure
Day 715: Takara-Tomy Beast Saga Guarl Action Figure
Day 824: Takara-Tomy Beast Saga Mantaray Action Figure
Day 828: Takara-Tomy Beast Saga Aljaylo Action Figure
Day 839: Takara-Tomy Beast Saga Ogre Action Figure
Day 846: Takara-Tomy Beast Saga Dakker Action Figure
Day 856: Takara-Tomy Beast Saga Moreek Action Figure
Day 873: Takara-Tomy Beast Saga Wonderriver Action Figure
Day 905: Takara-Tomy Transformers Masterpiece Edition Lambor G-2 Ver.
Day 937: Takara-Tomy Beast Saga Rynas Burst Action Figure
Day 974: Takara-Tomy Beast Saga Super Win Deck Impact Set Action Figure Set
Day 993: Takara-Tomy Beast Saga Kannigal Burst Action Figure
Day 1,127: Takara-Tomy Transformers Sega Genesis Megatron Action Figure
Day 1,207: Takara-Tomy Transformers United Rumble & Frenzy
Day 1,224: Takara-Tomy Transformers Adventure Roadblock
Day 1,242: Takara-Tomy Transformers Go! Go
Day 1,247: Takara-Tomy Transformers Go! Sen
Day 1,259: Takara-Tomy Transformers Go! Geki
Day 1,262: Takara-Tomy Transformers Masterpiece Bumble G-2 Ver.
Day 1,273: Takara-Tomy Transformers Go! Ex
Day 1,284: Takara-Tomy Transformers Go! Shou
Day 1,310: Takara-Tomy Transformers Legends Slipstream
Day 1,327: Takara-Tomy Transformers Unite Warriors Grand Scourge
Day 1,328: Takara-Tomy Transformers Unite Warriors Nightbird Shadow
Day 1,326: Takara-Tomy Beast Saga Buffam Action Figure
Day 1,328: Takara-Tomy Transformers Adventure Override
Day 1,332: Takara-Tomy Beast Saga Bunikis Action Figure
Day 1,339: Takara-Tomy Beast Saga Aljaylo Burst Action Figure
Day 1,357: Takara-Tomy Transformers United Stepper
Day 1,381: Takara-Tomy Beast Saga Eledram Burst Action Figure
Day 1,429: Takara-Tomy Transformers Legends Armada Starscream Super Mode
Day 1,468: Takara-Tomy Transformers Unite Warriors Grand Galvatron
Day 1,471: Takara-Tomy Zoids Masterpiece Shield Liger
Day 1,496: Takara-Tomy Beast Saga Dacker Burst Action Figure
Day 1,627: Takara-Tomy Transformers Legends Convobat
Day 1,670: Takara-Tomy Transformers Legends Leo Prime
Day 1,814: Takara-Tomy Beast Saga Mantaray Burst Action Figure
Day 1,842: Takara-Tomy Transformers Legends Blackarachnia
Day 1,911: Takara-Tomy Beast Saga Wolfen Burst Action Figure
Day 1,964: Takara-Tomy Beast Saga Buffam Burst Action Figure
Day 2,000: Takara-Tomy Zoids Wild ZW-05 Gannontoise Figure Kit
Day 2,006: Takara-Tomy Beast Saga Raioga Burst Action Figure
Day 2,008: Takara-Tomy Zoids Wild ZW-01 Wild Liger Figure Kit
Day 2,013: Takara-Tomy Zoids Wild ZW-03 Kabtor Figure Kit
Day 2,017: Takara-Tomy Zoids Wild ZW-04 Scorpear Figure Kit
Day 2,039: Takara-Tomy Zoids Wild ZW-06 Gabrigator Figure Kit
Day 2,075: Takara-Tomy Zoids Wild ZW-07 Kuwaga Figure Kit
Day 2,191: Takara-Tomy Transformers Generations Selects Deluxe Gulf (Skalor) Action Figure
Day 2,200: Takara-Tomy Transformers Generations Selects Deluxe Turtler (Snaptrap) Action Figure
Day 2,213: Takara-Tomy Beast Saga Kannigal Action Figure
Day 2,273: Takara-Tomy Transformers Generations Selects Voyager Super Megatron Action Figure
Day 2,463: Takara-Tomy Beast Saga Moreek Burst Action Figure

Click here to see more Transformers figures in Figure of the Day.

Want to buy this figure? Check Transformers availability at our sponsors:
Entertainment Earth