Powerglide
The Future of Minibots

Transformers Generations Combiner Wars Legends
Item No.: Asst. B0971 No. B15378
Manufacturer: Hasbro
Includes: Trading Card
Action Feature: Transforms from Robot to Plane to Gun
Retail: $9.99
Availability: December 2014
Other: Another Modern Upgrade

PREVIOUS
RSS
NEXT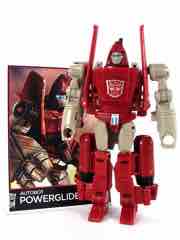 As characters go, Powerglide gets a decent amount of love. While other Legends are typically straight-up great, this one has a vehicle mode that keeps me from doing carthweels. If the pieces fit and tabbed together better, I'd be declaring it best of wave, but it doesn't. Bombshell's more pleasing transformation and more impressive paint job make him the winner, but if you're like me you're going to buy a Powerglide because you want to own a small Powerglide. For ten bucks it's a decent upgrade and despite the various problems, it feels less unpleasant to play with than the other modern releases since 2008. Get one, but don't expect perfection.
Minibots don't tend to get too many toys, but this one has had two different Ultra-class toys plus a movieverse toy in pretty much this exact same size. This one, though, is the only triple-changer and I don't think anybody would complain about getting another robot-to-gun, even if it is a little funky. The Ultra toy was made back when Hasbro was all about "realistic" or "real-world" alt modes, so the planes were sometimes bigger than the cars - but not always. And that doesn't really explain Tiny Tank Galvatron.
The last Cyberverse Powerglide was pretty good, a movie toy that's passable as a modernized update on the A-10 Warthog who apparently loves human women. This toy borrows heavily from art based on the character, in particular the original cartoon, rather than the redesign in the IDW comics or even the original toy. This is for the best - he looks pretty much like you would imagine him to be, assuming you were a fan of the original cartoon.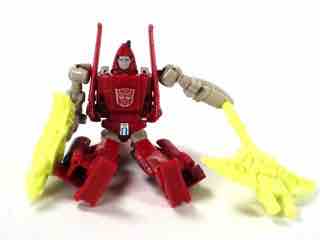 The robot mode is, to say the least, good. I don't doubt a few third party Fauxerglides helped convince Hasbro to try him again at a higher price point, because the market seems to be both able and willing to buy their favorite characters. This figure fits nicely with the Combiner Wars motif, particularly since he looks like a good sidekick for the massive Superion robot while functioning as a pretty strange weapon. But let's focus on the robot first - he is about 3 3/4-inches tall, sports 9 points of articulation, and is nicely decorated. He's largely smooth, and the kibble more or less matches up with the shoulder wings and other bits and pieces from the old cartoon. The gun on the helmet is off to the side a bit, but that's OK - you still get that giant Autobot symbol with a lovely silver background and light tan arms and thigh, plus the blue and silver crotchial ornament for some reason. Other than a lack of a hand weapon, the only thing the Ultra-class Powerglide can lord over this one is a heart hidden in a chest panel. He could benefit from a swivel bicep, but as it is he's still better than the original Minibot in pretty much every way other than not having been released in 1985.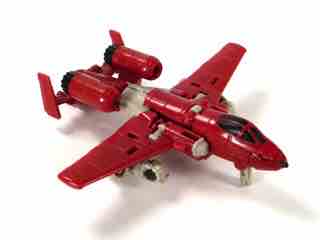 Transformation is a little tricky, thanks to lining up the tabs and slots on the wings. Also, the legs don't peg together especially well on my sample, so this figure tends to look best and be most stable in robot mode. The plane has retractable landing gear and little else in the way of moving parts, but what's superbly clever is the landing gear looks good and doubles as the grip of the gun mode. I would like to shake the hand of the designer that came up with this one, because it's just peachy. Getting all the panels to line up and tab into position is surprisingly tricky, especially when compared to other recent toys in this scale. The slightly softer plastic doesn't seem to be helping too much either, but you get an adequate plain that's a little on the plain side. Reprolabels will probably add some wing decals later.
The gun is something of a delightful mess. It's a gun, sort of, with lots of parts and pieces. It looks like a dismembered plane put together Ikea-style with no instructions. It's acceptable, sure, but if they left this mode out you'd never miss it. It's like Bombshell's weapon mode - it's there, sort of, but it's more of a curiosity than anything practical. I wouldn't recommend the gun mode as a necessary part of a complete Superion, but Powerglide still has a fun robot figure to keep in your toy stash.
--Adam Pawlus
Additional Images

Click here to see more Hasbro figures in Figure of the Day.
Click here to see more Transformers figures in Figure of the Day.

Want to buy this figure? Check Transformers availability at our sponsors:
Entertainment Earth