Electra-Geist Edition (Clear Blue)
10-Pack of Clear Blue

Mordles Glowing 10-Pack
Item No.: n/a
Manufacturer: ToyFinity
Includes: 10 figures
Action Feature: n/a
Retail: $10.00
Availability: July 6, 2014 (Club Mordle members), July 18, 2014 (Group W)
Other: Shipped fast - I got mine July 14

PREVIOUS
RSS
NEXT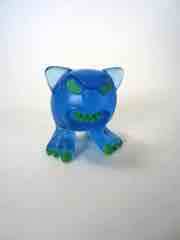 The clear blue Electra-Geist Mordles are a great companion to the Jumbo EGD Mordle - he's Pac-Man, and they're the various ghosts. It's synergy, people - and a great idea.
The parade of Mordles so far (not counting "Vision Mordles") went a whole year without dipping its toes in clear plastic - the Electra-Geist debuted alongside the clear colorless Ardaans Mist set in July, and I think they largely made the most out of the clear thing. Green painted eyes, teeth, and fangs give them their personality - and depending on where you look at them, it's great. Unfortunately I live in a basement, so it's kind of dark and even a well-lit blue Mordle is tough to really make out easily. With lighting from either the front or the back, the little guys come to life as spooky little spectres. As always, I dig them.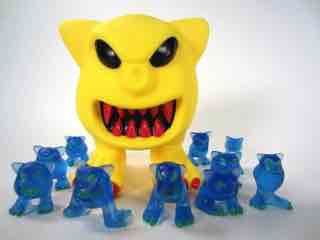 The figures make use of the same 10 molds we've seen previously, all of which are reproductions of the original Rocks & Bugs & Things figures from the 1980s. The big differences are that they're a hair smaller - only perceptible if you put them next to an original - with wholly new deco. The change to clear alters how they look quite a bit - the bright colors of the first year really bring the detail to life, while the clear sucks it away. Unless, of course, you shine a flashlight through the back of the figure, in which case it really looks spectacular.
This collection was tailor-made for people in love with old video games. They may as well have come in a box that said "Get it?" The joke is pretty funny, or at least it doesn't seem to get old to me. It's delightful to see the classics referenced in the indie toy world, and maybe we'll luck into Q*Bert next or something equally strange. I'm curious how many colors will be made before the classic styles get retired, or if we're going to see more intricate colors in the future.
--Adam Pawlus
Additional Images


See more ToyFinity in Figure of the Day:
Day 680: ToyFinity Mordles Crawler (Blue) Mini-Figures
Day 690: ToyFinity Mordles Standard Edition (Yellow) Mini-Figures
Day 733: ToyFinity Mordles Solar Storm (Hot Pink) Mini-Figures
Day 787: ToyFinity Mordles Club Mordle Packet Mini-Figures
Day 790: ToyFinity Robo Force Genesis Edition Action Figure
Day 794: ToyFinity Mordles Rampaging Storm Edition (Green) Mini-Figures
Day 798: ToyFinity Mordles Imbalance of Blood Vinyl Figure
Day 859: ToyFinity Mordles Geihoza Vinyl Figure
Day 896: ToyFinity Mordles Quinhozs Vinyl Figure
Day 941: ToyFinity Mordles Geist Mordles
Day 975: ToyFinity Mordles EGD Vinyl Figure
Day 1,026: ToyFinity Mordles Night Mordle Vinyl Figure
Day 1,105: ToyFinity Robo Force Basic Edition Action Figure
Day 1,124: ToyFinity Mordles Electra-Geist Mordles
Day 1,152: ToyFinity Mordles Deluxe Flesh with OMFG Logo Mordles
Day 1,168: ToyFinity Mordles Club Mordle Packet

See more Mordles and Rocks and Bugs and Things in Figure of the Day:
Day 680: ToyFinity Mordles Crawler (Blue) Mini-Figures
Day 690: ToyFinity Mordles Standard Edition (Yellow) Mini-Figures
Day 733: ToyFinity Mordles Solar Storm (Hot Pink) Mini-Figures
Day 787: ToyFinity Mordles Club Mordle Packet Mini-Figures
Day 794: ToyFinity Mordles Rampaging Storm Edition (Green) Mini-Figures
Day 798: ToyFinity Mordles Imbalance of Blood Vinyl Figure
Day 859: ToyFinity Mordles Geihoza Vinyl Figure
Day 896: ToyFinity Mordles Quinhozs Vinyl Figure
Day 941: ToyFinity Mordles Geist Mordles
Day 975: ToyFinity Mordles EGD Vinyl Figure
Day 1,026: ToyFinity Mordles Night Mordle Vinyl Figure
Day 1,124: ToyFinity Mordles Electra-Geist Mordles
Day 1,152: ToyFinity Mordles Deluxe Flesh with OMFG Logo Mordles
Day 1,168: ToyFinity Mordles Club Mordle Packet