Kabuto Mushi Hunter Mushi
Grey and Olive

Glyos C2E2 Exclusive/Launch Action Figures
Item No.: n/a
Manufacturer: TheGodBeast
Includes: Many many pieces, Mini Mushi
Action Feature: n/a
Retail: $16.00
Availability: April 25, 2015
Other: Speedy Delivery

PREVIOUS
RSS
NEXT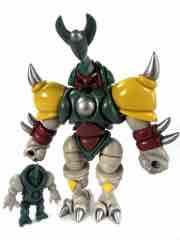 Marty delivers his figures fast. I placed an order on April 25 for Kabuto Mushi Hunter Mushi - it was in my hands April 30. He is amazing. His figures are really good too - since most are new colorways of a pretty good mold, and I've been trying to cut back on armies, I only get these very rarely... this Boba Fett-inspired figure came out in a batch resembling Skeletor and other familiar faces. How could I refuse?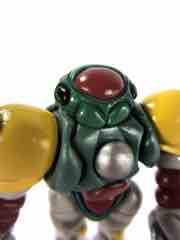 There are lots of indie figures and lots of them are really cool, really low-run things that I generally don't buy. Not because I don't like them, but let's face it - if we bought every figure that we liked, we'd be sleeping outside in a tent with figures bursting through the cabinets of our soon-to-be-foreclosed-upon homes. I couldn't pass this one up because it was a particularly colorful release with the typical top-notch Glyos paint job. Mine has one little red scuff on the back of his shoulder - highly unusual for figures from the Glyos factory - but it's otherwise pretty flawless. A grey plastic molded figure has some green parts and a lot of painted parts, plus it incorporates significantly more painted details than the last few Kabutos I've picked up.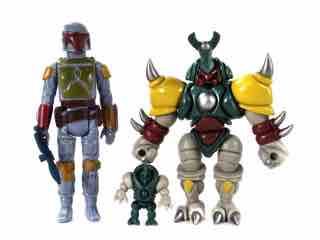 A red and black "mask" is joined by silver "claws" and spikes, plus red gauntlets, a red belly, and other bits and pieces which recall - but do not directly copy - Boba Fett's costume from Return of the Jedi. The figure has loads of articulation and was sold pictured with a slightly different build. This configuration moves one of the grey shoulder pieces to the knees, resulting in a more heroic posture with (if you ask me) a better range of movement overall. As cliche as it is to say this, Hunter Mushi really is about the little things. Painted claws do wonders to make this feel like a better, more expensive figure - which is good, because it costs six bucks more than the first version from last year.
26 total pats come together to form a 3-inch tall action figure - taller if you count the horn in his forehead. Each piece is a fully articulated Glyos joint, so you can swap parts with other Kabutos or reconfigure this one into some gruesome beast of your own design. To that end an alternate head is included as a backpack, so you can switch to that noggin if you prefer. You've got options, but sadly you don't got weapons. You'll need to steal some from the Glyos-compatible Weaponeers of Monkaa or another line. He has no problems standing or sitting, with completely sturdy joints and a build that could probably take a severe beating were your kid to ever play with it. Since it sold out already, this is unlikely.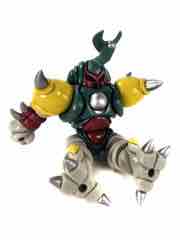 The figure comes with a bonus Mini Mushi figure, this time molded in two different colors. The tiny terror has grey arms and a green torso, but no articulation - it appears the arms were donated from a separate sprue before assembly. It's a good look for the roughly 1-inch tall figure, which also has no problems standing and is about the right size to menace your Mordles. I have little doubt the Glyos experiments of today will inspire something much greater tomorrow, but for now this line provides cheap - but slowly increasing - thrills for those of us looking to futz with something. The whole angle of Star Wars without Star Wars is fun, as a fairly devout fan of the franchise I enjoy seeing something like this which references both it and numerous other toys I love. Should this one ever come up for sale again, I'd say it's worth getting - odds are you won't have many others like it.
--Adam Pawlus
Additional Images


See more TheGodBeast figures in Figure of the Day:
Day 512: The GodBeast Customs Glyos Dark Purple Crab Head Glyos Accessory
Day 532: The GodBeast Customs Glyos Green CyberGator Head Glyos Accessory
Day 555: The GodBeast Customs Glyos Green Glyos-Compatible Skull Head Glyos Accessory
Day 657: The GodBeast Customs Glyos Grey CyberRhino Head Glyos Accessory
Day 840: TheGodBeast Kabuto Mushi Standard Pearlescent Brown Action Figure
Day 866: TheGodBeast Kabuto Mushi Mini-Mushi Swarm 4-Pack Assorted Colors Minifigures
Day 889: TheGodBeast Customs Glyos Red Sharkorvor Head Glyos Accessory
Day 1,177: TheGodBeast Kabuto Mushi Hunter Mushi Action Figure
Day 2,115: TheGodBeast Cerulestar Nemesis Action Figure

Click here to see more Glyos Compatible figures in Figure of the Day.