Glyos-Compatible Skull Head
So Metal It's Resin

The GodBeast Customs Special Order Part
Item No.: n/a
Manufacturer: The GodBeast Customs
Includes: Head
Action Feature: n/a
Retail: $10-ish
Availability: Fall-ish 2011
Other: Ghoulness

PREVIOUS
RSS
NEXT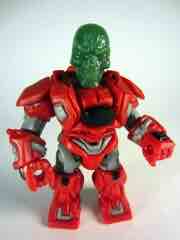 This is a cool one. The Glyos-Compatible Skull Head was another hand-forged accessory by The GodBeast, a dude who just basically wills toys into being through raw fury and, I assume, skill. I got this one at New York Comic Con 2011, and I wasn't quite sure when he made it. I'm assuming before then, as I did not see a factory. This was one of the better heads I've got from him in terms of play action, while some heads have larger pegs and need some gentle massaging to go into a body, this one just fits right in. It's perfect. And it looks awesome.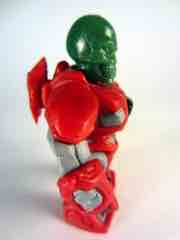 While not a perfect anatomical recreation of a human skull, it's more active in appearance. It has eyes, brows, and a weird quasi-fleshy bone face that really looks like it stepped out of what you think old horror comics look like. The teeth are cleanly sculpted, the eyes are set just right, there are a few cracks in the skull, and there's a nose socket. Heck, it's more of a ghoul than a skull maybe, but man, it's cool.
If I thought I had a chance of painting those teeth without ruining it, I totally would.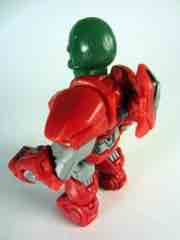 While I'm not exactly swimming in spare Glyos bodies, The GodBeast makes great parts that are encouraging me to pick up extras when Onell Design has some to buy. I used a Venjorun Armorvor for these pictures, and assuming TGB still has a usable mold he'll probably make you a skull in a color of your choosing if you ask him. He's like the A-Team, but he's just one guy and instead of being a soldier of fortune he'll put a good head on your shoulders.
--Adam Pawlus

See more homebrew and hand-molded toys and figures in Figure of the Day:
Day 68: Sucklord Glyos-Compatible Sucklord Grey Helmet Head
Day 255: 1SHOT Toys Glyos-Compatible He-Man Thermal Color Change Head
Day 512: The GodBeast Customs Glyos Dark Purple Crab Head Glyos Accessory
Day 532: The GodBeast Customs Glyos Green CyberGator Head Glyos Accessory
Day 555: The GodBeast Customs Glyos Green Glyos-Compatible Skull Head Glyos Accessory
Day 600: Seth Longmire Custom Glyos Glyan Squad Verihex Action Figure
Day 657: The GodBeast Customs Glyos Grey CyberRhino Head Glyos Accessory
Day 700: Elly Font Art Elephant Magnets Overview
Day 889: TheGodBeast Customs Glyos Red Sharkorvor Head Glyos Accessory
Day 1,597: The Octavirate Forge Shapeways Botcon Laser Rod Electrons/Electro 4.5mm Sword
Day 1,601: The Octavirate Forge Shapeways NES Inspired Zapper Gun 5mm Grip

Click here to see more Glyos Compatible figures in Figure of the Day.