Kyle Reese
From the Future

Terminator Action Figures
Item No.: Asst. 42180 No. 42181
Manufacturer: Neca
Includes: Rifle, Sarah Connor photograph
Action Feature: n/a
Retail: $14.99
Availability: Fall 2012
Other: The First Proper Kyle Reese Action Figure

PREVIOUS
RSS
NEXT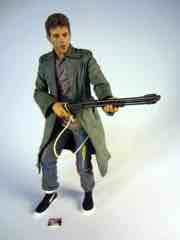 He's come from the future! Kyle Reese may be Mrs. 16bit's action hero crush, which is why you're seeing it now. It's here, so why not review it? This is the first-ever proper Michael Biehn as Kyle Reese action figure. Sure, we've had Minimates, and Hot Toys worked its 1:6 scale magic, but this is a real 6-inch-scale hyper-realistic collectible action figure. For the ultimate action movie from the VHS age to not have its hero as an action figure up until now is somewhat surprising, but you can attribute pretty much everything to likeness rights and the benefits of Neca not giving a crap about kid appeal. Sure, we've had dozens of Arnolds over the years, but Reese? Nope.
Focusing on hidden articulation, the construction of this figure is quite fascinating. The shoes are articulated, as are the wrists, elbows, neck, shoulders, and a weird ball joint above the pants. There's a rubber shirt over what seems to be a mostly naked torso, and if you peek behind the coat just right you can see some skin. The sculpt is exquisite, with retro 1980s sneakers, painted hobo pants, a nasty grey undershirt, and a dingy coat. His shotgun is tied up with a rope which is adhered to the interior of the coat, so nobody's going to get the jump on him and grab it away. His other accessory is a teeny tiny photo of Sarah Connor, which I assume was included specifically so you can lose it. I don't think he'll look good holding it, and it's not like he can cram it in his pocket, or his shoe, or somewhere else.
We went through about six or seven figures before finding one with the best-possible paint, but most were really great. Since there are numerous tiny details, like a scar or some fuzz on his face, each figure looks just a tiny bit different. I have absolutely nothing bad to say about the sculpt or the articulation, but I will nitpick on deco. His eyes and teeth aren't quite as white as I believe the designers intended, and lighting is everything for this guy. In a dark basement (like where I write) the figure doesn't look as sharp as he could under really bright lights. If you shine a flashlight on him, his eyes pop to life and you can see little reflections shine, bringing him more personality. This figure is probably close to as perfect as you can hope for out of a first sculpt of an actor from a company, and I wouldn't be stunned if a subsequent release (or exclusive redeco) looked even better.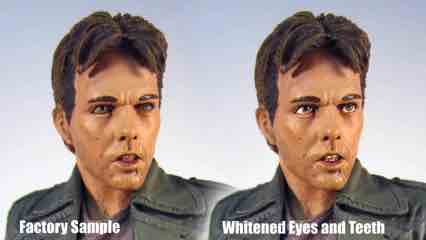 There's a Neca ALIENS Hicks coming as well, so it's a good year for Michael Biehn fans. (No Abyss or Planet Terror yet though.) Heck, even odder, Best-Lok bricks now have a Terminator set showing up in US Toys R Us stores focusing on the whole "future war" thing, which makes zero sense from a licensed product perspective. Why do this? Why do this now? Or why am I even asking? It's great to see some old 1980s action properties getting some respect for no good reason whatsoever. This is your best (and at retail, only) Kyle Reese toy right now so at $15 you shouldn't have to think too hard about getting it. He has no problems holding on to his gun, and can assume a few decent poses in addition to aiming his gun at robots. Neca has been really good at advancing what $15 can get you, and this one is right up there with some of their better work. It's not perfect, but if it were that'd just be creepy. Nicely done, Neca folks, we salute you in doing a great job in bringing an under-represented action figure to our toy boxes.
...oh, and the assortment is rounded out with a frozen T-1000 and a battle-damaged T-800. Nicely done. Now where is Neca's Sarah Connor?
--Adam Pawlus
Additional Images

See more NECA figures in Figure of the Day:
Day 213: NECA Iggy Pop Action Figure
Day 541: NECA Terminator Kyle Reese Action Figure
Day 635: NECA Portal 2 Chell Action Figure
Day 2,162: NECA Predator Classics Series Berserker Predator Action Figure
Day 2,163: NECA Aliens Classics Series Neomorph Alien Action Figure

See more Terminator figures in Figure of the Day:
Day 541: NECA Terminator Kyle Reese Action Figure
Day 1,082: Funko T800 Endoskeleton (Chrome) ReAction Figure
Day 1,117: Funko The Terminator Sarah Connor ReAction Figure
Day 1,133: Funko The Terminator (Tech Noir Jacket) ReAction Figure