Alpha 7
The Man from Mars

Outer Space Men Infinity Edition
Item No.: n/a
Manufacturer: Four Horsemen
Includes: Two-piece helmet, alternate arms, pistol, jetpack
Action Feature: n/a
Retail: $50.00 (sold as a set with Electron+, Mystron, and Commander Comet)
Availability: January 2012
Other: Also sold in a $26 bundle with Electron+

PREVIOUS
RSS
NEXT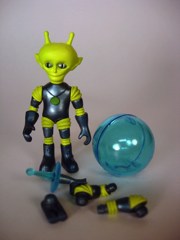 The smallest member of the Outer Space Men, Alpha 7 also has the distinction of being one of few figures in the line whose appearance taps in to an existing cultural portrait of life on Mars, specifically "little green men." The painted version of the figure looks like he stepped right out of the earlier part of our time exploring space, before we had a better handle on what was (or sadly wasn't) out there.
As a smaller figure, he doesn't quite have the same build as his full-size counterparts. Wrists and ankles are connected via a smaller-than-usual Glyos plug, so you can't swap these parts with normal full-sized Glyos pieces from other toys just yet-- but the shoulders and head can be easily exchanged. Rather than the traditional hip joints, the figure has what's generally referred to as a "v-crotch" which means his legs swing out to the side, basically swinging out extremely wide. It's not ideal, and it may prevent the figure from sitting in a manner which you might prefer. But if you're just going to have them standing around? You won't notice it in the slightest.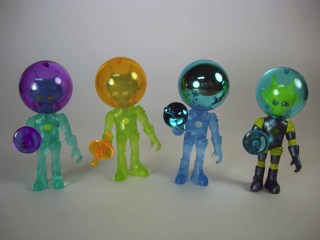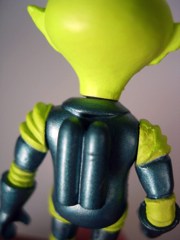 Early concept for the figure were said to include a larger jetpack, rather than the small one ultimately included with the figure. While it would've been cool, I think it would have taken away form the personality of the original toy-- after all, the original bendable figure didn't come with some giant rocket pack, and the smaller model is subtle enough where if it weren't even there, it wouldn't be a huge loss. I like it, it's cool, and it fits nicely. The helmet is the standard 2-piece helmet with the tiny let's-make-people-nervous pegs connecting them, which haven't broken yet but it just feels like I'm going to accidentally break them eventually. Rounding out the set is a painted clear plastic ray gun, which is actually extremely cool. It's very of its time, and fits perfectly with this smaller figure. I'm glad the Horsemen didn't elect to give him a larger gun or a massive staff, because this just seems like a good fit as it is.
If collect this line, by now, you should've bought this one. I wish it had a little more "oomph" for the price, but it's not like it's a bad figure. When it comes to these collector figure lines, size is (unfortunately) less of a concern in the grand scheme of things where we basically need to be happy that it got made at all, unlike mainstream wide releases that are all competing to be as impressive and gee-whiz cool as possible. If you're already collecting Glyos figures or this line, you won't be sorry if you get him. If you've never touched these kinds of action figures before, I would suggest starting with the 2010 quartet-- they're a little easier to futz with and have fewer parts which might strike you as fragile.
--Adam Pawlus
Additional Images

Click here to see more Four Horsemen figures in Figure of the Day.

Click here to see more Outer Space Men figures in Figure of the Day.

Click here to see more Glyos Compatible figures in Figure of the Day.