Topspin
Series 1: B011

Transformers Bot Shots Battle Game Figures
Item No.: Asst. 37663 No. 98428
Manufacturer: Hasbro
Includes: Figure
Action Feature: Spring-loaded transforming figure
Retail: $3.99-$4.99
Availability: May 2012
Other: Shares parts with Bumblebee, Topspin, Barricade, others

PREVIOUS
RSS
NEXT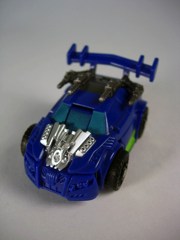 I've joked that I can basically write a "Figure of the Day" for a Star Wars figure without ever touching it, and I think the same is basically true with Bot Shots. The toys are largely very similar in construction, with Topspin recycling numerous elements from Bumblebee to create another nifty collectible mini-figure of sorts. This isn't to say I dislike it-- I adore this line-- but I'd be lying if I said it had the power to surprise, outside some minor sculpting.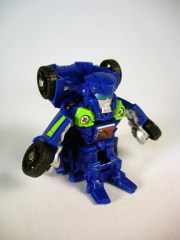 The car may remind you of Mirage from wave 2, as it is also blue and based on the Bumblebee mold. The figure is enhanced with a new bumper and hood assembly, and the elements making up the spoiler and the back half of the car are new. These parts effectively make it into Dark of the Moon Topspin, minus the "cage" elements on the side windows. On this toy, the windows are sadly unpainted but aside from that it looks pretty slick with gunmetal grey cannons, a shiny silver engine, a bright metallic windshield, and bright green detailing in the doors. If Hasbro sprang to paint the side windows, this would probably be tied with (or better than) Lockdown in the battle for my heart. The wheels roll freely, and it's a fun neat little car that should remind you of the Choro-Q pull-back cars your dad used to get you from Japan. (Your dad didn't do that? Oh.)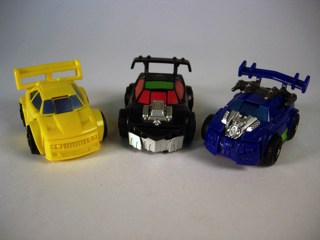 When you push the bumper, he jumps into robot mode. The head and chest are a new piece, the rest is pretty similar to Bumblebee with swing-out arms, no articulation, and a fun sculpt. I was complaining during the movie lines that the heads felt lacking in personality, but Hasbro seems to have been saving it for Bot Shots. The figure's lively smirk recalls the head from the IDW G1-themed comic books, which were inspired by the original Jumpstarters toy in the 1980s. So what you've got here is a healthy mishmash of Topspins of numerous generations, complete with "goggles" on his helmet. While Lockdown may have my favorite vehicle mode, I think Topspin's got the best head sculpt so far. If you see him for four bucks, buy him and Lockdown. If you don't agree with me that these are some of the most fun miniature toys that you can get today, well, you just have terrible taste and no place for joy in your heart. Buy Topspin. You're welcome.
Troubleshooting Note: As always, there are two screws on each figure's chest. If you tighten these, the trigger is a little jumpier. If you loosen it, it weakens it a bit. Depending on how well the figures do (or don't) spring up, you may want to keep a screwdriver around to adjust them to your liking.
--Adam Pawlus
Additional Images

Want to buy this figure? Check Transformers availability at our sponsors:
Entertainment Earth

Click here to see more Hasbro figures in Figure of the Day.

Click here to see more Transformers figures in Figure of the Day.