Zillions of Mutated Bodies Infecting Everyone Series 1
Rockabilly, Cheerleader, Schoolboy, Bathing, and The Ape Zombies

Zillions of Mutated Bodies Infecting Everyone (ZOMBIE) Series 1
Item No.: n/a
Manufacturer: October Toys
Includes: 5 figures
Action Feature: n/a
Retail: $1 per figure, give or take
Availability: 2011?
Other: Available in multiple colors

PREVIOUS
RSS
NEXT

I saw Zillions of Mutated Bodies Infecting Everyone (ZOMBIE) Series 1 Neon Orange Minifigures on eBay and bought it, because October Toys does good work and I really liked OMFG. (And based on the photos I thought they might be flesh labeled wrong. Nope!) Admittedly, I'm not a horror/zombie guy, but I do like monsters and this kind of product so I bit. Prior to this quintet of brains-munchers, there were a few hand-cast or otherwise low-run figures which you can't have, because the run is too low. Ah well. But you can get these, in many colors, from numerous sellers, at pretty good prices. I picked up this set on eBay for $5 plus $2.50 shipping. It was labeled orange, the manufacturer says they're neon orange, but dang if they don't seem red to me. Talking to numerous major toy manufacturers, I suggest you take a look at smaller low-run figures like these because Chinese manufacturing prices are skyrocketing. While no less impressive than larger toys, particularly large designer toys, the ZOMBIE figures are certainly much cheaper and appropriately ugly.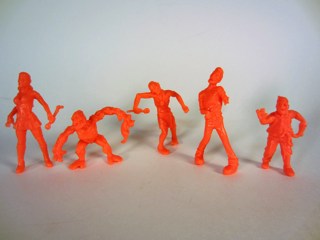 As is tradition for this kind of figure, several colors are available and October Toys even sells them wholesale by the bucket. Like you can get a tub of these with multiple colors, 100 figures for $100. School Girl, Rockabilly, Bathtime, School Boy, and the Ape are in series 1 with a second series due, well, probably next year at this rate. The figures were shown at Comic-Con 2012 and go beyond just the normal zombie-ness to also add in Pheyden. These predate Jakks Pacific's Slug Zombies line by quite some time, and while the Jakks line is closer in tone and style to M.U.S.C.L.E., these figures are closer to 2 1/2-inches tall (for the big ones) and have what could best be called more "realistic" detail. As a 21st-century pop culture staple, we're seeing a big surge in the undead as toys go lately.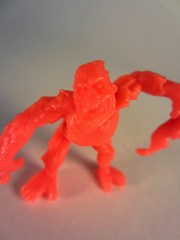 George of October Toys told me that every series should have a sort of a gag figure, with The Ape fitting the bill for the first series. No doubt inspired by Koko with the little kitten in its hand, this rotting simian is thrashing about but is being surprisingly kind to the cat by, well, not eating it. At 1 1/2-inches high, he's the smalest of the bunch of flesh wounds, exposed mucle, and puncture bite marks. The cat, oddly, remains just fine.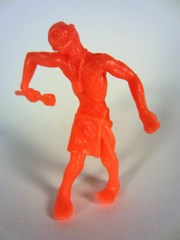 The Bathtime Zombie presents a number of questions and is the only figure in the batch that gave me trouble standing up. He has a soap-on-a-rope, a brush, and a towel which is sliding down slowly. There's not as much decay here, but there's a huge hole punched in his skull and weird, warped legs. He's quite thin, and you can see his spine on his back because of this. He also seems a little short relative to the rest of the cast.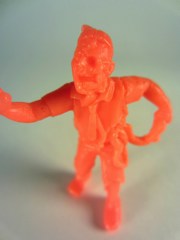 The School Boy has a propeller beanie, a uniform, and his own guts in his hand making him both one of the goofiest and grossest figures in the bunch. There's a torn leg, intestines, and oh yeah-- an eye is missing. Another funny small detail, his right hand is making the Vulcan "Live Long and Prosper" gesture.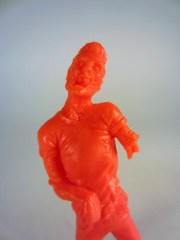 The tallest figure in the set is the Rockabilly Zombie at roughly 2 1/20inches high. He's in pretty good shape, minus the lost arm. Sure, his shirt has a tear in the back but he's still got his wallet chain, fancy-pants boots, and toolish skinny jeans topped by hair that would even impress Conan O'Brien. He has a little skull on his belt buckle and in many respects feels like the signature figure in the set.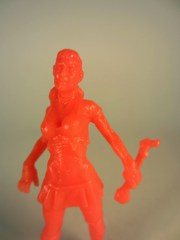 Completing the set is the Cheerleader Zombie, complete with huge boobs, sculpted nipples, insane abs, and a chunk of her face missing. Much like the cheerleaders in my high school, she also seems to have something carved in her leg. The cheerleader carries a bone in her hand plus wears high boots which should offer her no protection against the rampaging hordes of flesh-hungry undead. At about 2 1/3-inches high, she's the second tallest figure in the set.
Each figure has no accessories and no articulation. What you see is essentially what you get, and I think I'm on board for series 2. For the low asking price, you can't go wrong with these figures, especially considering all the colors you have to choose from these days. They're both bigger and cheaper than OMFG. Series 2 appears to sport Pheyden, a Mouseketeer, a convention goer, a lunchlady, and a half-torso for your amusement. I figure you're going to be looking for ward to series 2, too.
--Adam Pawlus
Additional Images

See more October Toys in Figure of the Day:
Day 315: October Toys Outlandish Mini Figure Guys (OMFG) Series 1 Minifigures
Day 481: October Toys Outlandish Mini Figure Guys (OMFG) Series 1 Glow in the Dark Minifigures
Day 494: October Toys Zillions of Mutated Bodies Infecting Everyone (ZOMBIE) Series 1 Neon Orange Minifigures
Day 570: October Toys Outlandish Mini Figure Guys (OMFG) Series 2 Minifigures
Day 590: October Toys OTMF Baby Deadbeet Mini-Figure
Day 751: October Toys Zillions of Mutated Bodies Infecting Everyone (ZOMBIE) Series 1 Blue Glow in the Dark Minifigures
Day 775: October Toys Outlandish Mini Figure Guys (OMFG) Series 3 Minifigures
Day 813: October Toys OTMFG Zombie Pheyden Mini-Figure
Day 885: October Toys OTMFG Brocotal Mini-Figure
Day 909: October Toys OTMF Glow in the Dark Toy Break Mini-Figure
Day 929: October Toys OTMFG Flesh 3DRetro Robot Mini-Figure
Day 943: October Toys OTMFG Glow in the Dark Baby Deadbeet Mini-Figure
Day 1,113: October Toys OTMFG Glow in the Dark Brocotal Mini-Figure
Day 1,142: October Toys Outlandish Mini Figure Guys (OMFG) Series 2 Glow in the Dark Minifigures
Day 1,184: October Toys Skeleton Warriors Bone Titan Skeleton Action Figure
Day 1,191: October Toys Skeleton Warriors Baron Dark Action Figure
Day 1,214: October Toys Skeleton Warriors Glow-in-the-Dark Titan Skeleton Action Figure
Day 1,300: October Toys Outlandish Mini Figure Guys (OMFG) Series 4 Minifigures
Day 1,261: October Toys October Toys Mini Figure Guys (OTMFG) Brainwaves Minifigures
Day 1,547: October Toys October Toys Mini Figure Guys (OTMFG) Glow-in-the-Dark Mini Gwin Minifigure
Day 2,324: October Toys Outlandish Mini Figure Guys (OMFG) Series 3 Glow-in-the-Dark Minifigures

See more otherwise uncategorized figures in Figure of the Day:
Day 22: Tamagoras Get Back To Job Lion
Day 35: Mattel Xtractaurs Comic Series Battlespike Styracosaurus
Day 133: Kenner Q*Bert Wind-Up Q*Bert Action Figure
Day 200: Hasbro Cloverfield Electronic Action Figure
Day 216: BanDai Tick Bounding Tick Action Figure
Day 286: Mugo Kung Fu Panda 2 Po Designer MP3 Player
Day 325: Spy Monkey Creations Doppelganger Armory Series 1 Accessory Pack
Day 352: Mezco The Goon Action Figure
Day 357: McFarlane Toys The Maxx Action Figure
Day 384: Beeline Creative Parks and Recreation Ron Swanson Bobble Head
Day 392: Blizzard Starcraft Zerg Hydralisk Action Figure
Day 399: Tyco Looney Tunes Marvin the Martian
Day 483: Pineapple Ltd. Glow Ghosts Baggs Collectible Figure
Day 485: Remco Mel Appel Extraterrestrials Captain Evets Collectible Figure
Day 494: October Toys Zillions of Mutated Bodies Infecting Everyone (ZOMBIE) Series 1 Neon Orange Minifigures
Day 524: NiStuff Terrestrial and Outer Anomalies Metallic PVC Figures
Day 526: Jazwares Mortal Kombat 20th Anniversary Shao Kahn Action Figure
Day 541: NECA Terminator Kyle Reese Action Figure Day 615: Deep Fried Figures Mechawhales Action Figure
Day 645: Tim Mee Toys Battle Mountain Playset
Day 700: Elly Font Art Elephant Magnets Overview
Day 748: Funko Land of the Lost SDCC Exclusive Glow in the Dark Sleestak
Day 751: October Toys Zillions of Mutated Bodies Infecting Everyone (ZOMBIE) Series 1 Blue Glow in the Dark Minifigures
Day 785: Topps MiniKins 4-Pack Mini-Figures
Day 874: Yujin Shooting Game Historica Metarion Capsule Toy
Day 1,049: Tim Mee Toys Galaxy Laser Team Blue and Green Figure Set
Day 1,065: Tim Mee Toys Green Galaxy Laser Team Star Patrol Jumbo Figure Set
Day 1,087: Tim Mee Toys Green and Grey Legendary Battle Figure Set
Day 1,092: Tim Mee Toys Brown Backwoods Battle Frontiersmen Figure Set
Day 1,146: Wendy's Night at the Museum 3 Jedediah in the Wild West
Day 1,189: Remco Mel Appel Extraterrestrials Trebor
Day 1,215: Tim Mee Toys People at Play Atomic Family Putty and Green Figure Set
Day 1,232: Tim Mee Toys Green vs. Green Soldiers Figure Set
Day 1,237: Tim Mee Toys Tank Command Desert Command Vehicle Set
Day 1,241: Funko Hikari Vinyl Gigantor Power Vision Gigantor
Day 1,276: Tim Mee Toys Combat Patrol Army Vehicles and Artillery Vehicle Set
Day 1,330: Tim Mee Toys Shadow Ops Black Helicopter Strikeforce Figure and Vehicle Set
Day 1,372: Tim Mee Toys Tan vs. Green Soldiers Bucket Figure Set
Day 1,396: Funko Pop! Television Last Week Tonight with John Oliver Vinyl Figure
Day 1,406: McDonald's Changeables Egg McMuffin Robot
Day 1,418: Jesse Narens Stegoforest Brown Stegoforest with Acorn Warrior
Day 1,423: McDonald's Changeables French Fries Robot
Day 1,458: BanDai Gamera Heisei Gamera Action Figure
Day 1,474: Remco Mel Appel Extraterrestrials Egroeg
Day 1,539: Pineapple Ltd. Glow Ghosts Catcherpillar Collectible Figure
Day 1,563: A&A Global Industries Dogs in Disguise Nanner Action Figure
Day 1,620: Funko Son of Zorn Zorn Action Figure
Day 1,637: Funko E.T. The Extra-Terrestrial Elliot, E.T., and Gertie ReAction Figures
Day 1,746: Hasbro Littlest Pet Shop Pets in the City Puttin' on the Glitz #24 Pony
Day 1,773: BanDai Xyber 9 New Dawn Ikira's Speeder
Day 1,777: Funko Pop! Television Ash vs. Evil Dead Entertainment Earth Exclusive Bloody Ash Pop! Vinyl Figure
Day 1,841: Funko Pop! Animation Glow in the Dark Reptar Pop! Vinyl Figure
Day 1,852: Funko Son of Zorn Office Zorn
Day 1,891: Parker Bros. Q*Bert Flying Disc Action Figure
Day 1,957: Funko VYNL The Life Aquatic Steve and Ned Vinyl Figures
Day 1,976: Burger King Smurfs: The Lost Village Brainy Smurf Action Figure
Day 1,980: BanDai Saban's BeetleBorgs Metallix Mega Spectra Titanium Silver Sector Cycle Vehicle with Action Figure
Day 1,982: Titan Merchandise Cartoon Network Collection Samurai Jack
Day 2,021: BanDai Mystic Knights of Tir Na Nog The Drageen Action Figure
Day 2,026: Unknown Diplodocus Figure
Day 2,045: Funko GLOW Debbie Eagan vs. Ruth Wilder Action Figures
Day 2,054: Max Toy Co. Designer Con 2018 Exclusive Glow in the Dark Otta Otter Sofubi Vinyl Figure
Day 2,061: Just Toys Intl. Fallout Mega Merge Nuka T-51 Power Armor
Day 2,070: Mechazone Mechanauts Epsilon Buggy NP-03 Action Vehicle
Day 2,077: ThreeZero PopFuzz Glow in the Dark The Robot Vinyl Figure
Day 2,132: Pineapple Ltd. Glow Ghosts Boohoo Collectible Figure
Day 2,203: Sonic Kidrobot Dunny Strawberry, Lime, and Red Button Action Figure
Day 2,211: Super7 Toxic Crusaders Glow in the Dark Toxie Action Figure
Day 2,235: Super7 Ultimates Voltron Action Figure
Day 2,244: Funko Pop! Television Schitt's Creek David Rose Action Figure
Day 2,315: Funko Soda Devo Satisfaction Vinyl Figure
Day 2,344: Orbitdyne Gee Two HEAP Vinyl Figure
Day 2,358: Super7 Killer Bootlegs Rhamnusia's Revenge Action Playset with Draco Knuckleduster and Phantom Starkiller Action Figures
Day 2,526: Super7 Vincent Price Master of Mayhem ReAction Figure
Day 2,574: Garden State Kaiju Space Beasts Mudbelly "Wild Type" Soft Vinyl Figure
Day 2,582: Orbitdyne HEAP Glow Head Vinyl Figure
Day 2,594: Super7 Mars Attacks Destroying A Dog ReAction Figure