Kallan
64% Ornitholestes, 36% Deinocheirus

Predasaurs DNA Fusion Trading Figures
Item No.: Asst. #65000
Manufacturer: Irwin Toy
Includes: Axe, trading card, product checklist
Action Feature: Teeth glow-in-the-dark (poorly)
Retail: $2.99
Availability: September 2012
Other: Bizarre

PREVIOUS
RSS
NEXT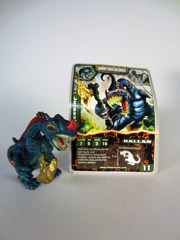 Good day, and welcome to day #500. Between this column and the Star Wars one, I may be in the running for most toy reviews written. Can someone look into that? Maybe the Guinness people have a page for this. Anyway, I was waffling for a while of what to put here and a few weeks ago your pal and mine Matt alerted me to something called Predasaurs which he found at Target. I spend a while trying to find a store which actually stocked these, and just a few days ago stumbled on a box of them and plucked Kallan out of a blind foil bag for three bucks for no real reason other than to see what the heck these things were. They're kept in the front of the store near the baseball cards if they're available, which I guess is handy if you want to stick one in your pocket and run for the exit. Toys R Us also stocks them, with a 3-pack tin for $10.99, a 2-pack carded figure for $4.99, and the singles-- like this one-- for $2.99. They're by the cheapo trading figure half-kiosk things near the registers.
If ever there was a better stocking stuffer for kids of 2012, I haven't seen it. So what are they? Well, for you toy nerds out there it's like this: imagine if someone took Jurassic Park: Chaos Effect figures and mixed them up with the weird dinosaur/dragon skee-ball prizes you got at pizza places in the 1980s with higher production values. Given that he has a few paint applications and a weapon, it's sort of a freakish synthesis of the 1980s mini-figure crazes and the 1990s hybrid craze. (Fuzors? Chaos Effect? See?) Stylistically, we're dealing with the 1980s here as the toy seems to recall some of the "gross-out" exaggeration elements of lines like Mad Balls with a freakishly toothy wide jaw and glow-in-the-dark teeth, the latter of which recalls Dino-Mites. It's rare to see a toy line that basically screams "I'm a cheap 1980s toy dinosaur" right in your face.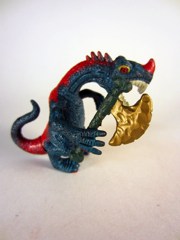 Stylistically recalling the likes of Primal Rage as well, Kallan is supposedly made up of two dinosaur species spliced together, although the entire line seems to be sculpted to a certain standard with huge fangs and outstretched arms. Standing about 2-inches tall, this blue plastic creature has a red marking on his nose and back, painted teeth and tongue, and surprisingly colorful eyes. His axe matches the skin tone, plus has an added gold paint job on the blade. The hand is sculpted with a hole in the palm, and the axe has a peg which fits in the hole perfectly. There's more than a little paint slop, and as far as I can tell no copyright or other markings to identify these as they turn up in garage sales 5-10 years from now. Oh, and it's also incredibly ugly.
When I look at this figure up-close through a camera, I can't help but think if the figure was about 7-inches tall and hollow vinyl, it'd be something people would be clamoring to buy in vinyl and in fancy bright colors. At 2-inches, it's low art. At 7-inches (and maybe $100) this would be one crazy high-end collectible. A collectible with teeth that don't do a very good job glowing in the dark. Baggs is not impressed.
With 25 blind-packaged figures at $3 a pop, I sincerely doubt any collector is going to go after the entire line but it's a fun grab. I might get a few more of these, as they're nifty enough to keep around. The blind figures come packaged in a foil packet with a trading card, which means the trading card is going to be all bent out of shape before you even open it which, to me, says that the card game isn't seen as being remotely important by the developers. At an increasingly competitive impulse price point, Predasaurs are up against Slug Zombies, Transformers Bot Shots, Star Wars Fighter Pods, and numerous other cheapo figures which do not share this line's sense of whimsy. If you see these packets, I suggest you drop $3 on at least one, just for fun.
--Adam Pawlus
Additional Images

See more Irwin Toy figures in Figure of the Day:
Day 500: Irwin Toy Predasaurs Kallan Trading Figure
Day 763: Irwin Toy Predasaurs Cage Set with Trading Figure

See more Predasaurs figures in Figure of the Day:
Day 500: Irwin Toy Predasaurs Kallan Trading Figure
Day 763: Irwin Toy Predasaurs Cage Set with Trading Figure