Optimus Prime
Series 2: 001

Transformers Prime Cyberverse Commander Class
Item No.: Asst. 37994 No. 37995
Manufacturer: Hasbro
Includes: Two blue "Energon" weapons
Action Feature: n/a
Retail: $8.99
Availability: April 2012
Other: Variant exists with bonus DVD

PREVIOUS
RSS
NEXT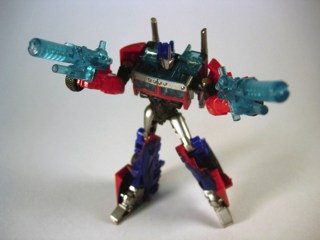 I admire Hasbro's attempts at making cheaper versions of major characters like Optimus Prime for the kids. $20 or $30 isn't in everybody's budget for the show's main hero, so many of us who grew up in the 1980s got to know Bumblebee or S.shtmlray pretty well while Optimus Prime remained somewhat elusive. The Cyberverse scale brings the big hero figures in under ten bucks, and at roughly 4-inches tall.
Packaged in robot mode, it's clear Hasbro is focused on pushing the characters rather than the vehicles or transformation. In many respects, it's being pushed more as an "action figure" which makes sense given they actually gave him weapons, limited (but useful) articulation, and a gimmick which is powered by other, larger toys sold separately. The larger Cyberverse 2012 toys have clear plastic chests, so when you connect them to some of the larger vehicles they can "light up." Wheeee. The figure has just over 10 useful joints, and can stand, sit, and hold his guns with the best of them. With the range of motion in the joints it's fun to mess around with, and it's not quite the stiff, poseable-in-name-only figure that is often marketed to adult fans.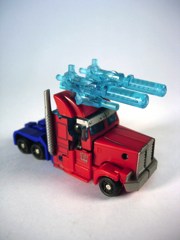 The transformation to truck mode isn't too difficult, there are swinging smokestacks and moving feet and all sorts of nonsense. Since the waist has a ball joint, it may pop apart, although that's a danger in several modern Transformers toys. As you fidget it into truck mode, you'll notice all six wheels are capable of rolling and as to how well they roll, well, your mileage may vary. Rolling around isn't Hasbro's #1 design concern on these guys.
The truck itself doesn't do too much, but one thing I appreciate is that there's a place to store his guns on top of the cab. It's not fully integrated into the truck, but it's better than having to set them aside and eventually misplace the lot of them.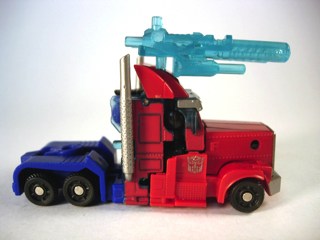 I'm not exactly Prime's biggest booster, but this is a nice toy in and of itself. The face doesn't really reflect Optimus' mouth on the show, but the overall sculpting and detail is certainly close enough to make for a pretty fun toy for the asking price. Well, sort of-- to be honest, Deluxe toys were $10 for so long that this little thing being $9 is a little painful. Now that deluxe toys are closer to $15, well, that party is over. Thanks for nothing, inflation.
--Adam Pawlus
Additional Images

Want to buy this figure? Check Transformers availability at our sponsors:
Entertainment Earth

Click here to see more Hasbro figures in Figure of the Day.

Click here to see more Transformers figures in Figure of the Day.