Anarchy
Japanese name is also Anarchy (he has no US name)

Battle Beasts Shadow Warriors
Item No.: #80
Manufacturer: Hasbro
Includes: Power Drill Laser, additional figure
Action Feature: n/a
Retail: est. $3.99
Availability: ca. 1988
Other: This sample has a "Wood" Orb/Crystal

PREVIOUS
RSS
NEXT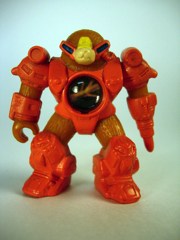 When Diamond Select announced their plan to revive the Battle Beasts brand this year, that was my cue to jump on the vintage guys before things blew up in a big way later in the year. Anarchy was one of the few Laser Beasts I picked up as he wasn't too pricey, and was about as cool as another mole in this series. With a drill arm and a drill weapon, thematically, he's pretty awesome as a construction/destruction/explorer type.
As with all figures in the line, he's roughly 2-inches tall and has two joints-- just the shoulders. His right arm is a normal hand, and his left arm is permanently a weapon (or tool, depending on your imagination.) What I found particularly delightful about this little guy, aside from his fat little face, were the wacky 2015-by-way-of-1988 goggles on the little guy. It's like he's from some amazingly inefficient future.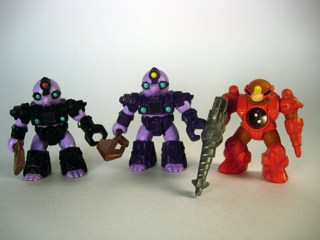 He's not the only mole in the line-- two versions of Miner Mole were sold in series 2, painted up in a delightfully goofy purple skin tone with black or purple armor. Anarchy is unquestionably neater, but he ain't cheap. Without a weapon, $10-$20 is normal, while figures with the weapon may set you back $40 or more.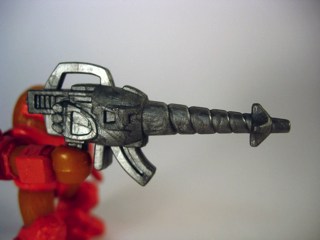 The figure includes a drill weapon which matches his arm nicely, and has what appears to be a a little paw just over the handle. It also has a giant ammo clip and a ribbed tip for her pleasure. Cast in silver, it also has a number "80" sculpted on it so you may easily pair it with the figure, which is also numbered.
The US release sports a Hasbro logo and, oddly, is probably rarer than a lot of other collectible figure lines from the era. Vintage Star Wars, if you just collect a loose set, is cheaper than Battle Beasts. I like this guy a lot, and I like how the furry texture and design sensibility improved as the line went on. The current secondary prices, I could do without. But if you can get one for a fair price-- maybe $30 with a gun-- I don't think that you'd regret it. (Assuming you're OK wasting big money on tiny tiny toys, of course.)
--Adam Pawlus
Additional Images

Click here to see more Hasbro figures in Figure of the Day.
See more Battle Beasts figures in Figure of the Day:
Day 82: Diamond Select Battle Beasts Minimates SDCC Gold Alligator Action Figure
Day 373: Diamond Select Battle Beasts Minimates Case Red Alligator Action Figure
Day 374: Hasbro Battle Beasts Sawtooth Shark Action Figure
Day 375: Hasbro Battle Beasts Wolfgang Walrus Action Figure
Day 376: Hasbro Battle Beasts Diving Duckbill Action Figure
Day 377: Hasbro Battle Beasts Spark Shark Action Figure
Day 390: Diamond Select Battle Beasts Minimates C2E2 2012 Red Vorin
Day 391: Hasbro Battle Beasts Anarchy
Day 395: Diamond Select Battle Beasts Minimates C2E2 2012 Grey Vorin
Day 417: Hasbro Battle Beasts Run Amuck Duck
Day 436: Hasbro Battle Beasts Horny Toad
Day 450: Diamond Select Battle Beasts Minimates SDCC 2012 Vorin & Zik
Day 451: Hasbro Battle Beasts Sledgehammer Elephant
Day 460: Diamond Select Battle Beasts Minimates SDCC 2012 Gold Vorin
Day 463: Diamond Select Battle Beasts Minimates C2E2 Exclusive Black Alligator
Day 451: Hasbro Battle Beasts Pillaging Polar Bear
Day 577: Hasbro Battle Beasts Slasher Seahorse
Day 610: Diamond Select Battle Beasts Minimates Gruntos the Walrus & Tate Reynolds
Day 639: Hasbro Battle Beasts Triple Threat Snake
Day 674: Hasbro Battle Beasts Hare Razing Rabbit
Day 720: Diamond Select Battle Beasts Minimates Shadow Merk
Day 723: Hasbro Battle Beasts Pillager Pig
Day 914: Hasbro Battle Beasts Rainbow Sam
Day 972: Hasbro Battle Beasts Pixilated Pointer
Day 1,084: Hasbro Battle Beasts Sir Sire Horse
Day 1,278: Hasbro Battle Beasts Hardtop Tortoise
Day 1,291: Hasbro Battle Beasts Tanglin Pangolin
Day 1,306: Hasbro Battle Beasts Eager Beaver
Day 1,313: Hasbro Battle Beasts Bodacious Bovine
Day 1,756: Diamond Select Independent Comic Book Minimates Battle Beasts Ruminant and Spyrnus
Day 1,815: Diamond Select Battle Beasts Minimates Stealth Vorin
Day 1,827: Hasbro Battle Beasts Sabre Sword Tiger
Day 1,890: Hasbro Battle Beasts Battling Deer Stalker Chariot
Day 1,905: Diamond Select Battle Beasts Minimates Antalor and Nychirix
Day 1,906: Hasbro Battle Beasts Killer Carp
Day 2,024: Fisher-Price Imaginext Series 11 Collectible Figures Triple Threat Snake
Day 2,074: Hasbro Battle Beasts Octillion Octopus