Ian Malcolm
Behold Jeff Goldblum

Jurassic Park Series II
Item No.: n/a
Manufacturer: Kenner
Includes: Launcher, backpack, projectile, Gallimimus hatchling
Action Feature: Firing rocket launcher
Retail: $5.99
Availability: Fall 1994
Other: The last "new" movie human from the first film to be made, a year later

PREVIOUS
RSS
NEXT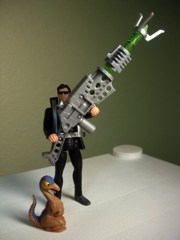 I remember going absolutely nuts trying to get an Ian Malcolm figure in 1994, before the internet really made it easy for people to just check eBay to see if a figure came out yet. (If it's for sale, it's probably out-- and today this one goes for about $15.) Malcolm is the quintessential Kenner design-- 4 3/4-inches tall, 5 joints, and a ridiculous accessory as a weapon. Seriously, I have no idea who came up with the tranquilizer gun.
Jurassic Park toys usually came with a capture net with a few exceptions, I guess it makes sense that you would want to give Jeff Goldblum an insane transparent green backpack and a firing gun bigger than he is. With the projectile, the weapon measures a whopping 6-inches long, plus it includes multiple play features-- not only does it fire, but it has a sliding grey piece to move around. The idea is that you can pretend to suck out the green goop out of his backpack before loading it and launching it, which, while creative, is preposterous given the size of the figure relative to his gun. There's no way he could refill it, only you-- the benevolent God aged 4-11-- can help him prepare for battles with giant man-eating bird ancestors created by an insane rich madman. Or something. There are marks on the dart to "measure" how much you took out, but most interesting is the backpack. The accessory was molded in clear plastic and painted silver in some spots and black in others, creating a very rich-looking backpack with minimal pieces. Big points to them figuring this out, painting clear pieces can result in some slick looks and nobody even bothers to try this kind of thing these days as far as I can tell.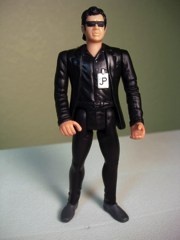 Much like Snake Eyes, there's not a lot to Malcolm as a figure in terms of paint. The sculpt is very clean, with a few folds and creases, plus some stitching to bring his suit to life. If anything, it's an amazingly conservative figure-- he's not ridiculously muscular, plus his sunglasses do a good job of covering up the quality of his likeness-- whatever it might have been. The face is definitely Goldblum-esque, plus he's dressed almost entirely in black. This is a recipe for a slick action figure if ever there was one, although I'd be lying if I said I admired his accessories when the figure first came out. I thought they were pretty stupid. Since gravity prevents him from standing and holding his gun, I guess I still do. Hell, he can't even hold his gun at the grip-- it's too thick. It might be too thick for most 12-inch action figures. The reason to buy this figure is for your very own Jeff Goldblum toy, or for his little dinosaur buddy.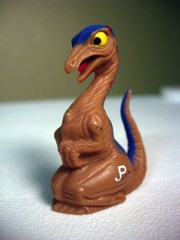 Most if not all Jurassic Park human figures included a small dinosaur figure measuring about 2-inches high (or long). The Gallimimus hatchling is delightfully cartoony with big bright yellow eyes and exceptional decoration. Not only does he have the obligatory "JP" logo on his hip, but he has black pupils plus red and blue markings on his back. Oh, and a red tongue. This is pretty remarkable when you consider similarly priced Teenage Mutant Ninja Turtles figures from this era had sidekick mini-figures which were completely unpainted and frankly ugly. Kenner's JP dino sidekicks were sharp, well-painted, and the reason I bought a lot of the figures in the first place. The little guys were gorgeous, and it's almost a shame Kenner didn't turn them into a Monster in my Pocket-style sideline of collectible terrible lizards. I really dug 'em, so for my $6 I found Malcolm and the Gallimimus baby to be totally worth it. The gun and backpack, not so much.
--Adam Pawlus
Additional Images

See more Kenner figures in Figure of the Day:
Day 98: Kenner Beast Wars Transformers Noctorro Action Figure
Day 99: Kenner Beast Wars Transformers Air Hammer Action Figure
Day 100: Kenner Beast Wars Transformers Torca Action Figure
Day 101: Kenner Beast Wars Transformers Terragator Action Figure
Day 102: Kenner Beast Wars Transformers Quickstrike Action Figure
Day 114: Kenner Total Justice Mail-In Superman Action Figure
Day 133: Kenner Q*Bert Wind-Up Q*Bert Action Figure
Day 138: Kenner Jurassic Park Chaos Effect Compstegnathus Action Figure
Day 172: Kenner Jurassic Park The Lost World Chasmosaurus Action Figure
Day 195: Kenner ALIENS Arachnid Alien Action Figure
Day 211: Kenner Predator Cracked Tusk Predator Action Figure
Day 234: Kenner ALIENS Scorpion Alien Action Figure
Day 250: Kenner ALIENS Panther Alien Action Figure
Day 256: Kenner ALIENS Gorilla Alien Action Figure
Day 261: Kenner ALIENS Bull Alien Action Figure
Day 285: Kenner ALIENS Hive Wars Warrior Predator
Day 317: Kenner ALIENS vs. Predator 10-Inch Alien Action Figure
Day 346: Kenner Jurassic Park Ian Malcolm Action Figure
Day 356: Kenner Action Masters Predator
Day 359: Kenner ALIENS Hive Wars Acid Alien Action Figure
Day 365: Kenner ALIENS Vasquez Action Figure
Day 366: Kenner Jurassic Park Ellie Sattler Action Figure
Day 381: Kenner ALIENS Action Masters Ripley
Day 397: Kenner ALIENS Mantis Alien
Day 398: Kenner Batman: The Animated Series Clayface
Day 408: Kenner Legends of Batman Future Batman
Day 421: Kenner Bone Age Crag the Clubber Action Figure
Day 437: Kenner SilverHawks Copper Kidd Action Figure
Day 441: Kenner Batman: The Animated Series Harley Quinn
Day 443: Kenner Batman: The Animated Series Machine Gun Joker
Day 444: Kenner Batman: The Animated Movie Mask of the Phantasm Phantasm
Day 446: Kenner Legends of Batman Knightquest Batman
Day 457: Kenner Batman: The Animated Series Ra's Al Ghul
Day 533: Kenner Jurassic Park Chaos Effect Amargospinus
Day 848: Kenner Transformers Beast Wars Terrorsaur
Day 903: Kenner Transformers Beast Wars Rattrap
Day 956: Kenner Transformers Beast Wars Claw Jaw
Day 1,140: Kenner M.A.S.K. T-Bob with Scott Trakker Action Figure
Day 1,180: Kenner Jurassic Park Alan Grant Action Figure
Day 1,198: Kenner Jurassic Park Tim Murphy Action Figure
Day 1,212: Kenner Jurassic Park Chaos Effect Ian Malcolm Action Figure
Day 1,248: Kenner M.A.S.K. Condor with Brad Turner Action Figure
Day 1,445: Kenner Transformers Beast Wars Cybershark
Day 1,452: Kenner Beast Wars Transformers Fuzors Injector
Day 1,486: Kenner Beast Wars Transformers Spittor
Day 2,179: Kenner Aliens Wild Boar Alien Action Figure
Day 2,190: Kenner Batman: The Dark Knight Collection Tec-Shield Batman Action Figure
Day 2,199: Kenner Batman Returns Penguin Commandos Action Figures
Day 2,217: Kenner Batman: The Dark Knight Collection Iron Winch Batman Action Figure

See more Jurassic Park and Jurassic World figures in Figure of the Day:
Day 11: Hasbro Jurassic Park III Dr. Alan Grant
Day 138: Kenner Jurassic Park Chaos Effect Compstegnathus Action Figure
Day 172: Kenner Jurassic Park The Lost World Chasmosaurus Action Figure
Day 346: Kenner Jurassic Park Ian Malcolm Action Figure
Day 366: Kenner Jurassic Park Ellie Sattler Action Figure
Day 372: Hasbro Jurassic Park G.I. Joe Heavy Gunner Action Figure
Day 533: Kenner Jurassic Park Chaos Effect Amargospinus
Day 620: Hasbro Jurassic Park Pachyrhinosaurus Clash Action Figure Set
Day 651: Hasbro Jurassic Park Allosaurus Assault Action Figure Set
Day 851: Hasbro Jurassic Park Paul Kirby Action Figure
Day 1,180: Hasbro Jurassic World Tyrannosaurus Rex Action Figure
Day 1,180: Kenner Jurassic Park Alan Grant Action Figure
Day 1,196: Hasbro Jurassic World 3 Dinos Action Figure
Day 1,198: Kenner Jurassic Park Tim Murphy Action Figure
Day 1,202: Hasbro Jurassic World Spinosaurus Action Figure
Day 1,212: Kenner Jurassic Park Chaos Effect Ian Malcolm Action Figure
Day 1,216: Hasbro Jurassic World Ankylosaurus Action Figure
Day 1,219: Hasbro Jurassic World Stegoceratops Action Figure
Day 1,228: Hasbro Jurassic World Tyrannosaurus Rex Action Figure
Day 1,425: Hasbro Jurassic World Hybrid Velociraptor Action Figure
Day 1,455: Hasbro Jurassic World Bashers & Biters Indominus Rex Action Figure
Day 1,462: Hasbro Jurassic World Hybrid Tyrannosaurus Rex Action Figure
Day 1,472: Hasbro Jurassic World Pachycephalosaurus Action Figure
Day 1,509: Hasbro Jurassic World Hybrid Armor Indominus Rex Action Figure
Day 1,526: Hasbro Jurassic World Owen "Alpha" and Velociraptor "Blue" Action Figure
Day 1,528: Hasbro Jurassic World Hybrid Armor Ankylosaurus Action Figure
Day 1,540: Hasbro Jurassic World Hybrid Dilophosaurus Rex Action Figure
Day 1,550: Hasbro Jurassic World Hybrid Carnoraptor Action Figure
Day 1,560: Hasbro Jurassic World Hybrid Rampage Indominus Rex Action Figure
Day 1,567: Hasbro Jurassic World Hybrid Stegoceratops Action Figure
Day 1,573: Hasbro Jurassic World Hybrid Pteramimus Action Figure
Day 1,712: Hasbro Jurassic World Hybrid Spinosaurus Action Figure
Day 1,721: Hasbro Jurassic World Hybrid Dilophosaurus Action Figure
Day 1,918: Mattel Jurassic World Mini Action Dino Ankylosaurus Action Figure
Day 1,938: Funko Pop! Movies Jurassic Park Dr. Ian Malcolm (Wounded) Pop! Vinyl Figure
Day 1,943: Mattel Jurassic World Velociraptor "Blue" Action Figure
Day 1,950: Mattel Jurassic World Super Colossal Tyrannosaurus Rex Action Figure
Day 1,954: Mattel Jurassic World Dilophosaurus Action Figure
Day 1,959: Mattel Jurassic World Battle Damage Triceratops Action Figure
Day 1,963: Mattel Jurassic World Extreme Chompin' Tyrannosaurus Rex Action Figures
Day 1,965: Mattel Jurassic World Battle Damage Velociraptor "Blue" Action Figure
Day 1,967: Mattel Jurassic World Robert Muldoon Action Figure
Day 1,972: Mattel Jurassic World Gallimimus Action Figure
Day 1,981: Mattel Jurassic World Metriacanthosaurus Action Figure
Day 1,984: Funko Pop! Movies Jurassic Park Dr. Ian Malcolm Pop! Vinyl Figure
Day 1,989: Mattel Jurassic World Tyrannosaurus Rex, Stygimoloch "Stiggy," and Triceratops Action Figures
Day 1,994: Mattel Jurassic World Battle Damage Pachycephalosaurus Action Figure
Day 1,999: Mattel Jurassic World Owen & Baby "Blue" Action Figure
Day 2,003: Mattel Jurassic World Gift Set 6-Pack Action Figures
Day 2,053: Mattel Jurassic World Legacy Dr. Ian Malcolm Action Figure
Day 2,098: Mattel Jurassic World Dino Rivals Destroy 'N Devour Indominus Rex Action Figure
Day 2,103: Fisher-Price Imaginext Jurassic World Dr. Malcolm & Dimetrodon Action Figures
Day 2,111: Mattel Jurassic World Dino Rivals Mussaurus Action Figure