Spittor
Frog becomes Surprise Attack Robot with Head-Butting Poison Tongue!

Beast Wars Transformers Basic
Item No.: Asst. 80295 No. 80332
Manufacturer: Kenner
Includes: n/a
Action Feature: Transforms from frog to robot, spring-loaded tongue head
Retail: $4.99
Availability: 1997
Other: European Maximal

PREVIOUS
RSS
NEXT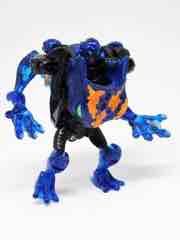 A great concept with plenty of life left in it, Beast Wars came and went in the wake of some pretty creative gimmick infusions. Before that, we got Spittor - everybody's favorite poison arrow frog. It's here, it's clear, get used to it. The mold was also sold in Japan, in green, as Diver. In England and parts of Europe, it was redecorated in red and gold and sold with a video cassette. What's really amazing about this toy - and indeed all of his case mates - was how Hasbro managed to make a cheap, fun toy with a cool action figure for five bucks. Star Wars figures were also $5 in this era, and were the same size as the robots in Beast Wars basics - as toys, Beast Wars was easily the best. Or beast. Action features would come and go, but they were a ton of fun while they were around.
Packaged in frog mode, the amphibian has clear blue plastic skin as well as opaque black parts. The neon orange and green paint applications positively sing under black light, plus he sports ball-jointed arms and legs as well as an opening jaw. It's a decent size, comparable to (or larger than) today's Legends in Generations. What's also cool is that the back legs - which become robot legs - can really stretch out, giving the illusion of "jumping" were you to include him in a diorama.
For better or for worse, the sculpting is amazing. Why worse? Because Hasbro cast it in clear blue, you're not going to notice all of the amazing wrinkles, warts, and yes - veins. The skin is some of the best in Beast Wars, but you might not notice it unless you get in close and squint. I haven't even gotten to this toy's claim to fame yet - if you open his mouth, there's a lever in the back. A spring-loaded part launches the figure's tongue - and the robot's head - out of his mouth, packing enough of a punch to easily knock over any figure within range. This is incredible, because it's easy to do on a table, or with one hand if you're holding it up in front of some other figure. Other recent toys - specifically Jurassic World - have similar battering mechanisms, but they don't work nearly as well.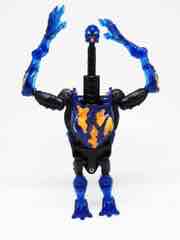 The robot's head on the tongue can also shoot up off his neck in robot mode, which is somewhat unsettling. The frog mode features a folding-down frog head, with front legs that go back, lower legs that become robot arms, and robot legs which fold down from under the body. It's really a clever design.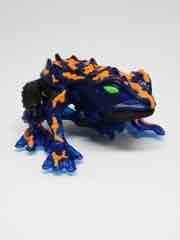 The robot looks like a weird, distorted frog - it's more organic than cybernetic, but the same can be said for most of Beast Wars. His freakish head looks like a screaming variation on the title creature from Predator, while the frog paint job comes through swimmingly on this amphibious assailant. He's nicely poseable, especially when compared to his Kenner peers. The robot mode features arms with ball-jointed shoulders and elbows, bending wrists, and similar articulation on the legs. 12 points of articulation make this one of the better figures of the era, but the hands can't hold anything. It's handy that he lacks an accessory.
For a not-on-the-show nobody, Spittor has a lot of toys. In addition to the red redeco, there's a Transmetals 2 version, which also got a red repaint for Car Robots and Robots in Disguise as "Slapper." In Japan, Guushar. The red version made the cut on the Japanese cartoon (imported to the USA), but Spittor-as-Spittor wouldn't get an appearance until Transformers Animated season 3 - sadly, no toy was ever produced of him or the bulk of the other members of Team Chaar.
I'd say this figure is splendid and worthwhile, but history has been less kind to Beast Wars. Despite a fierce fan following, Hasbro releases few new toys - they're just not as popular, probably because 1990s nostalgia and the undying appeal of the original couple of years of The Transformers. Because the comics for Beast Wars didn't take off and there was never much of a revival of the post-Generation One stories, many of these toys remain cheap and unlikely to be revisited. It's unlikely Hasbro will make a new organic Spittor any time soon, and if they do there's no real reason to hold to this original design. I'd say get one if your budget allows - it's neat, there's not a lot else like it, and it's just like the endless frog toys and shirts at the endless quantity of various "Earth" and "environmental" stores in your shopping malls in the 1990s. Seriously, they were everywhere, and you probably got gift certificates there instead of somewhere that sold real toys like this.
--Adam Pawlus
Additional Images

See more Kenner figures in Figure of the Day:
Day 98: Kenner Beast Wars Transformers Noctorro Action Figure
Day 99: Kenner Beast Wars Transformers Air Hammer Action Figure
Day 100: Kenner Beast Wars Transformers Torca Action Figure
Day 101: Kenner Beast Wars Transformers Terragator Action Figure
Day 102: Kenner Beast Wars Transformers Quickstrike Action Figure
Day 114: Kenner Total Justice Mail-In Superman Action Figure
Day 133: Kenner Q*Bert Wind-Up Q*Bert Action Figure
Day 138: Kenner Jurassic Park Chaos Effect Compstegnathus Action Figure
Day 172: Kenner Jurassic Park The Lost World Chasmosaurus Action Figure
Day 195: Kenner ALIENS Arachnid Alien Action Figure
Day 211: Kenner Predator Cracked Tusk Predator Action Figure
Day 234: Kenner ALIENS Scorpion Alien Action Figure
Day 250: Kenner ALIENS Panther Alien Action Figure
Day 256: Kenner ALIENS Gorilla Alien Action Figure
Day 261: Kenner ALIENS Bull Alien Action Figure
Day 285: Kenner ALIENS Hive Wars Warrior Predator
Day 317: Kenner ALIENS vs. Predator 10-Inch Alien Action Figure
Day 346: Kenner Jurassic Park Ian Malcolm Action Figure
Day 356: Kenner Action Masters Predator
Day 359: Kenner ALIENS Hive Wars Acid Alien Action Figure
Day 365: Kenner ALIENS Vasquez Action Figure
Day 366: Kenner Jurassic Park Ellie Sattler Action Figure
Day 381: Kenner ALIENS Action Masters Ripley
Day 397: Kenner ALIENS Mantis Alien
Day 398: Kenner Batman: The Animated Series Clayface
Day 408: Kenner Legends of Batman Future Batman
Day 421: Kenner Bone Age Crag the Clubber Action Figure
Day 437: Kenner SilverHawks Copper Kidd Action Figure
Day 441: Kenner Batman: The Animated Series Harley Quinn
Day 443: Kenner Batman: The Animated Series Machine Gun Joker
Day 444: Kenner Batman: The Animated Movie Mask of the Phantasm Phantasm
Day 446: Kenner Legends of Batman Knightquest Batman
Day 457: Kenner Batman: The Animated Series Ra's Al Ghul
Day 533: Kenner Jurassic Park Chaos Effect Amargospinus
Day 848: Kenner Transformers Beast Wars Terrorsaur
Day 903: Kenner Transformers Beast Wars Rattrap
Day 956: Kenner Transformers Beast Wars Claw Jaw
Day 1,140: Kenner M.A.S.K. T-Bob with Scott Trakker Action Figure
Day 1,180: Kenner Jurassic Park Alan Grant Action Figure
Day 1,198: Kenner Jurassic Park Tim Murphy Action Figure
Day 1,212: Kenner Jurassic Park Chaos Effect Ian Malcolm Action Figure
Day 1,248: Kenner M.A.S.K. Condor with Brad Turner Action Figure
Day 1,445: Kenner Transformers Beast Wars Cybershark
Day 1,452: Kenner Beast Wars Transformers Fuzors Injector
Day 1,486: Kenner Beast Wars Transformers Spittor
Day 2,179: Kenner Aliens Wild Boar Alien Action Figure
Day 2,190: Kenner Batman: The Dark Knight Collection Tec-Shield Batman Action Figure
Day 2,199: Kenner Batman Returns Penguin Commandos Action Figures
Day 2,217: Kenner Batman: The Dark Knight Collection Iron Winch Batman Action Figure

Click here to see more Transformers figures in Figure of the Day.

Want to buy this figure? Check Transformers availability at our sponsors:
Entertainment Earth