Vortex
Bruticus #2 of 5

Transformers Generations Combiner Wars Deluxe
Item No.: Asst. B0974 No. B4659
Manufacturer: Hasbro
Includes: Comic book, turret, hand/foot/weapon
Action Feature: Transforms from Robot to Helicopter to Hand to Foot
Retail: $15.99
Availability: November 2015
Other: Alpha Bravo Redeco

PREVIOUS
RSS
NEXT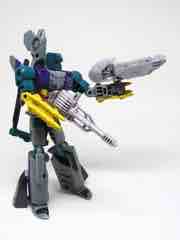 I'm usually a lot better about burning through Transformers line reviews, but we're actually pretty behind on Combiner Wars here. And Titans Return toys are going to stop dropping in July if not sooner, so let's make it a point to look at Vortex and something like a dozen more of these guys. It'll be fun.
Vortex is pretty great. You will disagree with that statement if you are slavish about recreating the 1985 original, probably because this new one is much more colorful and takes some liberties with the form. He's less boxy now, he has two rather than four blades, but the colors aren't bad. And he has lots of articulation. Also he's fun to play with. Really, if you don't like this toy as a toy that's on you.
The figure is the same basic 5 1/2-inch tall robot as Alpha Bravo [FOTD #1,266]. Change some colors, and presto - prepaints! The same mold was also used for Blades, and for you lucky import fans a recolored version of Vortex is coming in Japan with a 4-bladed chopper. For that reason, you might want to import the Japanese set. I wanted both, but I like this one because it's really colorful with a nice big green head, yellow missiles, and a look that will actually be used in the comics. Pretty swell, I'd say. Vortex has jointed knees, elbows, biceps, and is generally about as good as you can hope from a deluxe Combiner Wars toy.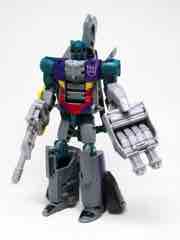 Transformation is simple and very similar to most of the Combiner Wars limbs. So far in the USA, it appears Hasbro has/will make at least 6 toys using this mold, and they're all pretty much the same except for the head, paint, and a few other tweaks. While there are dozens of limbs, they're all based on 9 different basic forms and of those, most transform in pretty much the exact same way. But they're fun and they're poseable, and since the last time we got more than one combiner form in a year was maybe 2004 or 2005, let's be happy they at least tried.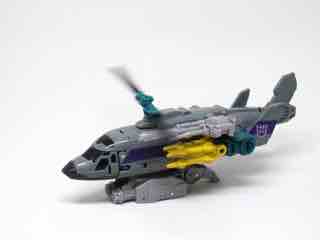 The chopper is simple and works - the handfootgun plugs into the bottom, the gun plugs into the side, and the blades spin. Many speculated this would be retooled into Blast Off, but that didn't come to pass. It's a nifty grey vehicle with purple and black, but doesn't have a lot of moving parts. Neither did the original - this one lacks the wheels of old, but that's OK. I'm sure most people are going to leave it in limb or robot modes.
For a dark figure, the bright colors might pop just a little too much for you. I don't have this problem - I dig this, and I'm glad we got it. The team as a whole is decent, but the Combaticons also have Brawl - unquestionably the worst limb mold in the American line. That's what you get for deviating from a standard transformation, but I digress. Vortex is cool, though. Buy Vortex. I'd say "you won't be sorry" but some of you people are more picky than I am, I find this to be more than satisfactory with the combined mode suffering only slightly thanks to a few QC quibbles in Onslaught. We'll get to him shortly.
--Adam Pawlus
Additional Images
Additional Transformers Combiner Wars Bruticus Images

Click here to see more Hasbro figures in Figure of the Day.

Click here to see more Transformers figures in Figure of the Day.

Want to buy this figure? Check Transformers availability at our sponsors:
Entertainment Earth