Ravage
Cat Man Do

Transformers Generations Titans Return Legends
Item No.: Asst. B7771 No. B7022
Manufacturer: Hasbro
Includes: Card
Action Feature: Transforms from cat to robot
Retail: $9.99
Availability: June 2016
Other: Killer Pussy

PREVIOUS
RSS
NEXT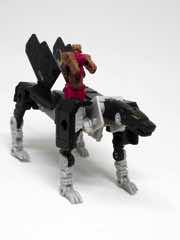 Harrumph. When we saw Titans Return Stripes, it was unfortunately obvious that it was also our new Ravage. Interestingly, both the package painting and the render on the back show the Stripes head in action, while the toy itself has an appropriately boxy G1 Ravage head. I daresay it's the best thing a bout this little figure, because the rest of it is pretty forgettable. It fits in the new Soundwave [FOTD #1,534] better than Stripes did Blaster, but that could just be a quality control issue and I got lucky. I'm not going to say you need this Ravage, especially if you bought the Masterpiece tape a few years ago. Heck, even the one with Hound was pretty good in 2009.
Mode #1 is a jet. It's the same plane as Stripes, but with new labels and it's black. You can have a Titan Master ride it, but it looks kind of like a box with wings and a jet head taped to it. It's not terribly substantial, and given the recent love for the character I doubt this mode - which makes the other modes look wonky - will appease Ravage fans. It's serviceable, but I doubt children or collectors will be pleased with it.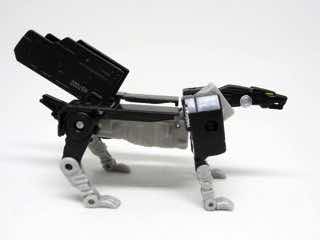 Next up, the smart phone. It's not quite an Android or iPhone, but it's a little tablet thing sized to fit in Fortress Maximus' hand or Soundwave's chest. It does that well. The stickers on mine were cleanly applied and it's generally pleasing minus some grey vs. silver issues. The "STATUS" and "SURVEILLANCE" graphs are sort of wacky, a throwback to bad graphic design that's meaningless or actual bad graphic design that's meaningless You tell me! It's metallic, and there are little power buttons and other icons that don't quite make a lot of sense. It's so ridiculously wacky, complete with an upside-down power symbol, it's so gleefully bad I have to assume it was intentional. If I'm right, this delights me. If I'm wrong, uh, well at least the Takara-Tomy one might look good? It's colorful and so weird that I can't not be delighted by its ugliness. Laserbeak's seems a little sharper, cleaner, and even sports a reference to the original 1984 toy's stickers. This looks like... well, look at it.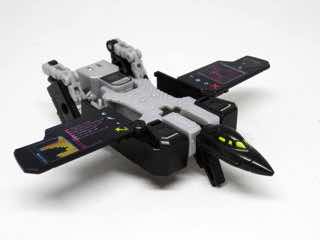 If you own Stripes you know what to expect from Ravage - disappointment. The extra plane mode hurts it because those wings need to go somewhere, and they become butt wings. for a boxy cat. I love the head sculpt, and Hasbro did an admirable job getting the colors to break out in an interesting way. You've got grey legs with articulated paws, you've got a nice head with yellow eyes and a fake silver neck joint, and even a stubby little tail. Still, it's ugly - and this is the mode you buy this toy for, not the others. Hasbro can do better, and has done better. Sure, he's got some joints but he fits together strangely and his general form just feels off given every other Ravage we've been offered over the years.
I'd dub this one for completists only. I'm delighted Hasbro gave us a new big Soundwave with devices to plug in and store as his minions. It's really great. It's just Soundwave's pretty good, and his tapes are mostly not worth it. These aren't good $10 toys. If you're a collector and money is less of an issue, sure, get one. Get your fix. If you're on a budget do not buy this one first - get yourself Wheelie or Rewind, or Rumble, and after them perhaps Laserbeak and Buzzsaw. Stripes and Ravage are pretty weak and I hope Hasbro considers doing new versions of both in the same box dimensions later, but that's unrealistic. A third-party toymaker is undoubtedly seeing an opportunity here. I know the difference between "disappointing because it's bad" and "disappointing because it's not what I as a shameless nostalgia freak would have done," and this is the former. It's just not ideal to massage the parts in place and the only mode that feels sturdy is the phone. I've had better. I got better. I'd say you deserve better too, but maybe you're a schmuck and you should only get stuck with Ravage.
--Adam Pawlus
Additional Images

Click here to see more Hasbro figures in Figure of the Day.

Click here to see more Transformers figures in Figure of the Day.

Want to buy this figure? Check Transformers availability at our sponsors:
Entertainment Earth