Godzilla Anguirus 2004 Action Figure
US Release - Lighter Colors, Bigger Body, Brighter Spikes

Godzilla Vinyl Figures
Item No.: Asst. 91810 No. 91822
Manufacturer: BanDai
Includes: n/a
Action Feature: n/a
Retail: $12.99
Availability: ca. July 2008
Other: From Godzilla: Final Wars

PREVIOUS
RSS
NEXT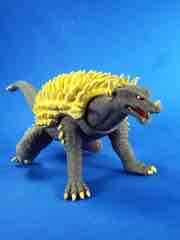 I got the US release of Anguirus 2004 in a sack of Goodwill toys - at which point I assumed it was the same as the 2004 release from Japan I picked up for Mrs. 16bit when we were dating/newlyweds. If you don't put them side-by-side, they look pretty much the same - it turns out they're slightly different with unique paint jobs. The US version is longer, wider, and has slightly less detail. If you had to guess which one was the US release, it'd be an easy guess.
Should you stumble on a Final Wars vinyl Anguirus, the big tells are as follows: The US release has copyright marks on the feet, 4 painted spikes on his back thighs, and the "big toes" on the back feet are sculpted under the legs - so you have to pick up the toy to see them. The Japanese one has copyrights on the tail, with all 4 back claws being visible, and 3 painted spines on his thighs. The US release's back spikes and toe claws are painted with a fade for the Japanese release, but the US release - which came out in at least two package variants (blue tray, black tray) - had no fade. The Japanese version is darker, almost brown. The US version is greyer, slightly lighter. Together, they fight crime. (No they don't.) The Japanese release's tail club has very lightly painted spikes, as opposed to the US release which were painted lighter, cleanly, and with no such subtlety. They're very bright.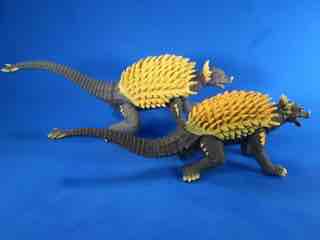 I should also note the US version is (about) 12 1/2-inches long from the nose spike to the tip of the tail club if you run a tape measurer along his back, while the Japanese one is about 12-inches. I have no idea if people care about such things, but the Japanese version - by virtue of being smaller - seems like it has slightly better sculpted detail. The US version is a little softer, the scales are a little rounder... but they basically look the same otherwise. It wouldn't entirely stun me if they both came from the same orignal sculpt with a couple of minor tweaks. I guess I could count all the spines, but I'd rather not.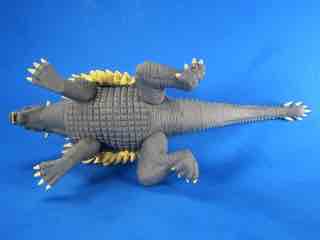 Articulation is on par for the rest of this line. The US release's tail is glued in place, with an articulated neck and four jointed legs... it's really an ideal toy, until you stop and think and realize that it's a spiked, club-shaped toy with a handle so kids can smack someone with it. It's a melee weapon disguised as an adorable monster from Japan.
With big, bright, clearly-painted eyes and individually painted teeth, this is a pretty decent little figure. I think the Japanese one was around $15, and the US release was usually $10-$15 too. If you want either of them now, packaged/tagged figures are $40-$65 (or higher) with loose figures coming in at $20-$40. It's a wonderful little figure for $20ish, and I hope BanDai will reissue it again as the US line seems to rotate molds in and out - just not as much as they used to. It's cute and charming, so get one if the chance comes up. It was absolutely worth it as one of three toys in a two dollar bag of monsters.
--Adam Pawlus
Additional Images

See more BanDai figures in Figure of the Day:
Day 22: Tamagoras Get Back To Job Lion
Day 150: BanDai Final Fantasy VII Extra Knights Red XIII Action Figure
Day 167: BanDai Final Fantasy VII Extra Knights Barett Wallace Action Figure
Day 185: BanDai Final Fantasy VII Extra Knights Tifa Lockheart Action Figure
Day 216: BanDai Tick Bounding Tick Action Figure
Day 236: BanDai Final Fantasy VII Extra Knights Sephiroth Action Figure
Day 268: BanDai Megaman Trading Figures Jumping Megaman Action Figure
Day 310: BanDai ThunderCats 4-Inch Lion-O Action Figure
Day 1,360: BanDai Godzilla Tokyo Vinyl Mechagodzilla Action Figure
Day 1,370: BanDai Godzilla Fusion Series 1968 Godzilla Action Figure
Day 1,377: BanDai Godzilla Fusion Series Gigan Action Figure
Day 1,386: BanDai Godzilla Anguirus 2004 Action Figure
Day 1,393: BanDai Godzilla SpaceGodzilla Action Figure
Day 1,408: BanDai Godzilla Rodan 2004 Action Figure
Day 1,458: BanDai Gamera Heisei Gamera Action Figure
Day 1,625: BanDai Shin Godzilla Third Form Vinyl Figure
Day 1,773: BanDai Xyber 9 New Dawn Ikira's Speeder
Day 1,980: BanDai Saban's BeetleBorgs Metallix Mega Spectra Titanium Silver Sector Cycle Vehicle with Action Figure
Day 2,021: BanDai Mystic Knights of Tir Na Nog The Drageen Action Figure
Day 2,135: BanDai Shin Godzilla Second Form Vinyl Figure

See more Godzilla figures in Figure of the Day:
Day 1,360: BanDai Godzilla Tokyo Vinyl Mechagodzilla Action Figure
Day 1,370: BanDai Godzilla Fusion Series 1968 Godzilla Action Figure
Day 1,377: BanDai Godzilla Fusion Series Gigan Action Figure
Day 1,386: BanDai Godzilla Anguirus 2004 Action Figure
Day 1,393: BanDai Godzilla SpaceGodzilla Action Figure
Day 1,408: BanDai Godzilla Rodan 2004 Action Figure
Day 1,469: X-Plus Godzilla Garage Toy Titanosaurus 1975 Version Vinyl Figure
Day 1,540: Funko Pop! Movies Atomic Breath Godzilla Pop! Vinyl Figure
Day 1,625: BanDai Shin Godzilla Third Form Vinyl Figure
Day 2,135: BanDai Shin Godzilla Second Form Vinyl Figure