S.U.C.K.L.E. Series 1.5 Flesh Mini-Figures
Simply Unimportant Collectable Kitschy Little Eyesores

S.U.C.K.L.E. Mini-Figures
Item No.: n/a
Manufacturer: Suckadelic
Includes: 5 figures, plus bonus figures depending on what you ordered
Action Feature: n/a
Retail: $15
Availability: September 2015
Other: Back in Flesh

PREVIOUS
RSS
NEXT

I loved series one but the wait for S.U.C.K.L.E. Series 1.5 Flesh Mini-Figures was a long one. The molds came out originally in clear and glow as a bonus for the first Kickstarter, but the fleshy ones were held back as part of series 2. There aren't a lot of big differences here, but the flesh color is sort of definitive when it comes to this format plus it shows off detail significantly better than those more translucent shades. As such, you should probably track it down if you're collecting these weird Sucklord figures.
Each figure is roughly 2-inches tall, sized a hair larger than the classic Mattel M.U.S.C.L.E. figures and a smidgen shorter than O.M.F.G.. Since the line debuted, Super7 broguht back M.U.S.C.L.E. branding with new licenses - so this space is going to get a little more crowded in the coming months.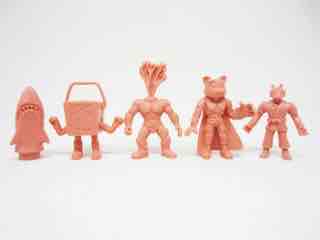 Let's get started with Carrator, which is a Masters of the Universe body with a carrot top for a head. The greens make him taller than his companions, with a decent body sculpt that really seems to have a lot of detail now that someone bothered to render it in a more visible shade of plastic. The He-Man elements are hard to miss - check out those bracelets and the legs - not to mention the ridiculous musculature and furry shorts. In many respects, this figure does the M.O.T.U.S.C.L.E. idea better than that actual line pulled it off. Granted, it also has a vegetable for a head. It's not going to win you over in its greatness, but in its ridiculousness? I don't think you can do much better.
Star Wars fans will no doubt recognize Karate Chump, which plops a Greedo head on a karate gi. The figure is pretty simple, but now you can see the sculpted detail on the bumpy head and the really top-notch mouth sculpt without having to squint as much. The rest of the outfit is pretty simple, with some simple texture in the boots and virtually no texture in the robes. It delivers what it promises - a kitschy little eyesore.
Luke Chueh's Sad... Broken... Alone... is the bear-like creation with a mutant Be@rbrick head on top of what seems to be Stormtrooper chest armor and Hoth Rebel pants. Because everybody likes Boba Fett, a quasi-Kenner Rangefinder has been added to the head and a cape is there because of reasons. It adds some weight. It's goofy, weird, cute, all of that - and it stands fairly well without tipping over. When you do an action figure, this is a design feature that's often overlooked - standing upright tends to win out over falling down, yet you'd be surprised how many figures seem to lack this critical step of engineering.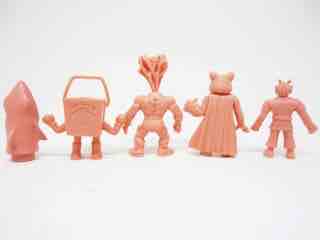 The weird and vaguely Little People-inspired Suck Shark slammed half a shark on a little peg base. And that's it! It's a convincing half-shark and a convincing peg base. As a nifty replica of the famous Jaws poster pose, it's a decent little toy to sit on a shelf or a desk - but it's small, and it doesn't do much. So what are you going to do with it?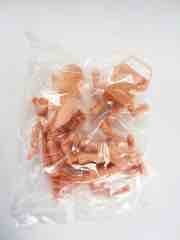 Keeping it classy and in the Fett family is Chop Suey. The Chinese take-out box sprouted arms and legs, plus has a Boba Fett helmet sculpted on the front indicating "Chop Suey 100% Pure Rejects." "Reject" bootleg toys would often be sold by the Sucklord in containers like this one - so it's sort of art mocking life mocking art or something. What's particularly sharp about this one is that this actually feels like it might be a distant cousin of the original M.U.S.C.L.E. and Kinnikuman toys. Those figures often included wrestlers, but sometimes we'd also see things that resembled a space alien or a urinal with arms and legs. For whatever reason those things really work in this format, yet we don't see a lot of them as fans do their tribute figures. The lid is nicely sculpted folded shut, and we even get a fake metal handle. I dug the glow figure, but the non-glow one is easily the definitive one to pick up if you're chasing these things down.
Other colorways exist - and I have little doubt there will be more - but you can't go wrong with "flesh," even as that term will probably go more and more out of vogue in the coming years. Nobody's quite this pink, but as terms go it tends to cling to this figure format quite nicely. The figures aren't terribly rubbery, but they do feel a lot like the original M.U.S.C.L.E. toys compared to other releases in the line. They're also great at more or less keeping the simple style, avoiding complexities seen in other similar slug figure lines. To see an original line like this born out of what were essentially hand-made bootlegs is bizarre, but in the world of "art toys" bizarre seems to remain the key selling point. Series 2, which we'll look at soon, even has bum Transformers and Galaxy Laser Team figures. If you're like me and too cheap to buy the full-size art pieces, these are a worthwhile bargain basement alternative. That and let's be honest, nobody's going to buy the full size ones to futz with. At a couple of bucks per figure, you can throw these at the wall and not be concerned something might break.
--Adam Pawlus
Additional Images

See more Suckadelic figures in Figure of the Day:
Day 68: Suckadelic Glyos-Compatible Sucklord Grey Helmet Head
Day 850: Suckadelic S.U.C.K.L.E. Series 1 Flesh Mini-Figures
Day 910: Suckadelic S.U.C.K.L.E. Series 1 Glow in the Dark Mini-Figures
Day 1,412: Suckadelic S.U.C.K.L.E. Series 1.5 Flesh Mini-Figures
Day 1,519: Suckadelic S.U.C.K.L.E. Series 2.5 Flesh Mini-Figures
Day 2,034: Suckadelic S.U.C.K.L.E. Series 2 Flesh Mini-Figures