Godzilla Fusion Series 1968 Godzilla Action Figure
Glittery Fusion Series Variant

Godzilla Vinyl Figures
Item No.: Asst. 91880 No. 91880
Manufacturer: BanDai
Includes: n/a
Action Feature: n/a
Retail: $14.99
Availability: April 2012
Other: From... take your pick

PREVIOUS
RSS
NEXT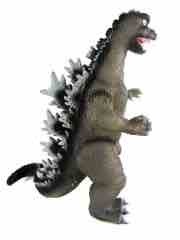 Normally I look at figures from my childhood or recent-ish purchases, but this Fusion Series 1968 Godzilla was a thrift store find - someone's Kaiju collection (Godzilla, Pacific Rim, etc.) got dumped at a Goodwill after Christmas in 2015. On one hand, I felt bad seeing what was clearly a decent, curated collection dumped like this. On another, more accurate hand I decided at $2 for a big plastic bag of monsters, I'd buy all four of them. Hey, ashes to ashes, collection to collection. I'm no bum, I work for a living.
The 6 1/2-inch vinyl figure is the same kind of thing you see in cardboard trays - frequently missing limbs - at Toys R Us or Kmart in recent years. (We even sold them at work.) This figure was, in many respects, ahead of its time. Weird clear and glitter variants were nothing new, but the proliferation of other designer sofubi and Funko's slightly more mass-appeal Hikari line really managed to get these kinds of toys in front of people, although it looks like it isn't all that many people. This is a kiddie grade toy given collector-level features, so seeing a glittery, smokey grey vinyl figure with airbrushed details may not appeal to everybody. I was semi-tempted to buy them a few years ago, but at $15 I passed. I almost passed at Goodwill - but how can I not buy a figure for $2 when I'm willing to buy $50 Hikari figures?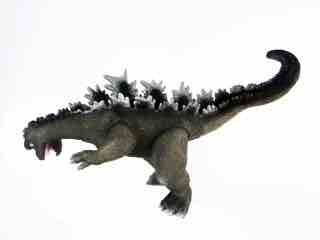 The figure looks a lot like some Japanese ideas were crammed into an American mold - this is the discount version of the very expensive Sofubi toys some of us buy. It's not glossy and shiny, it's not particularly clear, and at first glance it's almost opaque. This is a wonderfully weird figure that would probably infuriate me if I didn't already have plain Godzillas in my house. The eyes are big and bright, but sadly so are the teeth. The interior of the mouth is bright pink, which is quite distracting when you have a translucent body. It's a lot like looking at early bad CG animation and video games, because it's like his throat has better lighting than the rest of the figure.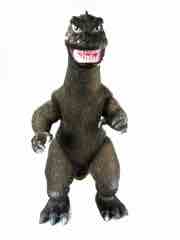 His sculpt is nothing new - the date stamp on the foot is 2007, so if you see it, look for that. It's worth noting his claws, knees, and spines have a light, powdery dusting of white for reasons I do not know. It's a curious choice, but I'm not sure if it's because it was an intentional, conscious decision or - like so many "Manga" or "Anime" toys mangled by American companies - this was just someone putting together a neat toy based on not really getting what makes the format distinctive. The very murky grey clear plastic would have me believe the latter.
Collectors embraced the Fusion Series of clear, glittery figures on the secondary market and now this figure will set you back about $30. At least people care, but I can't say I'd suggest it to you at that price. If you can score it cheap, though, it's pretty fantastic. Get it if your wallet doesn't wince at the price.
--Adam Pawlus
Additional Images

See more BanDai figures in Figure of the Day:
Day 22: Tamagoras Get Back To Job Lion
Day 150: BanDai Final Fantasy VII Extra Knights Red XIII Action Figure
Day 167: BanDai Final Fantasy VII Extra Knights Barett Wallace Action Figure
Day 185: BanDai Final Fantasy VII Extra Knights Tifa Lockheart Action Figure
Day 216: BanDai Tick Bounding Tick Action Figure
Day 236: BanDai Final Fantasy VII Extra Knights Sephiroth Action Figure
Day 268: BanDai Megaman Trading Figures Jumping Megaman Action Figure
Day 310: BanDai ThunderCats 4-Inch Lion-O Action Figure
Day 1,360: BanDai Godzilla Tokyo Vinyl Mechagodzilla Action Figure
Day 1,370: BanDai Godzilla Fusion Series 1968 Godzilla Action Figure
Day 1,377: BanDai Godzilla Fusion Series Gigan Action Figure
Day 1,386: BanDai Godzilla Anguirus 2004 Action Figure
Day 1,393: BanDai Godzilla SpaceGodzilla Action Figure
Day 1,408: BanDai Godzilla Rodan 2004 Action Figure
Day 1,458: BanDai Gamera Heisei Gamera Action Figure
Day 1,625: BanDai Shin Godzilla Third Form Vinyl Figure
Day 1,773: BanDai Xyber 9 New Dawn Ikira's Speeder
Day 1,980: BanDai Saban's BeetleBorgs Metallix Mega Spectra Titanium Silver Sector Cycle Vehicle with Action Figure
Day 2,021: BanDai Mystic Knights of Tir Na Nog The Drageen Action Figure
Day 2,135: BanDai Shin Godzilla Second Form Vinyl Figure

See more Godzilla figures in Figure of the Day:
Day 1,360: BanDai Godzilla Tokyo Vinyl Mechagodzilla Action Figure
Day 1,370: BanDai Godzilla Fusion Series 1968 Godzilla Action Figure
Day 1,377: BanDai Godzilla Fusion Series Gigan Action Figure
Day 1,386: BanDai Godzilla Anguirus 2004 Action Figure
Day 1,393: BanDai Godzilla SpaceGodzilla Action Figure
Day 1,408: BanDai Godzilla Rodan 2004 Action Figure
Day 1,469: X-Plus Godzilla Garage Toy Titanosaurus 1975 Version Vinyl Figure
Day 1,540: Funko Pop! Movies Atomic Breath Godzilla Pop! Vinyl Figure
Day 1,625: BanDai Shin Godzilla Third Form Vinyl Figure
Day 2,135: BanDai Shin Godzilla Second Form Vinyl Figure