Deep One
The Deadly Fish People

Legends of Cthulhu Action Figure
Item No.: No. 85004
Manufacturer: Warpo Toys
Includes: Spear
Action Feature: n/a
Retail: $19.99
Availability: January 2015
Other: Kickstartered and Cool

PREVIOUS
RSS
NEXT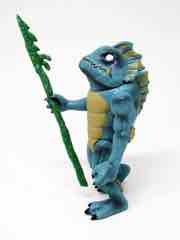 I knew of the Legends of Cthulhu line and totally loved what they were doing, but I didn't pledge - I've been bad at doing that lately. The Deep One was one of four pretty cool figures cranked out by newcomers Warpo Toys, who I hope do a lot more. They put a lot of emphasis on replicating.shtmlects of classic Kenner toys and 1980s toy artwork. Hiring vintage painters for the cardback and sculptors for the figure requires a lot of networking and research, and the results basically turned out well. I say "basically" because it's very easy to fall into the trap of making something better than 1985 would have offered, and Warpo put out some pretty fantabulous toys.
The Deep One feels a lot like a classic Kenner creature figure in that it is kind of beefy, has 5 points of articulation, and is sculpted fairly well. One area where Warpo succeeds wildly while other Kenner imitators fail is in how the figure is cast - this is a glossy blue figure! It does use paint for the eyes, stripes, and belly but it's molded in color. The other figures are as well, and I love that because most other 3 3/4-inch figures are (for one reason or another) molded in a color and than covered in paint. The end result of a fully-painted figure is one that looks more like a prototype of a figure, while Warpo's more convincingly give the look and feel of a legit production piece.
The 3 3/4-inch scale figure is based on a race of sea-dwelling fish men that mate with humans and spawn creepy hybrid offspring. Knowing Lovecraft's politics, this would be some sort of allegory for his politics. Thankfully the figure doesn't have any particular racial commentary to make, as he is simply a fish man. The figure reminds me a lot of Kenner's Duloks, tall green furry aliens from the Ewoks cartoon action figure line. The feet are posed in an action stance without being ridiculous, the limbs are skinny yet look strong, and the head can actually turn - this is a feature modern figures with thick necks rarely enjoy.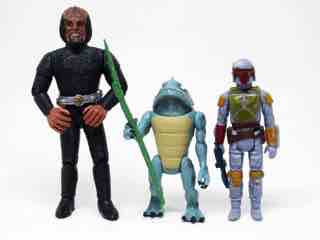 I adore the plastic color and how glossy it is, and I admire the perfect sculpting with the eerie crooked toothy smile and fangs. I love the gills, I adore the claws, and the webbed feet? Perfection. Even if you don't know a thing about Mr. Lovecraft's oeuvre, it's hard to deny that this is an awesome fish frog mutant toy. He stands, and he looks great - too great, in fact. The fins are actually painted, and the bi white eyes have exquisite smokey black details behind them. He's even got painted claws and the line of his mouth is decorated, too. The eye make-up isn't unheard of - see Urgah (Lady Gorneesh) - but most of the figures aren't as exquisitely detailed. Had Warpo left off all the black paint applications this would be a convincingly 1980s action figure, but it'd also be a lot less awesome. As such, I applaud the extra paint. The figure's one weapon is a cool spear, molded in green just like the Kenner and Playmates toys of the 1980s and most of the 1990s. It looks good, and it looks incredibly cheap. That's how you know they did it correctly.
I like this little guy a bunch - I daresay it's my favorite of the set, and it's a very good set. Warpo really impressed with these guys, as it seems a lot more action figure expertise went into the project than I'm used to seeing. These feel like real toys from 30 years ago, only slightly better in terms of crisp detail and paint applications. Sadly, the company hasn't come up with a follow-up to this fantastic series of toys. A Krampus line fizzled on Kickstarter, but at least you've still got time to get these guys. Kickstarter-only variants exist as well, but those might cost you a bit. I'd suggest getting one or more of these if they cross your path because you can hold them up as an example of what this retro figure format can and should look like. It's convincingly old without necessarily adhering to all the requirements of 1985, but it does follow some Kenner "rules" like having one hand that can grip an accessory and another one that can't.
So yeah, get this one and quietly sit there hoping Warpo does something else just like these.
--Adam Pawlus
Additional Images


See more Warpo Toys figures in Figure of the Day:
Day 1,428: Warpo Toys Legends of Cthulhu Deep One Action Figure
Day 1,456: Warpo Toys Legends of Cthulhu Spawn of Cthulhu Action Figure
Day 1,477: Warpo Toys Legends of Cthulhu Cultist Action Figure

See more Warpo Toys figures in Figure of the Day:
Day 1,428: Warpo Toys Legends of Cthulhu Deep One Action Figure
Day 1,456: Warpo Toys Legends of Cthulhu Spawn of Cthulhu Action Figure
Day 1,477: Warpo Toys Legends of Cthulhu Cultist Action Figure