Wheeljack
Sky Reign #1 of 5

Transformers Generations Combiner Wars Deluxe
Item No.: Asst. B0974 No. B5605
Manufacturer: Hasbro
Includes: Comic book, sword gun, hand/foot/weapon
Action Feature: Transforms from Robot to Off-Road Vehicle to Hand to Foot
Retail: $15.99
Availability: January 2016
Other: Also G1 Breakdown, G2 Breakdown, Jumpstream, Sunstreaker, Ravage, Tigatron, Counterpunch, and Lightspeed

PREVIOUS
RSS
NEXT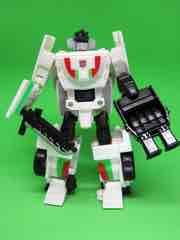 While some figures seemed guaranteed to dozens - if not hundreds - of variations and homages and ressiues, Wheeljack gets off light. His original mold is supposedly shot, and precious little was made in his likeness after the end of the first generation up until Energon's lookalike Downshift in 2004. He's had a little more love since then, with a Masterpiece toy and a Generations toy plus other little odds and ends, with this one giving you what you wanted in a way you didn't ask for in the first place. Sure, everybody wanted a new Wheeljack - but was anyone asking for a combiner version? (OK, there's that one guy in the Aloha shirts in the glasses.) It's neat! But it's not perfect.
Getting the perfect toy is tough, and making a good toy on a budget can be tough. Most Hasbro toys don't have as much paint as their Japanese counterparts, but they're generally quite good - this one has a really nice car mode and a robot mode that needs a cure of the unbearable whiteness of its being. Black forearms would have made a huge difference, as other toys using this mold did cram some color in the fists. Here, he just looks unfinished - the fake windows are also left undecorated, and it's just not good. It's a shame we had to be given the pack-in comics to take precious pennies away from the paint budget, as here we could really, really use some extra deco. The head is fantastic with the silver face plate and ears, plus cool blue eyes. His colors are appropriately Wheeljackish, it's just that there's more white than... I don't know. A Ben Folds show? A Phish festival? Walmart on Satuday? A Trump rally? Take your pick.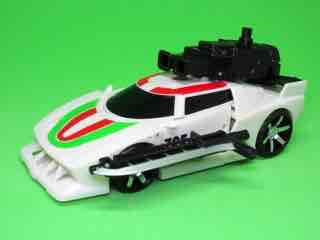 Did you buy Sunstreaker or Breakdown or any of his siblings? Great - you know how to transform him. Massaging the panels and pegs perfectly in place requires some effort, but it's not difficult nor will anything pop off. You can store his gear on various slots, too.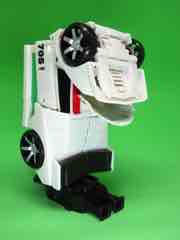 The hand/foot/gun is the same as his mold mates, and it mounts just as nicely. Note that the thumb/heel spur has a tab on it which is designed to plug in to the back of the car. The knifegun also pops in, and sports a silver streak on the blade. It's a nice feature, but if they spent that penny on paint for the hands you'd have been much happier. The car itself doesn't roll so well, but it looks good - painted black windows, green and red stripes, and a "705" are all here to make you see a nice rally car. I don't know why it's 705 - previous Wheeljack toys were marked 539. I would argue that the car mode looks more realized than the robot, but both are good.
Since this mold has been used before, it's no surprise that it makes a good arm or leg for Sky Reign or some other combiner. I'll absolutely get your money's worth here as part of a team, and if TakaraTomy cranks one out I assume you'd still want to get this one just to keep in a limb mode. The missing paint isn't really an issue in these modes, especially since it's a jumbled pile of car parts and color.
Should you buy it? Yes - it's Wheeljack. Do you have too many combiner limbs, or too many Wheeljack toys? The answer is no. I have no doubt we'll see another, probably better Wheeljack out of Hasbro within the next 10 years. I doubt that it will combine, and that's one fine gimmick. It's fun and simple, so I'd say go buy it. Of course, I'm trying to write up all these great Combiner Wars toys prior to the delivery of any Titans Return stuff so I don't get too distracted by newness. It's fun, it's simple, but it's also repetitive - red Wheeljack is coming to Japan as Lightspeed, so you may not need every last version of the mold.
--Adam Pawlus
Additional Images
Additional Transformers Combiner Wars Sky Reign Images

Click here to see more Hasbro figures in Figure of the Day.

Click here to see more Transformers figures in Figure of the Day.

Want to buy this figure? Check Transformers availability at our sponsors:
Entertainment Earth