Soundwave
Get Out and Shout

Transformers Generations Titans Return Leader
Item No.: Asst. B4697 No. B8358
Manufacturer: Hasbro
Includes: Soundblaster, MP3 player slug, battery, Electro-Scrambler
Action Feature: Transforms from head to robot, also robot to stereo to playset
Retail: $44.99
Availability: September 2016
Other: Retooled from Blaster

PREVIOUS
RSS
NEXT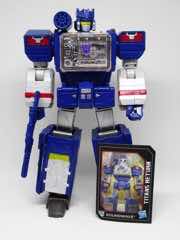 In the world of retools and pretools, you probably know if you got Blaster [FOTD #1,534] that Soundwave delivers - functionally - more of the same. You get a stereo, a robot, a spring-open chest, a gun, and a base in a nice big box. This one is less convincing as a music player, if you ask me, but it's Soundwave so I wanted one. He's basically the same size as the Masterpiece Edition toy at a fraction of the price, but given that the Masterpiece Soundwave (depending on the market) had tapes and was superb, maybe you should get that one first. This is a nice, chunky you and it looks great with Buzzsaw [FOTD #1,338] from Combiner Wars last year.
The robot mode is unquestionably Soundwave, thanks in part to the shared pieces. The arms are the same on both - it's just how you paint them. Soundwave sports new legs, a new torso, new crotch flaps, and a new helmet - but most of the other inner workings are all the same. The new deck door drives the point home quite nicely, but when you get right down to it the functionality is identical. If you can transform one, you can transform the other.
This 1.5-inch robot Titan Master Soundblaster is a mini Soundwave, and has been changed considerably from Twincast (Blaster's head). The arms and legs are shared, as you can see with Soundblaster's speaker legs and striped arms. The chest is clearly a micro Soundwave, and the head is as well - complete with painted details on the face mask. The figure's painted shins are a nice touch, too, as Hasbro generally leaves the little guys largely unpainted. Oh, and if you swap Blaster and Soundwave's heads? It looks really cool. Soundwave (with Twincast) reminds me a little of his comic appearances, while Blaster (with Soundblaster) fills the clear visor with yellow quite brilliantly. It's not accurate to anything in particular, but man, it's slick.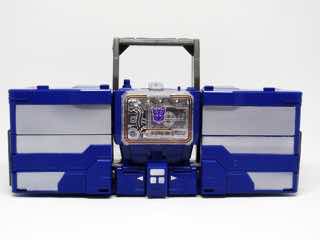 The iPod/MP3/tablet slug - it's the same size as Blaster's, except it has been cast in grey and now has yellow highlights painted on it. It certainly makes it feel distinctive, and takes away from the iPod illusion. It's a tight fit when it comes to getting Soundblaster stored in there or riding inside, but you can cram his tiny noggin in the slot if you really want. It's just tight. Too tight.
Large Soundwave looks a lot like Soundwave - of course he does! The face has a yellow visor (like the original toy) with a slightly bigger brim than you might recall. The details all feel a little exaggerated, but the original toy did have a sizable forehead. With the red paint on the wrists, the figure is super convincing as the classic Decepticon toady. The chest box sticks out a bit, but so did some of the reissues - it's still the battery-shouldered snitch you've always loved. The legs have the big silver panels from the Masterpieces (whereas the G1 toy had holes where the feet lived), and relatively undecorated knees. But they got the impression down, with red shoulder designs that are colored similarly to the originals and feet that look vaguely like die-cast metal. The battery stripe was also on the wrong end of the battery, but we can forgive that.
This figure measures roughly 9-inches tall in robot mode including the head. He shares Blaster's gun, rather than the original, classic "battery gun" with the silver chrome rockets. I'm sort of disappointed about that - I loved the battery gimmicks. Oddly, the shoulder battery has to be plugged on a 5mm peg on his butt when in tape deck mode as there's no way to open it up like the original Soundwave toy. That original one just feels more and more clever.
The figure has rocker ankles - more or less - plus the usual range of movement befitting a good average toy in this line. With 21 joints, this is a nifty, chunky figure - it's not mega-articulated, but it does feel like an outgrowth of the better toys from Generation 2 and Armada. It's satisfying, it holds together, and you even get crotch buttons. I can't ask for much more, although if I can I'm sure Takara-Tomy will give it to me in the form of paint for only twice the price.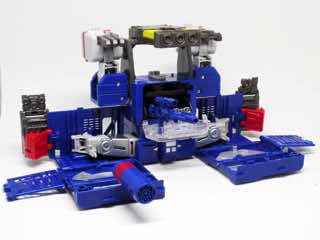 Almost identical to Blaster (sans color) is a base mode. It's good - but it's the same with less weird deco, like the CAUTION tampos. It's appropriately blue and silver, with places to mount your Titan Masters figures or their weapons as you're so inclined. It's fine, but after having played around with a few of these I get the feeling Hasbro could've axed the base modes and nobody would really notice or care. It's nice - it's more to play with! But the selling point here would be the character.
I assume we won't get the black repaint as Soundblaster in the USA, but who knows what Comic-Con could bring next year? Fans have been wanting a mainline "classic" Soundwave for years and this is pretty close - the boombox doesn't look like the original microcassetterecorder, but it's a blue and silver tape deck with fake power and headphone jacks on the back. That has to count for something. I assume anyone buying this will keep it in robot mode, so keep that in mind if you already have the Masterpiece Soundwave(s) - it's more expensive and worth it. This is cheaper and a good substitute, especially because it's fun to swap out the faces. If you want a whole collection of Leader-class Decepticons, you'll want this to go with Megatron and your Seekers from last year. If we get Shockwave, Hasbro will have effectively delivered the most important bad guys from the original show in the biggest size class. It's great that Soundwave can store Buzzsaw/Ravage/Rumble/Laserbeak in his chest, but I doubt fans will rest until they make a new cassette player with new tapes. After all, since 2006 the format has become retro-hip.
--Adam Pawlus
Additional Images

Click here to see more Hasbro figures in Figure of the Day.
Click here to see more Transformers figures in Figure of the Day.

Want to buy this figure? Check Transformers availability at our sponsors:
Entertainment Earth