Firefly
Superion #5 of 5

Transformers Generations Combiner Wars Legends
Item No.: Asst. B0974 No. B1174
Manufacturer: Hasbro
Includes: Trading Card, gun, hand/foot/weapon
Action Feature: Transforms from Robot to Plane to Hand to Foot
Retail: $15.99
Availability: December 2014
Other: Also known as Fireflight, repainted and remolded many times now

PREVIOUS
RSS
NEXT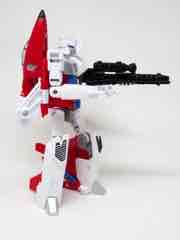 Previously known as "Fireflight," Rufus T. Firefly is another fine update of that figure. Sort of. Actually, it's close to the original Generation 2 Fireflight in robot mode as it has a generous helping of silver paint and minimal sticker-inspired deco. The figure's vehicle mode is similar in color to the Generation 1 jet mode, with painted patterns similar to the original stickers.
Paint is largely clean, and there's a lot of it. As a robot he's mostly white plastic in the front with red on the back, slathered in thick, clean silver paint. Silver usually rubs off easily if you store it in boxes rubbing against other toys, so if you plan on not taking good care of this figure I suggest you buy two. There's a wonderful Autobot symbol on his chest, some painted ents, and a great face plate on his head. The blue eyes are nice and bright with no eye port to darken your shelves. It really does make a big difference. It's very similar in terms of Skydive as construction goes, although the joints are placed in slightly different locations. 16 points of articulation - more if you count the plug on the chest that rotates - await you, so you can make sure this guy stands without much of a problem. The joints are nice and the elbows even click a bit, making this a nicely poseable toy. The 5 2/5-inch figure could even sit if the jet kibble didn't get in the way.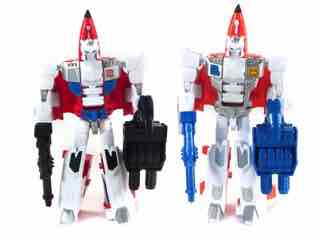 It's a plane! Transformation to jet is pretty much the same as Skydive. Pop open the legs and move them forward. Fold down the arms. Rotate the head. Get the nosecone up like a hat. Oh, and rotate down the landing gear if you want. It's fun. And now you probably won't see it in stores.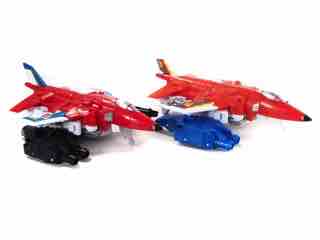 The jet mode looks very similar to the original toy, with the paint doing the job of the original stickers. My sample has a small ding on it, but it's still pretty stunning. It's mostly red, but bits of white and the undercarriage that is the entire robot mode may be visible depending on the angle you view it. The jet curves down over the robot bits, hiding them a bit if you examine the vehicle from above. Other than the landing gear there isn't much to do - some 5mm ports under each wing let you mount the weapons including the giant foot/fist/gun construct. My only complaint about the jet mode is (I assume) unique to my sample, and that's that the canopy isn't fused together as closely as I would like. With the silver paint, it's obvious there's a teeny tiny gap between the pieces in there and it's hard to ignore. Other than that, it's wonderful.
The design is basically similar to the other toys in this line, so getting it to be an arm or a leg isn't much of a challenge. It looks good either way so whatever you want to try, it works. Things basically piece together nicely so you shouldn't have too much of a problem making this toy into any of the four modes you like.
Firefly is fun - get one if you're doing the whole Combiner Wars thing, as you should if you're a robot fan. Hasbro's reluctance to do too many combiners has resulted in pent-up demand for this kind of thing so this year is going to be a little bonkers. I think the last time we had this many in circulation around the same time was during Energon and Universe with numerous repaints and the Micromasters imports at Kay-Bee.
--Adam Pawlus
Additional Images

Click here to see more Hasbro figures in Figure of the Day.
Click here to see more Transformers figures in Figure of the Day.

Want to buy this figure? Check Transformers availability at our sponsors:
Entertainment Earth