Integer Knight
Limited to 100 Pieces

Toy Pizza Knights of the Slice San Diego Comic-Con Exclusive
Item No.: n/a
Manufacturer: Toy Pizza x Onell Design x ?
Includes: n/a
Action Feature: Pops apart because Glyos
Retail: $15.00
Availability: July 2016
Other: Also blind bagged?

PREVIOUS
RSS
NEXT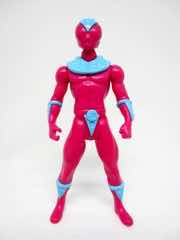 Because of things like shipping, sometimes I drag my feet. We don't have any Hastings stores in Phoenix, so I didn't pick up the Knights of the Slice Integer Knight - my first of this line - until Comic-Con this year in San Diego. This was an exclusive to the We Love Fine booth, but you wouldn't know it to look at the booth - I just happened to be checking Tumblr before I went to work at the show, saw the post, and ran to go buy one right after. (I'm not exaggerating.) I'm glad I did - it's a wonderful figure! I'm now upset I didn't get the fully painted ones. It's not that this pink figure with blue armor is bad - far from it! - I just see how much better the decorated ones are now. I can definitely say this is one of those times I regret not having jumped on the Kickstarter a couple of years ago.
These 3 3/4-inch figures drawn inspiration from all over the place, most notably Glyos thanks to their construction. They owe much to Sentai figures, with construction not unlike super heroes of the 1980s and articulation that's a bit better than what Kenner gave us before Bill Clinton moved in to the White House. This figure has about 20 pieces, most of which connect via Glyos pegs but some are effectively bracelets held in place by hands or feet. It's all quite clever - and it's a great way to add color to an otherwise undecorated figure. The blue harder plastic pieces are vaguely wedge-shaped with dots that may or may not look like pepperoni, depending on where your mind goes.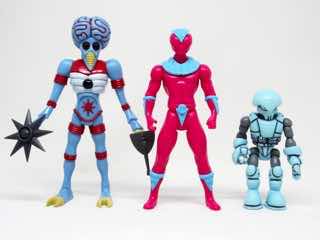 His right hand is open and can hold many accessories from 3 3/4-inch scaled action figure lines (lightsabers), and the left hand is a fist. Each is jointed at the wrist, shoulder, neck, base of skull, waist, hips, and ankles - it's pretty impressive overall for an indie figure. The quality and feel is very similar to an unpainted Kenner toy, minus copyright marks or foot holes for stands or playsets. He passes The Landspeeder Test, and fit in most 3 3/4-inch figures in which I tested him - but the figure does have a particularly wide stance which may prevent sitting in some ships. Of course, you can also just rip off his legs or feet to make him fit - that's one perk of the Glyos format.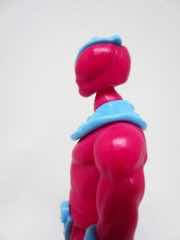 At $15 a Knights of the Slice Integer Knight ain't cheap, but it's not like there are many indie figures, or 3 3/4-inch figures, or Glyos figures in stores. This is probably the first line to actually get retail distribution, albeit at a smaller chain. It's still good news if you got one, and it's a worthwhile purchase should one pop up on your radar. I assume my Integer Knight will be hanging out with the Outer Space Men and Power Lords, pining for painted family members which, due to my sluggishness, will likely never arrive. But that's OK, this one is still plenty awesome.
--Adam Pawlus
Additional Images

See more Toy Pizza figures in Figure of the Day:
Day 1,522: Toy Pizza Knights of the Slice Integer Knight Action Figure
Day 2,073: Toy Pizza Desert Rat LRDG Version Action Figure
Day 2,088: Toy Pizza Mikros Set BLT Version Action Figures
Day 2,114: Toy Pizza Regen Capsule Carrying Case with Lime Material Boy Action Figures
Day 2,118: Toy Pizza Forest Capsule Carrying Case
Day 2,123: Onell Design Glyos Rift Renegade Construct
Day 2,129: Toy Pizza Rift Killer Cola Action Figure
Day 2,160: Toy Pizza Chakan the Forever Man Glow Version Action Figure
Day 2,176: Toy Pizza Zoner Capsule Silver Vehicle Mode
Day 2,186: Onell Design CyMa Queen Kirallius
Day 2,187: Toy Pizza Meteor II Action Figure
Day 2,305: Creative Beast Beast of the Mesozoic Glow-in-the-dark Dinosaurs Zuniceratops Action Figure

Click here to see more Glyos Compatible figures in Figure of the Day.