Rift Killer Grayvec
Crossover with Toy Pizza

Glyos Action Figures
Item No.: n/a
Manufacturer: Onell Design x Toy Pizza
Includes: n/a
Action Feature: n/a
Retail: $18.00
Availability: May 29, 2018
Other: Glad to be Gray

PREVIOUS
RSS
NEXT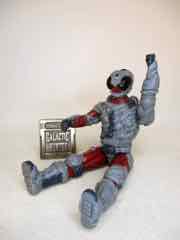 Apparently I lost the photo for the packaged Rift Killer Grayvec in some shuffle, I've had this figure open and generally making an appearance whenever I get a new toy vehicle for years. The black/dark red coloring seems like it would go well with CyMa Queen Kirallius [FOTD #2,186], but I have no confirmation of this as of yet. The figure was a little pricey at the time, $18 seemed like a lot for an unaccessorized 3 3/4-inch scale figure. But I kept playing with it, and bought a few others, and as I get older I really do seem to get a better feel for "seems like a good deal" and "is a good deal." If you play around with it, or if it gets you to enjoy other toys, it's worth throwing down some cash. Also time makes fools of us all, Hasbro has a lot of 3 3/4-inch figures at around this price point now and they're not as weird either.
There are many riffs on the Rift Killer mold, many with wackier colors and some with alternate heads. Sadly this one has no cool accessory, but it looks awesome. The gray body has darker gray painted highlights for the toes, fingers, and some elements on the torso, and there are dark red elements on teh arms, legs, face, and lower torso. Interestingly, the pizza motif was light on this one - there's a crest on the forehead that's slice-esque, but from there the figure is just pure sci-fi kid catnip. It's a pity I didn't have one as a child, because there are so many greeblies and cables and belts and patches that it seems like a character who is a walking pile of story concepts. The helmet's bug-eyed goggles are great, with a bonus "face" on the back that seems like a mutation of Walrus Man gone wrong. The top of the helmet also has a beastly face on it that is just floating up there, probably unappreciated. Well, I appreciate it. I also love the bulky vest and clever pads and boots.
On the taller side of 3 3/4-inches, these interdimensional invaders will slightly tower over your other Star Wars guys. But they'll put up a good fight against other Marvel or Glyos guys of this basic size, so you might get a lot out of them. They also fit well in the few mini-rigs I kept around my desk, which proves they're a good toy. What's particularly fun about this figure for me (as a fan of older 3 3/4-inch guys), the left hand is a fist. So many great old action figures had one "good" hand to hold accessories, and another one as a fist or open or otherwise unable to grab an item. It gives the figure a different silhouette and changes their personality beyond "guy who stands there and hold things." It's fun to have him going around punching other figures.
If you're unfamiliar with the whole Glyos shtick, you can pop the figure apart at each of its joints and swap limbs with other figures. Mixing-and-matching these guys on the couch while I'm watching TV is a fun way to pass the time while irritating she who is my wife, and is another feature we all wish more of our toys had in the 1980s. At least we have them now.
I should have reviewed this a few years ago, but summer of 2018 was pretty busy and I did peek at a few other Rift Killers over the years. This one is a delight, but they're all pretty good. The Knights of the Slice crew had a couple of largely unpainted ones in January that, somehow, are still a mere $18 a whack. Inflation cannot defeat Jesse DeStasio. Matt, if you're reading, I'd love to see you take another recolor shot at this guy too. But for everybody else, do yourself a favor and buy a Rift Killer figure next time one comes up at a decent price. The runs on these guys are pretty low relative to the 3 3/4-inch figure syou get in stores, and as a sort of boutique thing they're amazing little things.
--Adam Pawlus
Additional Images


Click here to see more Onell Design figures in Figure of the Day.
Click here to see more Glyos Compatible figures in Figure of the Day.