Hulk
Gray Hulk in color, not on the packaging

Marvel Legends 375 Action Figure
Item No.: Asst. F2648 No. F2662
Manufacturer: Hasbro
Includes: n/a
Action Feature: n/a
Retail: $9.99-$12.99
Availability: ???
Other: Also available in Green (but not Red or Composite) Flavor

PREVIOUS
RSS
NEXT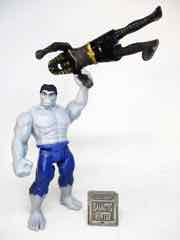 Marvel Legends in its many sizes tends to thrive on reuse of tooling. A lot of comic figures share the same bodies in the 6-inch line, and very few 3 3/4-inch "Kenner" figures get a sculpt thats wholly their own. This Gray Hulk (not identified as such on-pack) shares parts with The Incredible Hulk [FOTD #2,497] except each has a distinctive head. Which is kind of surprising, each has a unique facial expression and a unique separately molded hair sculpt/wig piece. And I would have assumed they would just repaint it and call it a day - that's what Kenner would have done!
Click here to check availability at Entertainment Earth.
I wasn't on board with this line at first, and its relative ease-of-attainability nearly across the board probably hints at a lack of adoption by toy fans. Which is a shame. While Gray Hulk and pals are all way too technologically advanced to be convincing 1980s Kenner-era products, they're still neat toys with a different design sensibility that we don't get. Normally it seems Hasbro is fighting between increases in materials and labor costs and packing enough stuff in the product to make it worth the new higher price. Which results in them refining the process and putting more stuff in the box, and raising the price again, and repeating. These are simpler and have no accessories so I assume the line is more likely to just die out as they can't really add value to them without betraying the whole "Kenner" thing, but maybe they can do some comic 2-packs or something down the road. But I digress. Gray Hulk delivers the goods at a price that, while not great given his super hero competition at Spin Master in their DC line, is certainly cheaper than the retro guys from Super7. I got no regrets picking this one up, and I'd recommend the green Hulk first - but they're both pretty much the same figure except the head and color.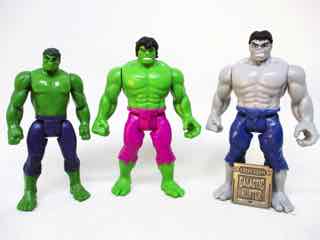 At 4 1/4-inches tall, he's big and functionally a fun action figure. Like his green sibling, he has one big fist for punching and one giant flexible open hand that can grab other figures' limbs. Most retro figures look cool in the packaging or can stand on a shelf nicely, but this one actually has some pretty good built-in playability. It's nothing Green Hulk can't do, and I also assume the only reason you're going to want this is because you're a Hulk maniac or a Kenner nut. And both are perfectly good reasons to track him down but the large, durable figure also has a worthwhile new head.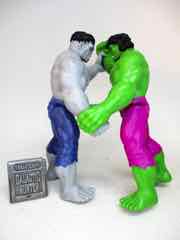 This time around he has a face with a sculpted sneer and a head more befitting of its Frankenstein's Monster-esque redesign in the comics. (Or so I see/hear.) It's not super flat, but the locks are less shaggy and the face is a different kind of angry. I like him when he's angry - it makes for a little variety. The gray skin and blue pants also set him apart from other figures in this line, which remains surprisingly colorful and bold.
This is not the first Gray Hulk figure by a long shot, and Hasbro made at least a couple of him as 4-inch scale figures in the late great Marvel Universe line. I assume the only reason this figure exists is so they can amortize the tooling on a balance sheet as being two products instead of one. (Also I assume they could have just sold even more green ones. I never see that guy hanging around either.) If you can see him at a fair price (close to $10) I'd recommend either flavor to kids or older fans.
--Adam Pawlus
Additional Images

Click here to see more Hasbro figures in Figure of the Day.
Click here to see more Marvel figures in Figure of the Day.